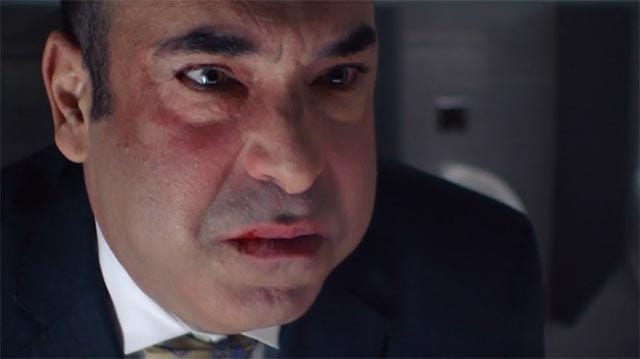 Das Aufarbeiten des Paukenschlags zum Ende der vorherigen Episode wird diese Woche in Suits versucht. Dabei bleibt es aber leider oft beim Versuch, denn irgendwie verhäddelt sich die Serie erneut in ihrer Twist-Sucht…
"Are you saying you are sorry you hit Louis?" – "I'm saying I am sorry I didn't punch him harder." (Dr. Agard & Harvey)
Wir sehen den vielleicht ersten ehrlichen Austausch zwischen Harvey und Louis. Denkste! Das erklärt vielleicht das teils fiese und unangebrachte Grinsen Louis', wirkt hier aber so seltsam wie die Tatsache, dass Louis (erneut!) nicht seine eigenen Statuten gut genug kennt. Eine Art der Unvorbereitung und Angreifbarkeit, die der Charakter in Season 1 in keinster Weise hatte. Jetzt lässt er sich sogar vom frisch gebackenen Junior Partner Mike verbal auf der Nase herum tanzen. Und plötzlich ist man selbst in Serien nicht mehr vor Spoilern anderer Serien sicher… (Keine Bange, ich erzähle hier nichts und so wirklich krass ist das in der Folge auch nicht…)
"How dare you defile Game of Thrones by comparing Harvey to Jon Snow!" (Louis)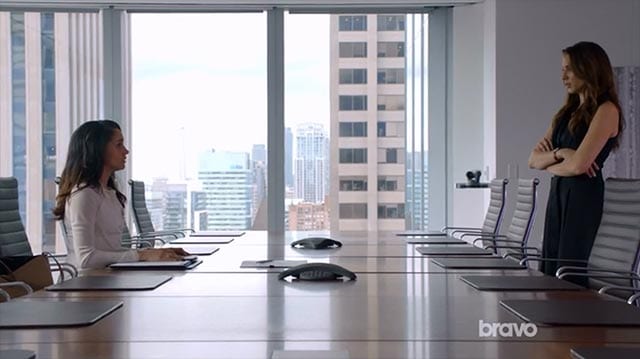 Manchmal lösen sich Probleme auch einfach von selbst – zumindest bei Mike. Dafür kommen natürlich neue. Utopisch inszenierte Neue… Immerhin mit einem kleinen Rückbezug auf die Pilotfolge. Aber wie viele Möglichkeiten von Background Checks gibt es in der Branche bitte?! Alles wirkt erneut sehr over the top, was die Dramaturgie angeht (alles gut, alles doof, alles wieder okay, alles doch scheiße – WUAH!!!). Da rettet nur der Gedanken an bessere Zeiten, wenn man den gelungenen Dialog bei Harveys "Partner-Schild-Übergabe" hört.
"You know a guy in costum engraving?" – "I know a guy in everything." (Mike & Harvey)
Okay, und die Emotionalität im Rachel-Mike-Plot. Die wurde nämlich tatsächlich recht einnehmend und packend übertragen – obwohl so eine oder ähnliche Situationen mittlerweile gefühlt öfter wiederholt werden als die Simpsons.
Am Ende ist bei mir vor allem ein Satz hängen geblieben, der mir Angst macht:
"One day it is going to come crashing all down…" (Claire)
Nein, nicht Angst um Mike Ross als Charakter, sondern Angst um die Serie als solche. Das war eigentlich eine klare Ansage der Produzenten, dass es noch den großen Knall geben wird. Hatte man eigentlich gedacht, das wäre nur als origineller Quereinstieg in ein späteres Setting mit einer vielleicht zwei Staffeln abdeckenden Gefahr der Aufdeckung gewesen, wirft die Sache einen immer und immer länger werdenden Schatten, dem Suits sich scheinbar nicht entziehen kann. Das birgt die (bereits aufkommende) Gefahr von Wiederholungen und einem Gefühl der Langeweile. Schon wieder?
Kann er nicht in einem anderen Staat das Examen machen und dort praktizieren? Nein, vermutlich nicht, das Recht um die Rechtsausübung ist ungnädig wie Rambo. Kann er vielleicht durch offenkundige Fähigkeiten (jüngster Junior Partner ever, etc.) "blenden" und durch grandiose Superheldentaten das Vertrauen der entscheidenden Mächte gewinnen? Vermutlich. Sicher ist nur, dass es eine Endlösung in diesem Thema braucht.
So bleibt es eine Folge, die sich erneut in aufgespielte Wendungen und Problemlösungen verliert. Der interne Konflikt wirkt nicht drastisch genug, der Mike-Fall ist konzepiert bis oben hin und am Ende sind wir alle etwa so schlau wie vorher. Nur Louis ist vermutlich mal wieder ein Stück dümmer geworden…
Bilder: USA