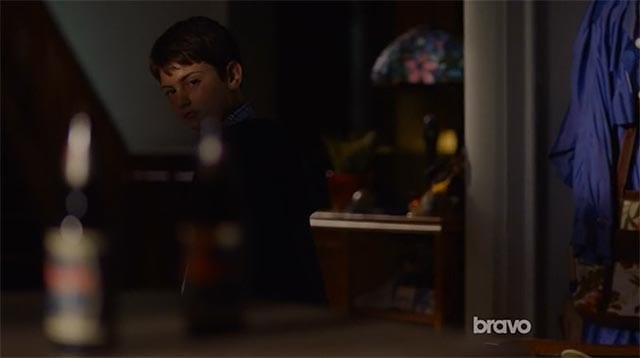 Wegen der Gamescom etwas später, aber here we go. Diese Woche gab es tatsächlich ein paar mehr Notizen als letzte Folge, was aber vor allem an dem ein oder anderen originellen Zitat lag. Und, dass es eine einigermaßen runde Handlung gab, auch wenn zwei Drittel erneut aus Recycling bestehen. Zunächst aber zum wirklich neuen Drittel: Mini-Harvey! Der Junge hat den kritischen Harvey-Blick jedenfalls verdammt gut drauf – gelungenes Casting! Die Vergangenheit wird durchaus gekonnt in die aktuelle Handlung eingebaut, so kann dieses System tatsächlich homogen wirkend funktionieren.
"10 percent is 11 percent more than you deserve!" (Louis)
Aber im echten Leben ist das eben nicht so leicht. Da verschluckt man sich schon einmal an nussfreien Muffins oder so. Oder so, weil das eigentlich inhaltlich total egal war, ein Fall, der einzig und allein für die Konstellation von Charakteren und deren Reintischmachererei geschaffen war. Aber okay, Zweck erfüllt, weiter.
"It was actually sweet… In a… Dickish sort of way." – "That's my specialty." (Esther & Harvey)
Der zweite Fall war dagegen zumindest ein bisschen komplexer. Okay, Jack ist scheiße, aber der E-Mail-Trick war ganz nice – von Mike aber auch. Endlich mal wieder ein schön kompakter Fall mit einigen smarten (und nachvollziehbaren) Moves, ohne immer epischer werdende Wendungen. Hat zwar auch nur einen Zweck erfüllt und wird vermutlich nicht weiter auftauchen und von Belang sein, aber das war wenigstens unterhaltsam.
"I may look damn good for my age but I was not born yesterday." (Jessica)
Was aber wirklich nervt: wieso schon wieder Daniel Hardman?! Ist es denn so schwer, einen anderen Gegenspieler oder gar andere Handlungsstränge zu erdenken? Wieso immer der scheinbar mehrfach gebrochene Super-Duper-Genie-Player, der immer ein Jahr untertaucht und plötzlich wieder da ist? Das nervt und ist erneut Zeugnis eines kleinen Mikro-Kosmos'. Einzige noch komischere Sache: Wie einfach wird man da eigentlich befördert? Weil einer einen "toll" findet?
"She's still my sister – I can't let her believe, she's the best at anything." (Louis)
Am Ende dann noch ein gewaltiger Ausbruch mit Betonung auf "Gewalt". Wirkt etwas unpassend für einen Charakter, den eigentlich nicht viel aus der Bahn wirft. Wollen wir mal ein blaues Auge zudrücken, weil Harvey psychisch einiges durchmacht und Louis wurde ja auch gewarnt. Mehrfach. Eigentlich müsste das ja zu einer Beurlaubung führen. Starten Harvey und Mike dann endlich ihre eigene Kanzlei? Bittebittebitte! Ich bin auch ganz lieb, Anwalt-Ehrenwort!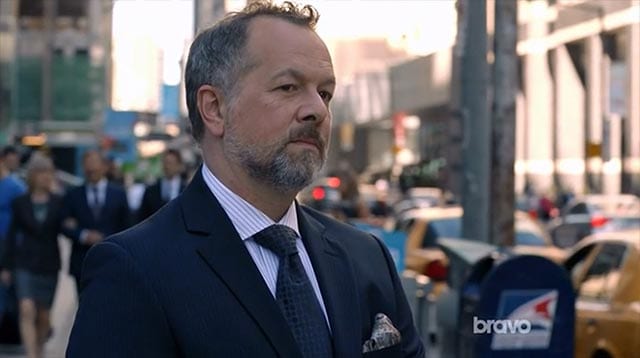 Insgesamt deutlich besser als der Großteil der bisherigen Staffel. Das liegt weniger an der "Handlung-Handlung" im Anwalts-Business denn im Zwischenmenschlichen. Aber eben auch daran, dass beides endlich mal einigermaßen funktionierend zusammen gelegt wurde. Mit Hardman wurde auch wieder etwas Übergeordnetes (re)installiert, das Richtung Staffelfinale schielt. Insgesamt recht unterhaltsam und mit sitzendem Cliffhanger.
Notiz an mich: Irgendwann eine Compilation von Szenen aus Suits machen, in denen Anwälte Akten auf den Tisch anderer Anwälte fallen lassen. Klassischer Gesprächseinstieg. BAM!
Bilder: USA