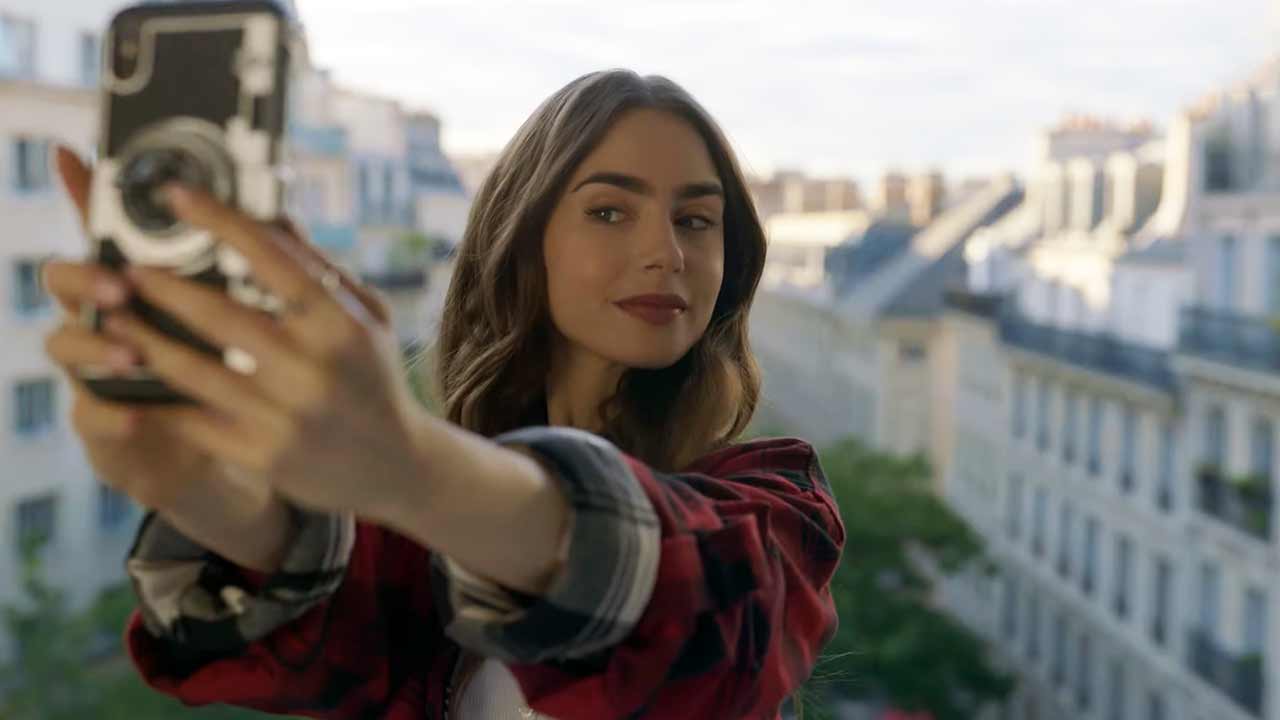 Carrie, Miranda, Samantha und Miranda – selbst Leute wie ich, die mit "Sex and the City" jetzt nicht so viel anfangen konnten, dürften diese Namen kennen. Um die Jahrtausendwende kam man um das für damalige Verhältnisse ausgelassene Quartett gar nicht herum, ob man wollte oder nicht, "Du bist SO EINE Samantha!" hier, Manolo-Blahnik-Schuhe dort und ein Cosmopolitan hinterher… Serienmacher Darren Star war seitdem nicht etwa untätig, unter anderem das (mir deutlich mehr zusagende) "Younger" wurde von ihm mitinszeniert. Und jetzt folgt etwas Neues – auf Netflix.
"Emily in Paris" (endlich mal wieder ein Titel, der im Original wie in Deutschland identisch ist!) scheint eine Mischung aus den beiden auch im Video genannten Vor-Serien Starrs zu sein. Zumindest vom Arbeits- und Lifestyle-Flaire, der einem im ersten Teaser entgegen weht, der ziemlich genau einen Monat vor Veröffentlichung als Ankündigung gestreut worden ist. Hier zunächst im englischen Originalton, danach in der deutschen Synchronisations-Fassung – your choice (eure Wahl)!
"Liebe. Schönheit. Leidenschaft. Emily und noch vieles mehr triffst du diesen Herbst in Paris an. Die neue Serie 'Emily in Paris' von Darren Star, dem Macher von 'Sex and the City', ist ab 2. Oktober verfügbar – nur auf Netflix."
Neben Hauptdarstellerin Lily Collins sind unter anderem noch Ashley Park oder auch die aus "The Umbrella Academy" und "Tote Mädchen lügen nicht" bekannte Kate Walsh im Cast vertreten. Die offizielle Plot-Zusammenfassung zu Serie:
"Emily, a driven twenty-something American woman from the Midwest, who moves to Paris for an unexpected job opportunity, tasked with bringing an American point of view to a venerable French marketing firm. Cultures clash as she adjusts to the challenges of life in a foreign city, while juggling her career, new friendships and love life."
Ich fürchte, mir wird das zu Rom-Com-schmalzig, aber vielleicht ist das ja was für jemanden von euch.
Die erste Staffel von "Emily in Paris" wird ab Freitag, dem 2. Oktober 2020, auf Netflix zu sehen sein.