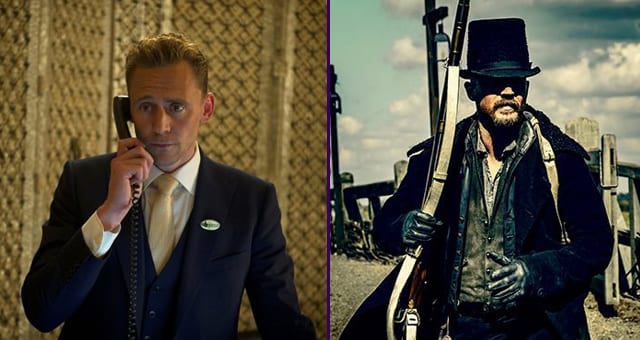 Na das kommt jetzt aber nicht wirklich überraschend. Oder doch? Die Serien "The Night Manager" mit Tom Hiddleston, Olivia Colman und Hugh Laurie sowie "Taboo" mit Tom Hardy gehen in der Tat in eine 2. Staffel. Beides wurde nun von der BBC bestätigt.
Taboo
Bei "Taboo" konnte man aufgrund diverser Aussagen und dem offenem Ende der 1. Staffel eigentlich ziemlich sicher davon ausgehen, dass wir die persönliche Reise von James Delaney weiterverfolgen werden und mit ihm – bestimmt – irgendwann auch mal in Amerika landen werden. Die aktuelle Bestätigung ist daher jetzt nicht die große Überraschung.
The Night Manager
Ein wenig anders verhält sich dies bei "The Night Manager". Hier basierte die 1. Staffel auf der gleichnamigen Romanvorlage John Le Carrés und die sechs Folgen schlossen auch mit dem Ende aus dem Roman. Wir haben hier also kein offenes Ende.
"There's no book and there's never been a Le Carré story that has been extended beyond the confines of the novel. It would be interesting to try that. (Simon Cornwell)"
Dazu kommt, dass es keinen Fortsetzungsroman zur Geschichte rund um Jonathan Pine (Hiddleston) und Richard Onslow Roper (Laurie) gibt. Nicht mal eine Idee seitens John Le Carrés. Dennoch hatten sich die Senderverantwortlichen ziemlich direkt nach der international erfolgreichen Ausstrahlung mit dem Sohn Le Carrés, Simon Cornwell, zusammen gesetzt – der auch noch gleich als Produzent der Serie fungierte – um über eine mögliche Fortsetzung zu sprechen.
Das Ergebnis ist nun, dass eine Gruppe von Drehbuchautoren seit geraumer Zeit an einer 2. Staffel schreiben. Dies wurde nun bestätigt. Was man noch nicht bestätigt hat, ist, ob mit Tom Hiddleston, Olivia Colman und Hugh Laurie auch wieder dieselben Hauptcharakter mit an Bord sein werden. Wer das Ende der 1. Staffel kennt, wird wissen, dass es zumindest bei Hugh Lauries Richard Onslow Roper kompliziert werden könnte (das ist jetzt kein Spoiler auf seinen Tod). Ich vermute allerdings, dass man sich auf Tom Hiddleston und seine Figur des Jonathan Pine konzentrieren wird und um ihm herum eine 2. Staffel schreiben wird.
The Spy Who Came In from the Cold
Zudem plant die Produktionsfirma von Simon Cornwell eine weitere Serienverfilmung eines Romanstoffes seines Vaters. Dieses Mal handelt es sich um das Buch "Der Spion, der aus der Kälte kam", das Buch also, mit dem Le Carré seinen Durchbruch als Autor feiern konnte. Und hauptsächlich in Berlin spielt.
Hier kennt man auch schon den verantwortlichen Drehbuchautoren, niemand geringeres als Simon Beaufoy wird das Drehbuch schreiben. Wir kennen Beaufoy für "Slumdog Millionär", für dessen Drehbuch Beaufoy sogar einen Oscar erhielt. Hier wird also nicht gekleckert.
Als Fan von John Le Carré dürfte die nächste Zeit also interessant werden.
Bilder: BBC