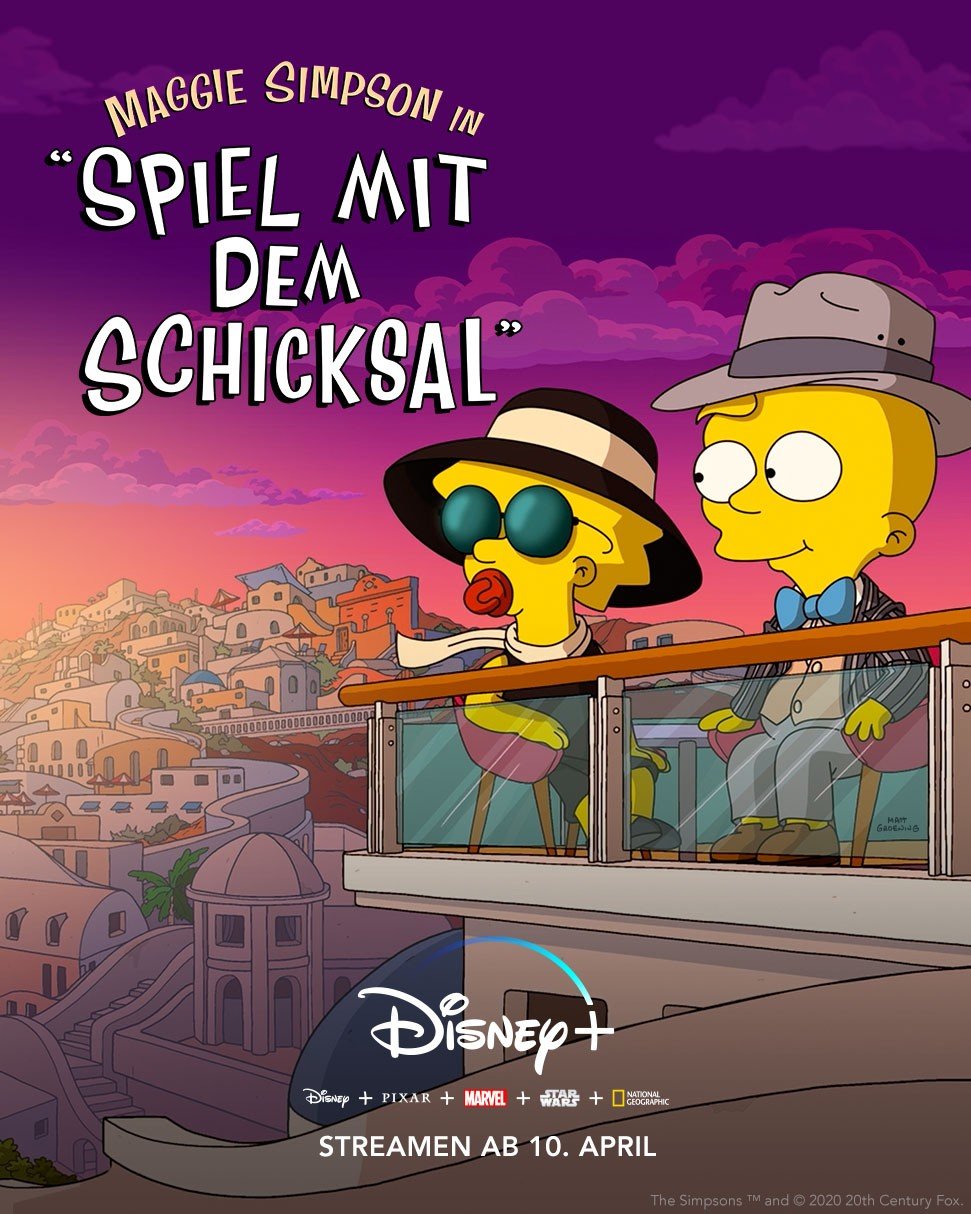 Unser aller Lieblingsfamilie aus Springfield kommt wieder ins Kino – allerdings nicht mit einer Produktion in Spielfilmlänge, sondern mit einem Kurzfilm. Er wird im Vorfeld der Pixar-Produktion "Onward" zu sehen sein, die am 5. März 2020 in den Kinos startet. Damit zeigen sich erste Auswirkungen der Übernahme von FOX durch Disney: Die Simpsons-Familie gehört seit der Übernahme zum Disney-Konzern. Die Staffeln werden ab 24. März 2020 auch Teil des Disney+-Angebotes in Deutschland sein.
Zurück zur großen Leinwand: Dort wird also im Vorfeld der Pixar-Produktion der Simpsons-Kurzfilm "Playdate With Destiny" zu sehen sein. Die wenigen Minuten, die Disney uns von den Simpsons im Kino gönnt, werden wohl auch recht wortkarg daherkommen, denn in "Playdate With Destiny" spielt das jüngste Simpsons-Familienmitglied Maggie die Hauptrolle. Auf dem Promobild, das auf Instagram veröffentlicht wurde, ist Maggie in Begleitung von einem Jungen namens Hudson auf einer Terrasse an einer Meeresküste zu sehen. Die Idee dazu ist schon einige Jahre alt, als die Simpsons-Autoren Tom Gammill und Max Pross eigentlich eine reguläre Folge daraus machen wollten. Während der Produktion hat sich diese Folge auf Initiative von Executive Producer Jim Brooks in einen Kurzfilm verwandelt. Auf die Folge verzichten müssen die Serien-Fans übrigens nicht: Die Episode soll laut Entertainment Weekly nun am 19. April ausgestrahlt werden – mit einer weiteren Story von Maggie und Hudson.
UPDATE: Der Kurzfilm wird ab dem 10. April 2020 auf Disney+ zu sehen sein.
Es ist übrigens nicht unwahrscheinlich, dass es noch einmal einen echten zweiten Simpsons-Kinofilm geben wird. Serienerfinder Matt Groening machte entsprechende Andeutungen auf der letzten Comic Con. Disney wäre auch nicht Disney, wenn sie dieses neue Franchise nicht entsprechend ausnutzen würden. Das kennen wir ja schon von Marvel, und Star Wars, und…
via: Rolling Stone