In der ersten Staffel hat es irgendwie noch gepasst, dass Setrakian auch die Sprecherstimme gegeben hat – diese Folge war ich aber durchaus verwirrt. Wie könnte er das so schnell wissen – habe ich was verpasst? Aber nein, einfach nur der Erzähler – und ein Gladiator mit Knochenschwert, bei dem selbst Ralf Möller vermutlich so intelligent sein dürfte, den Weg frei zu machen.
Der Rückblick ins alte Rom wirkt etwas drüber. Wieso wird viel Geld in diese duselige Arena-Szene verpulvert anstatt die Stadt endlich mal entsprechend zu inszenieren?! Aber wer weiß, vielleicht wird die zeitliche Geschichte, die wir bisher nur aus Setrakians Sicht kennen noch einmal aus einer anderen Perspektive aufgerollt (die jedoch scheinbar immer und überall zwei Schritte zu spät ist)?
"Looks like an absolutely gorgeous day!" (Palmer)
Nein, Palmer scheint der einzige, der Spaß am Tag und der Folge hat. Scheint schon zu ahnen, was ihn abends erwartet. Fet hat Ärger mit einer Schrank-Ex und sollte sich lieber auf die Arbeit konzentrieren… Die macht er aber auch suboptimal. Wie kacke war die denn bitte? Plump, dämlich getimed, einfach blöd.
"Your romantic worries have no relevance at the moment… Not at all!" (Setrakian)
Der erste "Einsatz" vom Knochenschwertmann läuft da ähnlich ab. Man weiß, was die Macher vor hatten, aber irgendwie hakt das Timing. Das hätte gerne noch etwas dynamischer und krasser sein dürfen.
"Hello, professor." (The Barbarian Gladiator)
Wenigstens ist er für den ein oder anderen Spruch gut. Hat er sich vermutlich im Rahmen der langen Verspätung einfallen lassen. Was aber irgendwie nervt: Plötzlich sieht jeder "Groß-Vampir" gleich aus?!
"It lacks… intimidation." (The Barbarian Gladiator)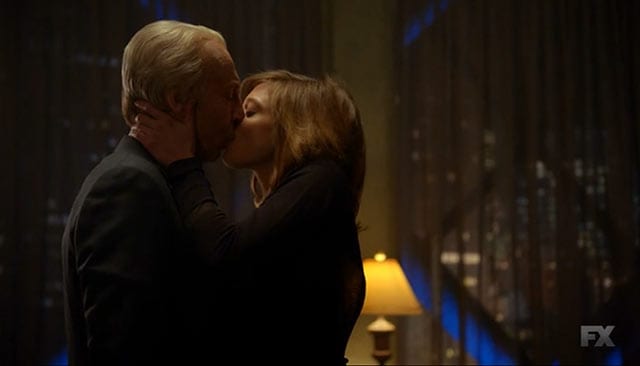 Kommen wir zu menschlichen Wunderdingen. Eine ganze Folge hat der gesunde Eph Probleme, nach DC zu kommen, der angeschossene Eph kann sich aus DC aber scheinbar teleportieren?! Das macht ja fast so viel Sinn wie das Zusammenkommen einer hübschen jungen Frau und einem Mann, der ihr Urgroßvater sein könnte. Upps… Okay, das war abzusehen und irgendwie sind Geld und Macht halt eben Jungbrunnen – ein Stück Realität in der Serie. Eph hat aber was dagegen und liefert eine gehörige Ansage!
"Booze is to make you feel good, not taste good." (Eph)
Nein, nicht die – ihr wisst schon.

Viel gewollt, wenig gekonnt. Eigentlich hatte die Episode einige schöne (oder besser gesagt: potenziell schöne) Momente. Die grobe Handlung hat gepasst. Ein Übervampir, der jedoch auf einen lang-gesuchten Bösewicht in Ballermann-Manier schreiend zu rennt und sich dann ärgert, dass er ihn fast gehabt hätte – ähm, nein. Das passt einfach hinten und vorne nicht. Dazu ist es größtenteils einfach nicht rund inszeniert. So kann die Serie originelle Charaktere noch und nöcher in die Arena werfen – der Daumen des Kaisers wird gen Boden deuten.

-->