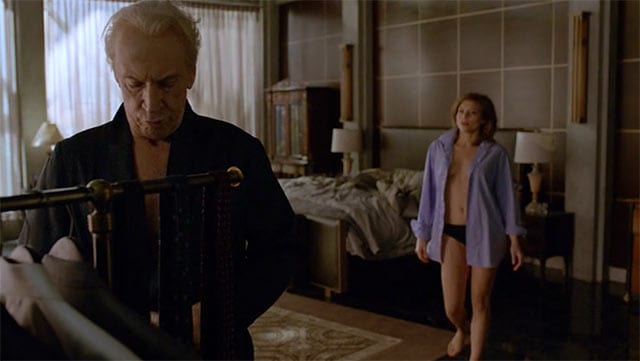 Gerade scheint Tag im Staffelverlauf von The Strain zu sein, so dass sich der Großteil der Handlung im Dunkeln versteckt. Erneut gab es diese Woche nur loses Stückwerk zu begutachten, das loser zusammen gesetzt ist, als die Ehen von Lothar Matthäus. Dafür erhält Vampir-Kelly immerhin ein Dagi Bee-taugliches Make-over verpasst. Schwere Zeiten für Eichhorst – erst wird er nicht befüllt befördert, dann bringt er einem anderen Nicht-mehr-Menschen das Menschsein bei. "Ausgezeichnet", wenn Darsteller stundenlang zum Monster geschminkt werden, um dann darüber wieder "normal" geschminkt zu werden.
"The nose is losing viscosity but it will remain for months." (Eichhorst)
Nora und Coco werden derweil weiterhin im Dunkeln gelassen wie Vampire am Tag. Der Übergang vom Ort des Mecker-Zach (am Tag) zu Schnüffel-Spinnenkinder (in der Nacht) hat mir gefallen. Ebenso schön: Wie Fet sich freut, den "Son of a Bitch-Kardinal" berauben zu dürfen.
Doch erneut stellen sich plumpe Fragen: Wie hat scheinbar die ganze Stadt von dem Buch mitbekommen?! Wieso kann Kelly plötzlich tagsüber wieder reisen? Wieso dürfen Personen bei Chaos an Sicherheitsstellen einfach weiter fahren? Inklusive unentdeckter Spinnenkinder-Fracht, versteht sich…
"Nicholas is indisposed." (Eichhorst)
Könnte alles Zufall sein, aber Atheist Eichhorst glaubt nicht dran. Er nimmt das Glück lieber in die eigenen Halsfänge und legt inmitten seiner drohenden Midlife-Crisis los.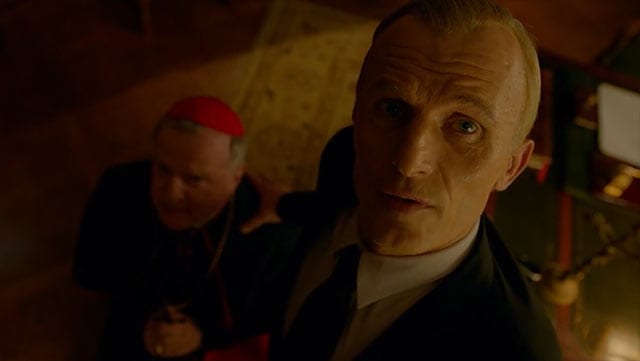 Abschließend noch ein paar Tipps, die uns diese Folge gelehrt hat. Merke: Wenn du mit Illegalem dealst, am auch Chirurgie-Kits im Angebot haben! Und Painkiller. Verriegelte Türen verriegelt lassen oder nach dem Öffnen wieder verriegeln. Und jede sollte eine Kindervampirspinnen-Entourage sein Eigen nennen.
Insgesamt leider recht fad geraten. Allgemein wirkt die Story unnötig brüchig. Ein beleidigt-verschlossener Eph passt nicht ganz in die "volle Transparenz und Attacke"-Situation ums Überleben. Dazu sollte Zach sich einen Superhelden-Namen wie "Super-Nervbacke" zulegen. Es ist schlimm, wie ein Charakter fast ausnahmslos ausgenutzt wird, um einen gemeinsamen Nenner für eine weitere Gefahr zu bilden. Die Buch-Auktion ist lächerlich (überhaupt das Aufkommen gerade jetzt?!) und zu viele Akteure machen immer vermeintlich Pause, wenn die anderen gerade dran sind. Das muss deutlich kompakter und zwingender werden.
Fotos: FX