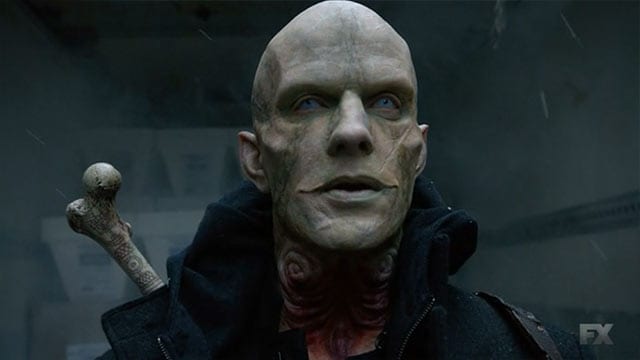 Ein neuer Vampir ist in der Stadt. Und der hat nicht nur einen gravierten Knochen auf dem Rücken, sondern scheinbar auch besonderes Fähigkeiten und ein besonderes Standing. Viel erfahren wir nicht über ihn, aber scheinbar kann er Tageslicht ab und hat ein Faible für coole Auftritte, die nicht nur Penner sondern auch Zuschauer erfreuen. Dazu hat er einen direkten Draht zum Älstestenrat und zeigt sich gar nicht erfreut über die Ereignisse. Wieso kommt er so spät? Was kann er? Und wird er "uns" Guten helfen?
"So are we gonna talk about the blood on the shirt and the gun?" – "No." (Alter Buddy & Eph)
Eph ist mittlerweile nicht nur in Washington angekommen sondern scheinbar ein besserer Schütze als superteure Attentäter (die erst auf ein Smartphone-Bild schauen müssen, dass neben einem Bild vom Login-Screen der super geheimen Arbeitgeberschaft liegt…). Ansonsten scheint alles Gewonnene zerronnen.
Wenigstens fragt endlich mal jemand, wie es Nora geht! Nicht gut, denn sie regt sich über noch immer offene Restaurants inmitten der Apokalypse inklusiver Lieferdienst und banale Flirtereien auf, die in Sachen Lächerlichkeit eigentlich nur von inszenierten Spul-Streifen bei vermeintlichen VHS-Kassetten übertroffen werden. Sorry, aber das ist blöd! Fast so blöd ist auch der Diebstahl an einem legendären Stilmittel aus Star Trek: Das Rothemd und der erste Einsatz auf einem fremden Planeten… Same old story.
"Please, just make this…" (Fitzwilliam)
Bliebe noch Eichhorst, der in seiner Diät auf Erde verzichten muss. Und Würmer. Eklige Kotz-Würmer. Wuah – eklige Szene!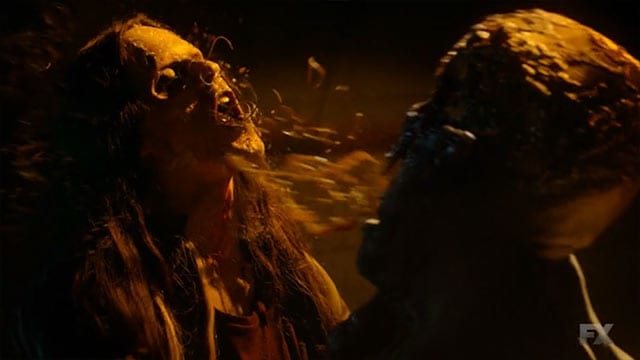 Leider wurde der Master erneut sehr plastisch und künstlich inszeniert. Vielleicht hat man diesen Wechsel aber auch vollzogen, damit die Special Effekts nicht mehr so teuer und das Auftreten deutlich überzeugender ist. So überzeugend, wie das beinahe akzentfreie Deutsch… Naja, fast.
"Du bist mein besonders Kind. Wir werden alle Zeit zusammen sein." (Master)
Ich sehe das jetzt aber als Startschuss an! Gerade einmal sechs Folgen hat es gedauert, dass der Master zu sehen ist, jung und frisch und startbereit in seinem zweiten Frühling. Sechs Folgen hat es nur gedauert, dass für "morgen" eine "zweite Phase" angekündigt wird. Sechs Folgen hat es nur gedauert, dass Mutti endlich ihren Sohnemann wieder sieht (und der sie binnen Millisekunden erkennt, obwohl er in Staffel 1 gar nicht dabei war…!). Sechs Folgen bis… zur Staffelmitte. Mögen die Spiele hoffentlich endlich beginnen!

Und ja, eigentlich war die Folge gar nicht soo übel. Die eingeschüchterte Feraldo überzeugt und demonstriert gelungen das Dilemma der Stadt. Das total stressfreie Washington demonstriert, dass sich eigentlich noch niemand außerhalb des Big Apples um selbigen schert. Und der "Neue" demonstriert, dass es jetzt richtig abgeht. Der hat ja immerhin einen kleinen Knochen auf dem Rücken. Das MUSS einfach was heißen!

-->