Okay, ich gebe zu – der Game of Thrones-Bezug ist hier so schmal gesät wie die Erfolgsaussichten im Duell gegen Bronn. Aber es ist eben eine gute Sache und irgendwie hat die Serie dann doch dazu geführt, dass Darsteller Jerome Flynn überhaupt mit dem kleinen Inselstaat und den gigantischen Meeresbewohnern in Kontakt gekommen ist.
"Die Dreharbeiten zu Game of Thrones in Island haben mir bestätigt, dass der Walfang nur einen kleinen Teil Islands ausmacht. Island ist ein außergewöhnlicher Ort, um Wale in ihrem natürlichen Lebensraum zu beobachten. Viele Isländer unterstützen die Waljagden nicht. Der Wind dreht sich und wir wollen diesen positiven Wandel unterstützen und voranbringen. Stärken wir Island den Rücken!"
Vielleicht hilft auch, dass Flynn 2013 in Dante's Daemon einen Fischer gespielt hat… Man weiß es nicht genau.
Wie dem auch sei, die gute Sache hat einen Namen: WDC. Whale & Dolphin Conservation kämpft seit Jahren um den Fortbestand und richtigen Umgang mit Walen und Delphinen. Und hat uns gefragt, ob wir dieses Thema nicht auch hier kurz anbringen könnten.
Dabei geht es um Island. Eine Wal-Nation, in der das kommerzielle Fangen noch immer erlaubt und beliebt ist – die Bewohner allerdings kaum mehr Walfleisch konsumieren. Die Folgen: Zu viel Jagd, zu viel Fleisch, zu viel Export, zu wenige Wale. Das soll gestoppt werden!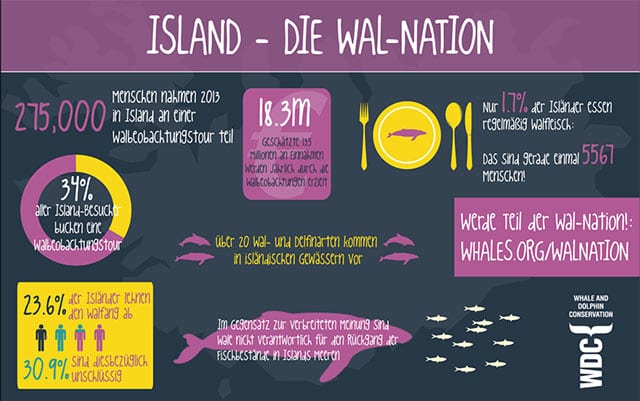 Ihr könnt es Bronn gleich tun und die Isländer unterstützen. Einfach die dortige Petition digital unterzeichnen (dauert nicht lang) und so Ólöf Ýrr Atladóttir, der Generaldirektiorin der isländischen Tourismusbehörde, eure Solidarität kundtun – und etwas mehr Entscheidungsmacht in Sachen Walfang bzw. -Erhalt verpassen.

Abschließend kann Kampagnenleiterin Astrid Fuchs vom WDC noch etwas zu Island und der Aktion sagen.

Wir finden es jedenfalls gut, wenn sich Darsteller für die gute Sache einsetzen und von ihrer Bekanntheit Gebrauch machen. Gerne mehr davon!

Mit freundlicher Unterstützung vom WDC | Fotos: HBO & WDC

-->