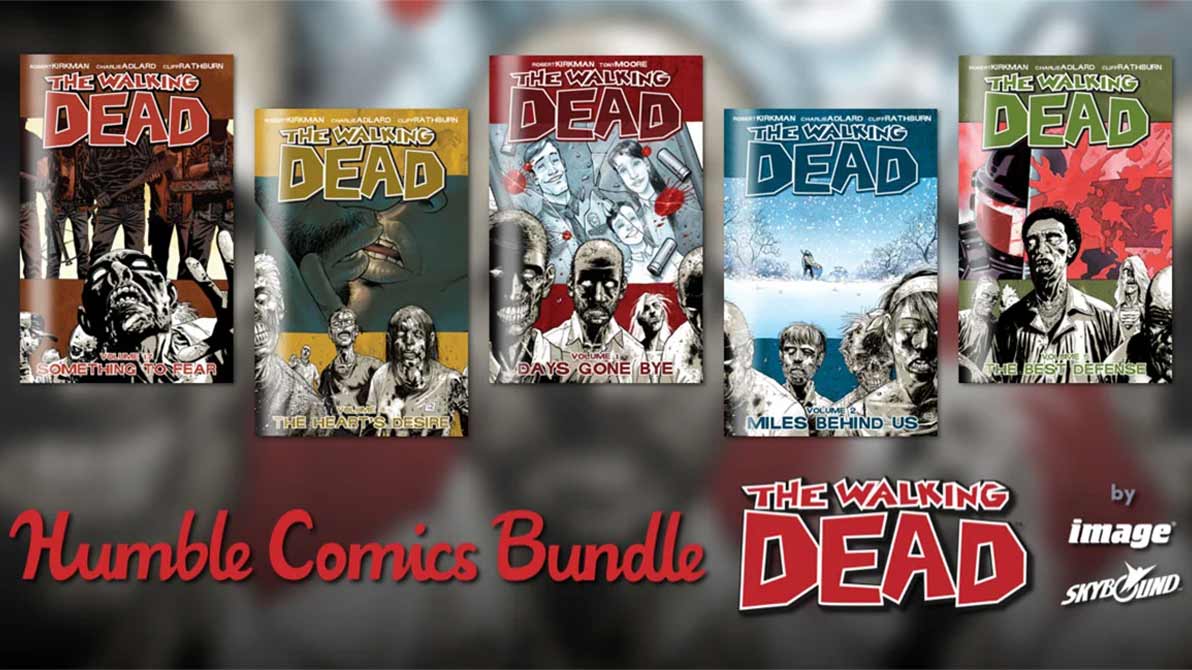 Noch viel zu viele Leute kennen die der Fernsehserie "The Walking Dead" zugrundeliegenden Comics nicht. Also, von deren Existenz dürften die meisten TV-Fans wissen, aber gelesen haben sie bei Weitem nicht alle. Leider. Denn die Qualität der Graphic-Novel-Vorlage ist um einiges höher und vor allem beständiger, als beim erfolgreichen Fernsehformat. Und jetzt könnt ihr digital zum Knallerpreis zuschlagen und euch die Bände digital sichern!
Im Rahmen des aktuellen Humble Comics Bundle könnt ihr die komplette Reihe von Image Comics bzw. Skybound Entertainment zum Aktionspreis kaufen und sehen, wie Robert Kirkman sein TWD-Imperium gestartet hat.
"Get the full set of The Walking Dead comics and meet Tyreese, Michonne, the Governor, and many more memorable characters. Remember, we ARE the walking dead!"
Wie das bei den Humble Bundles so üblich ist, könnt ihr den Preis selbst festlegen. Je nachdem, was ihr bereit seid, zu geben, gibt es ein paar Schmankerl oben drauf. Ab einem Euro Zahlung erhaltet ihr die Volumes 1-5, die die regulär verkauften Comics #1-30 beinhalten. Ab 7,50 Euro geht es bis Vol.13 und Ausgabe #78, ab 13,50 Euro bis Vol.23 (Ausgabe #138) und ab einer Zahlung von 16,50 Euro oder mehr gibt es alle 32 Volumes bis zur regulären letzten Ausgabe #193, sowie ein paar Sonderbände, zum Beispiel "Here's Negan!". Ein Teil der Einnahmen kommt zudem noch der "Book Industry Charitable Foundation" zugute. Sehr schöne Aktion, die so hoffentlich viele weitere Leute in den Bann der Comics ziehen kann.
Das Angebot läuft noch für 19 Tage, also bis zum 20. Mai 2020. Hier könnt ihr zuschlagen. UPDATE: Guter Hinweis aus den Kommentaren – hier dürfte es sich um die englischsprachige Originalausgabe handeln.
Ich habe mir ja seit Monaten die finale Ausgabe #193 aufgehoben. Eigentlich wäre jetzt, wo ja unter anderem das Staffelfinale von der "The Walking Dead"-Fernsehserie aufgrund der Coronavirus-Pandemie verschoben werden musste, der ideale Zeitpunkt, die Lücke zu füllen. Aber ich weiß halt auch, dass es dann endgültig vorbei ist, sobald ich die in Sonderlänge produzierte finale Ausgabe gelesen habe…

via: theawesomer

-->