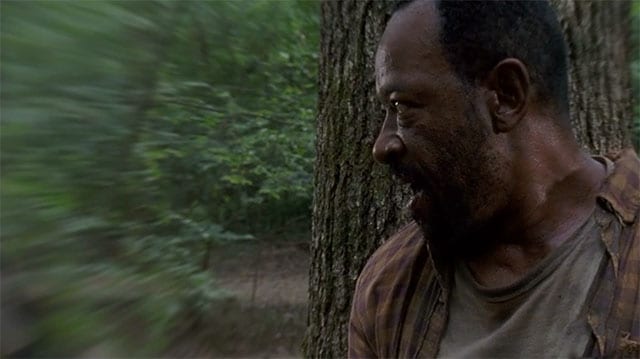 Da ist sie, die kleine Durchschnauf-Pause, die man eigentlich schon früher erwartet hätte. Und das, wo doch gerade so viel Hektik war und so viele Fragen auf der Zunge liegen. Morgan erhält seine Einzelfolge, die als erzählerischer Bruch und Brückenteil bereits bei früheren Momenten funktioniert hat, in denen er teils auch involviert war. Wir erhalten Einblick in die Reise Morgans zwischen der "Irre-Phase" damals und der Schlagstock-Routine heute. Das erinnert gerade zu Beginn an die schnelle und stille Schnittfolge für Enid von vor zwei Wochen, ist aber deutlich gehaltvoller geraten.
Ein neues kleines Stilmittel ist dabei der Blurry Rand, der die verschwommene und ausgrenzende Sichtweise Morgans symbolisieren soll. Das wirkt zunächst etwas plump, hat aber später durchaus seinen visuellen Moment, als Chucky die Mörderpuppe Morgan seinen Fokus zurück schenkt. Weitaus mehr geschenkt bekommt er jedoch von Eastman. Sein Leben, Falafel mit Ziegenkäse und die hohe Kunst des Aikido. Ja, vielleicht sogar seinen Seelenfrieden.
"What's your name?" – "Kill me." – "That's a stupid name. It's dangerous, you should change it!" (Eastman & Morgan)
Zu Beginn der Entwicklung war Morgan noch bereit, alles zu töten, ähm, zu "clearen" natürlich, was nicht bei Drei auf den Bäumen ist. Quasi eine Vorsichtsmaßnahme, die das eigene Trauma verdecken sollte. Durch eine Reihe von Ereignissen soll sich das ändern.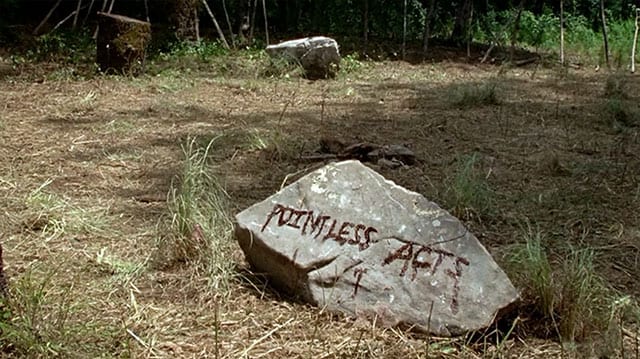 "Pointless Acts. Everybody turns." (Morgan)
Der "Sorry"-Schlag durch Eastman war eine schöne Parallele zu Morgans Variante davon vor Kurzem (also später in der Timeline, aber vor zwei Folgen, ihr wisst schon). Das mit der offenen Tür war ein netter symbolischer Akt, aber doch recht unglaubwürdig, dass der aufgebrachte frühere Morgan es kein einziges Mal getestet hat. Am Ende wirkt alles ein bisschen wie das Zähmen eines wilden Hundes. Dass eine Ziege noch mit dabei ist, mag vermutlich nicht nur aufgrund des leckeren Käses vom Tier der Fall sein – Morgan dürfte ähnlich sturr als Charakter sein.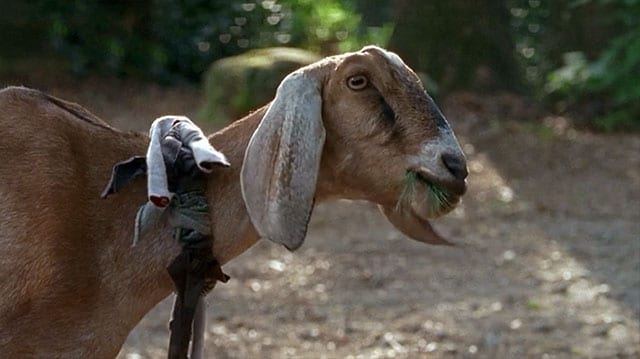 "I've come to believe that ALL life is precious." (Eastman)
Am Ende ergibt sich für Morgan zunächst der Gang gen Terminus, für uns alle dann aber doch der schnelle Schnitt und Schritt in die "Gegenwart". Die Geschichte galt der gefangenen Wolves-Geisel, die jedoch nicht wirklich einsichtig erscheint. Lang darüber nachdenken kann man nicht, denn der nächste Stress steht bereits an…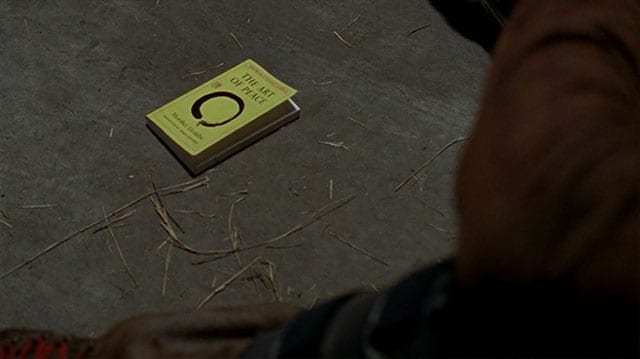 Ein klassischer "Downer" zum Dynamikwechsel und zur Schaffung von Tiefe in Story wie Charakterentwicklung. Die Schilderung wirkt durchaus stimmig und gibt einige schöne Momente. Das Spiel beider, aber vor allem von John Caroll Lynch als Eastman hat mir dabei sehr gefallen. Am Ende wirkt es meiner Meinung nach einen Tick zu langatmig (etwa 1 Stunde Nettolaufzeit!). Gelungen finde ich dagegen, dass wir Zuschauer zunächst vertröst werden, was die Geschehnisse der letzten Folge angeht. Es scheint diese Staffel bewusst viel kreuz und quer erzählt zu werden, damit gewissen Handlungsstränge sich in ihrer Spannung entfalten können. Das gefällt mir durchaus, birgt aber natürlich auch die Gefahr, dass die Stringenz flöten geht.
Nun stellt sich die Frage, was der Aufruhr am Ende war? Vielleicht erste Sichtungen der Walker-Horde, vielleicht erste zurückkehrende Überlebende? Vielleicht auch etwas ganz anderes…
Bilder: amc