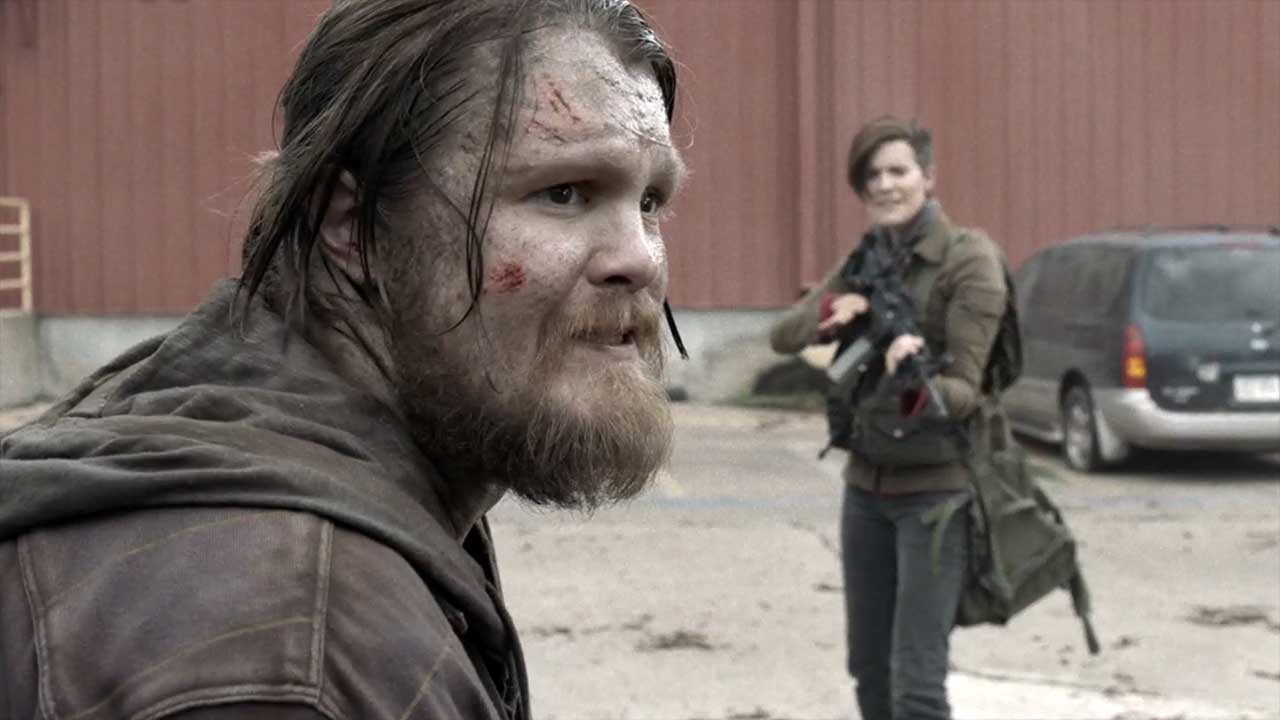 Nachdem es vergangene Woche hauptsächlich um die Vorkommnisse der Kern-Gruppe und des Steinbruches als Handlungsort ging, begibt sich "Fear The Walking Dead" in dieser Folge mal wieder in die Randgruppen. Dabei bekommt die Welt endlich das, worauf sie gewartet hat: Morgan teilt sich mit. Er erzählt Al und uns seine Familiengeschichte, die in gewisser Weise an die Anfänger der "The Walking Dead"-Geschehnisse führt. Zum Glück wird ordentlich gespult, so dass wir nur die Highlights zu sehen bekommen. Auf mich wirkt die offenkundige Erleichterung Morgans dann doch überspielt, allgemein werden viele Dinge, die nuancenhaft gespielt werden könnten, eher mit dem Hackebeil eingetrichtert, damit auch jeder Zuschauer Andeutungen und Entwicklungen kapiert, um sich als "Vorahnenden" fühlen zu können.
"An what do you wann tell me about her?" – "Hehe… How much tape do you got?" (Al & Morgan)
Ein Benzinkanister-Diebstahl durchbricht die Harmonie und wir treffen auf Tom, einen eher hilflosen Zeitgenossen, der ein Messer zu einem Schusswaffen-Kampf mitbringt. Hinter ihm ist die kürzlich eingeführte Reiterstaffel hinterher, was meiner Vermutung stützt, dass auch die zuletzt gerettete junge Dame vor eben jenen Flucht fand. Ich weiß gerade nicht, ob in der letzten Folge ihr Name genannt wurde (sie wich da ja häufiger mal aus), aber vielleicht war das gar Toms gesuchte Schwester? Nach der soll nämlich im "Paradise Rigde"-Komplex gesucht werden, nachdem man sich so semi-spannend versteckt hat. Aber es gab gerade zu Beginn ein paar nette Perspektiven zu sehen, wie zum Beispiel den POV-Shot aus dem Benzintank.
"It's alright. We can help you." – "That's what they said." (Morgan & Benzindieb Tom)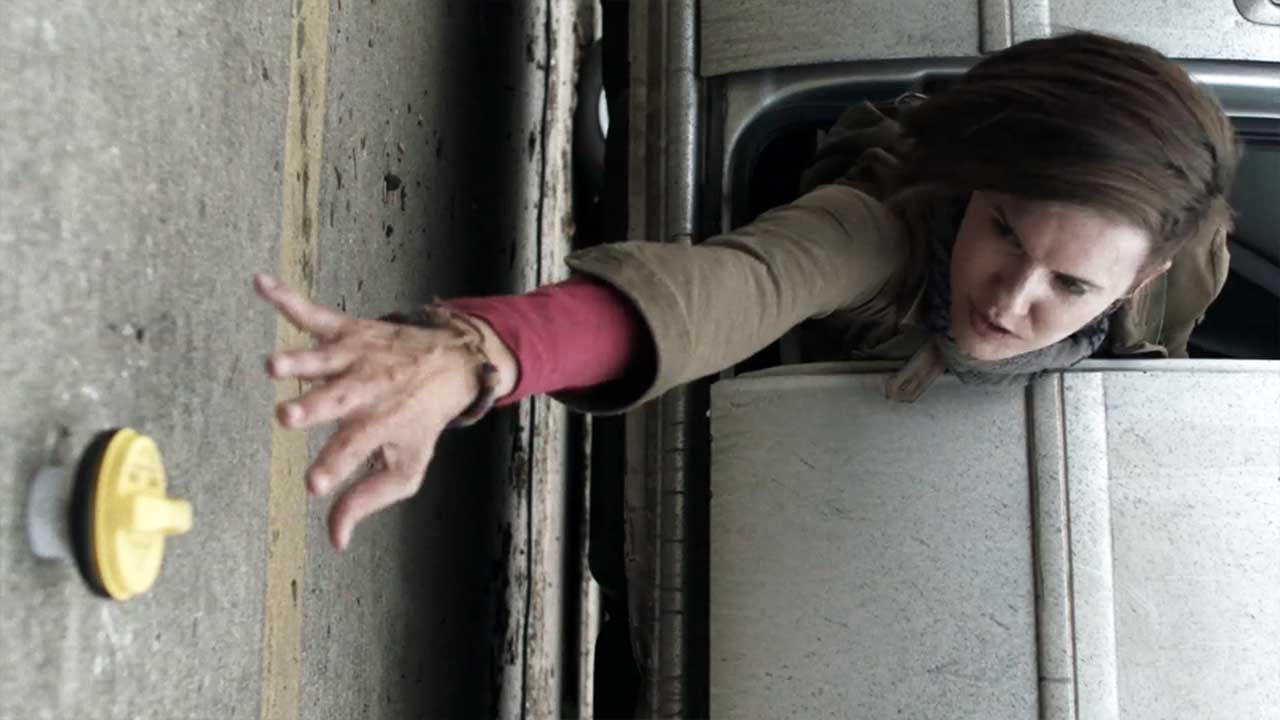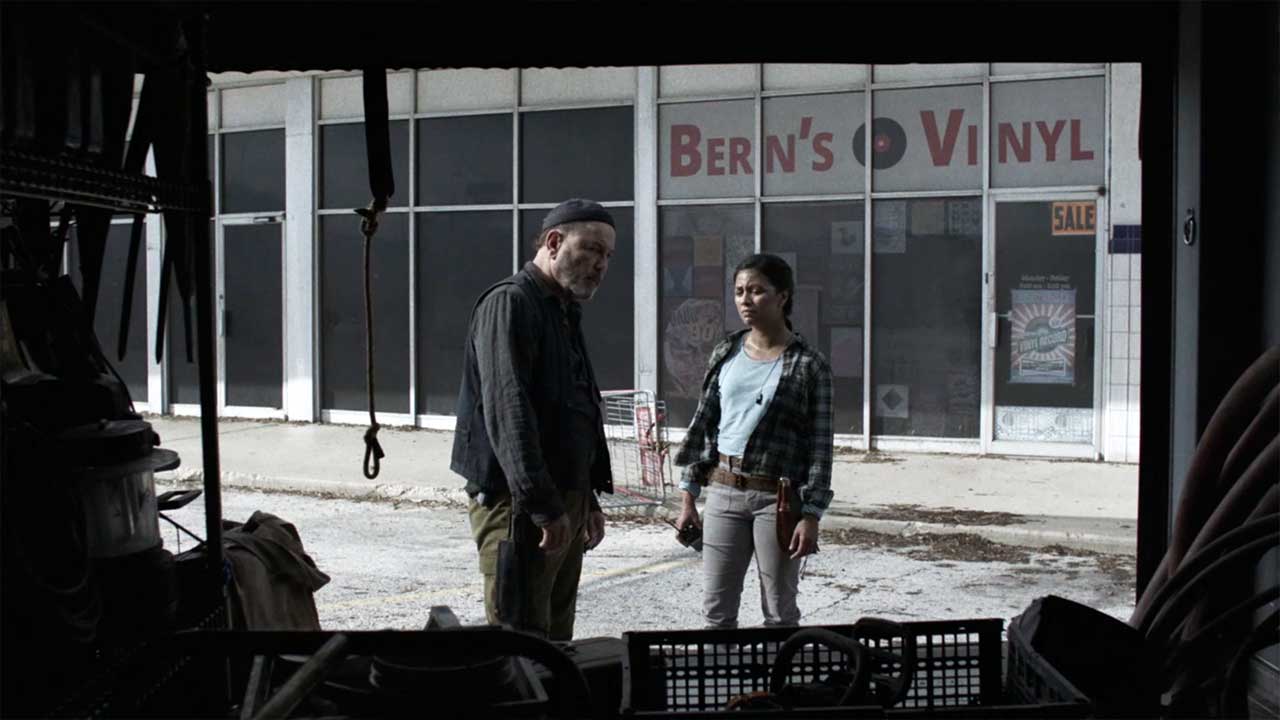 Grace und Daniel holen derweil Vinyl-Platten und Solartechnik auf ihrer Einkaufstour. Dabei ist beinahe verstörend, wie krass viel besser Daniel plötzlich drauf ist. Ähnlich wie bei Morgans Erzählbefreiung wird das überspielt. Dennoch mag ich ihn ja ganz gut leiden. Gerade die kleine Geschichte um Charlie und den Versuch, ihr ein bisschen altes Kulturgut mit auf den Weg zu geben, war eine schöne Note. Besser jedenfalls als sein Gesang (wobei Karen David erstaunlich gut singen kann!).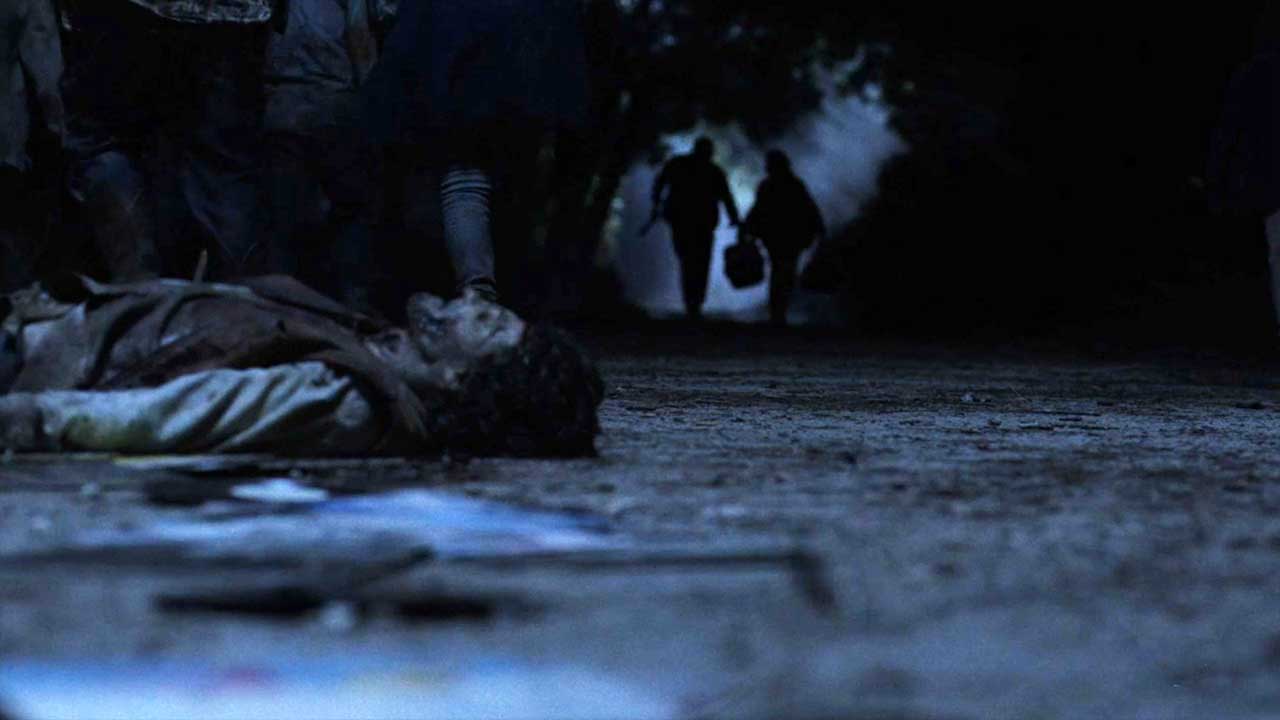 Al lockt auf recht stumpfe Art und Weise Walker zum Stützpunkt, den sie eigentlich nur auf der Suche nach ihrer Helikopter-Freundin aufsucht. Mit "Super Lanes" wurde an der Schlüsselkarte noch ein weiterer Standort recht prominent als Stützpunkt der Jenny-Sippe angedeutet.
"Try not to kill this one, okay?" (Al)
Den schlimmsten Moment der Folge gibt es nachdem Morgan einen Walker hat abstürzen lassen. Dessen "Wiederauferstehung" war noch sehr nett anzuschauen, doch dann gibt es ein paar wirre Schnitte und seltsame Bewegungen Als, bis sie urplötzlich vom total still aus dem Versteck hervorpreschenden Walker überrascht wird. Das war gleich in vielfacher Hinsicht lächerlich, da hilft auch kein netter Unterwasser-Kill mehr.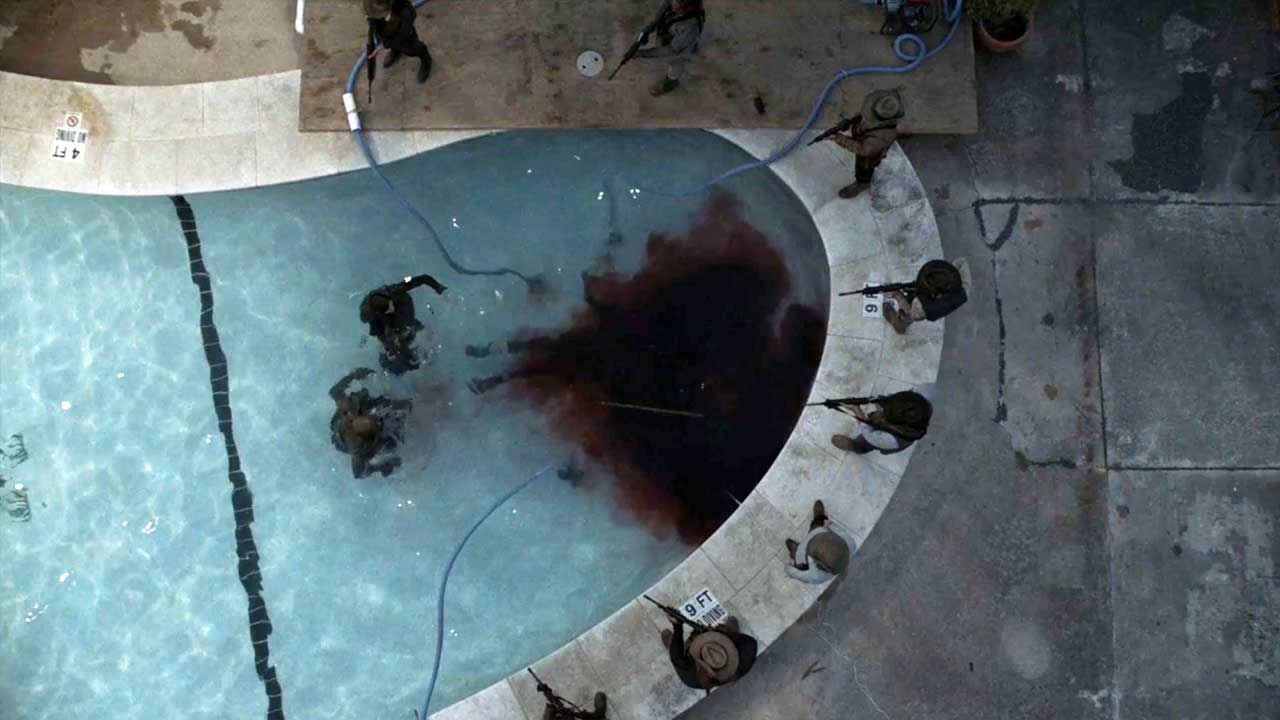 Aber weil Jenny ja bisher noch als möglichst unlesbar dargestellt werden soll, lässt sie die beiden gehen und gibt Morgan gar eine reparierte Version seines Kampfstabes mit. Am Wochenende habe ich endlich geschafft, "The Boys" anzufangen und finde Colby Minifie dort deutlich angenehmer als hier, wo sie doch eher plump-manisch daher kommt und zwar Gänsehaut hervorruft, aber eher, weil Stimme, Augen und Art irgendwie fremd wirken. Ein fieses Gefühl, das zumindest Potenzial besitzt, sollten ihre Aktionen entsprechend folgen.
"I think, I'm good." (Morgan)
Zum Ende der Folge schließt Morgan seinen Ultraschnell-Selbsthilfe-Kurs ab, aber natürlich können wir nicht mit der Utopie eines glücklichen Morgan enden, deshalb wird just, als er sich und seinem Glück selbst nicht mehr im Wege steht, selbiges vor der Nase weggeschnappt, indem Grace ihren langerwarteten Krankheitsanfall bekommt.

Naja. Wenigstens ist Morgan mal ausnahmsweise zufrieden und mit sich im Reinen. Ich fand die Folge dann doch deutlich schlechter als die letzte und auch im Quervergleich zu vorherigen nicht wirklich erwähnenswert. Zwar gab es nur wenige wirklich krasse Fehler (alleine, sowas positiv zu formulieren zeigt bereits, wie weit es mit der Serie (bergab) gegangen ist…), die Aufnahmen waren teilweise auch ganz schön anzusehen, aber letztlich ist zu wenig Konkretes passiert, vieles wirkte überspielt, zu konstruiert oder belanglos. Interessant finde ich, dass über die letzten Wochen fleißig Nebencharaktere gesammelt wurden. Ob die wohl Richtung Staffelfinale draufgehen oder irgendwann zu Höherem berufen werden (weil andere draufgehen) wird sich noch zeigen. Frischer Wind kann jedenfalls nicht schaden, auch wenn ich Tom diesbezüglich bislang noch am wenigsten zutraue.

Bilder: amc

-->