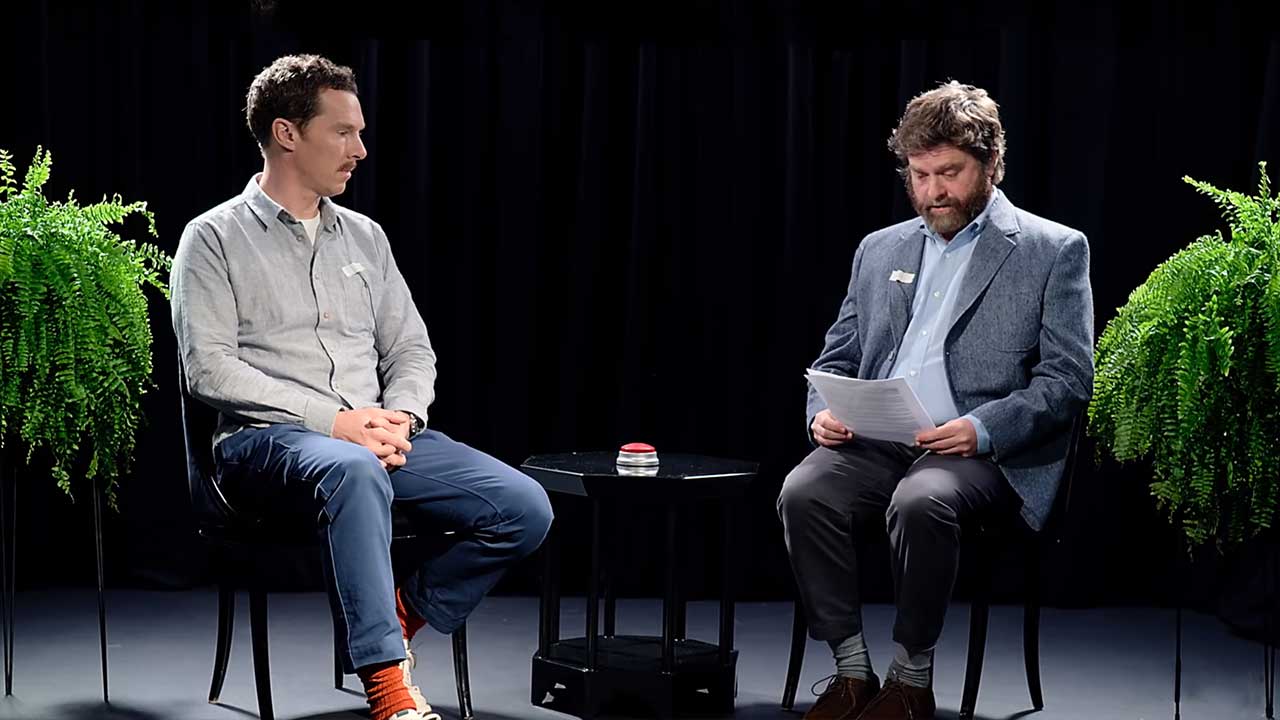 2009 hat Zach Galifianakis (ja, ich habe den Namen per Copy&Paste hier eingefügt, sicher ist sicher…) mit dem Überraschungs-Comedy-Hit-Film "The Hangover" weltweite Berühmtheit erlangt. Bereits ein Jahr zuvor hat der eigenwillige Comedian gemeinsam mit "Funny or Die" ein sehr eigentümliches Talk-Satire-Format online gebracht. Die Webshow "Between Two Ferns" hat eine große Fangemeinde erlangt und einige sehr bekannte Prominente zwischen den Pflanzen zum fremdschämigen Interview gewinnen können. Jetzt bekommt die Reihe ihren eigenen Film, auf Netflix. Ab 20. September ist "Between Two Ferns: The Movie" (oder auch in der ganz schlimm verdeutschen Fassung: "Zwischen zwei Farnen: Der Film") dort zu sehen. Hier der offizielle Trailer.
"Zach Galifianakis and his oddball crew take a road trip to complete a series of high-profile celebrity interviews and restore his reputation."
Etliche Gaststars werden mit mal größeren Auftritten und mal kleineren Cameos mit dabei sein, von denen wir einige auch aus Fernsehserien bzw. -Produktionen kennen. Unter anderem werden Matthew Mcconaughey ("True Detective"), Will Ferrell ("Dead To Me"), Peter Dinklage ("Game of Thrones"), Benedict Cumberbatch ("Sherlock"), Paul Rudd ("Wet Hot American Summer"), Tiffany Haddish ("Tuca & Bertie"), Brie Larson ("United States of Tara"), Keanu Reeves ("Swedish Dicks"), Jon Hamm ("Mad Men"), David Letterman(!), Jason Schwartzman ("Mozart in the Jungle"), Adam Scott ("Parks & Recreation"), John Cho ("Selfie"), Chance the Rapper, Rashida Jones ("Parks & Recreation"), Hailee Steinfeld ("Dickinson"), John Legend ("Master of None"), Chrissy Teigen und Tessa Thompson ("Westworld") zu sehen sein.
Ich bin gespannt, wie sie das Konzept auf die längere Spieldauer von immerhin 82 Minuten strecken werden und ob das wirklich trägt. Alleine der Gedanke, dass wir quasi hinter den Kulissen den Kampf eines seriellen Webformats in das traditionelle Fernsehen mitbekommen, könnte interessant werden (wenn auch natürlich wenig realistisch).
Wer zum Warmwerden oder Bekanntmachen mit dem Format ein paar alte Episoden anschauen möchte, kann das auf FunnyOrDie.com machen, hier ein paar beispielhafte Episoden mit den Talk-Gästen US-Präsident Barack Obama, Schauspieler Brad Pitt und Sänger Justin Bieber: