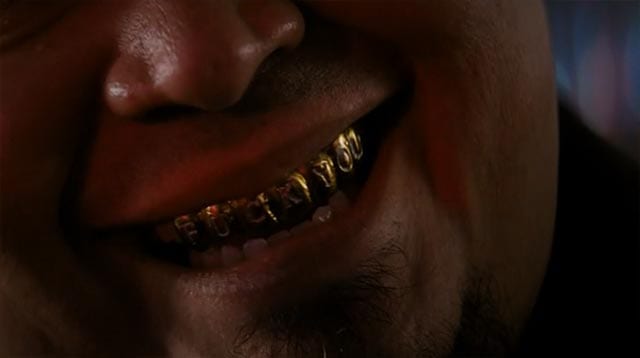 Nach dem etwas schwerfälligen Aufgalopp letzte Woche, der sich als einstündige Einleitung entpuppt hat, sollte es jetzt diese Woche eigentlich so richtig richtig los gehen. Aber die Serie setzt Schlussstriche, bevor das überhaupt passiert und will nicht so recht in Gang kommen.
Es beginnt mit geflüstertem Dialog. Ich hasse geflüsterte Dialoge. Man versteht bereits bei deutsch flüsternden Leuten kaum ein Wort, bei den Leuten hier noch weniger. Kaum glaubt man zu wissen, dass die Szene scheinbar länger derart verläuft und wenn man gerade den Fernseher auf das Dreifache lauter gestellt hat, muss natürlich etwas anderes, lauteres kommen. Ich. Hasse. Es. Da ist es schon beinahe eine Wohltuung, einen plumpen Übergang von Wasserflecken an der Decke zu den Augenhöhlen des Opfers zu erhalten. Da hat jemand im Grundkurs Filmemachen an der VHS aufgepasst!
"Not being poor is better than thr opposite." (Jordan)
Okay, zum Wesentlichen: Drei Polizisten aus drei Bereichen, die aus unterschiedlichen Gründen und in unterschiedlicher Hierarchie am Fall bleiben sollen. Aber teils nicht wollen oder können. Das wirkt noch sehr koordiniert unkoordiniert wie sich die Parteien treffen und verpassen und aus dem Weg gehen und finden. Paul möchte doch einfach nur auf sein Motorrad zurück…!
"Just one question: am I supposed to solve this or not?" (Ray)
Was bitte sollte die Szene mit den Kindern, die am Abwasserrohr gespielt haben?! Nur für den müden One-Liner…?! Da war mir der kleine Anti-E-Zigaretten-Monolog deutlich lieber.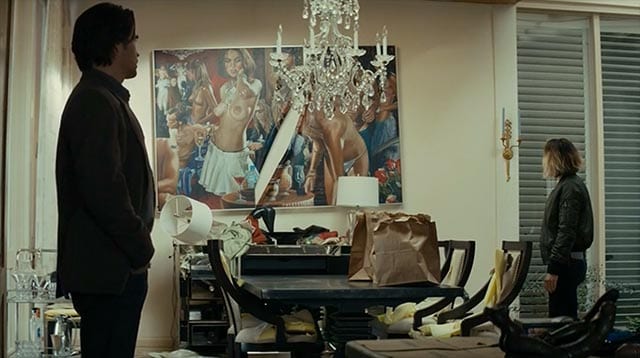 A pro pos "lieber": Diese Woche habe ich einige Male erfreut auf den Selbigen gezeigt. "Das ist doch…!". Genau. Das sind C.S. Lee aka Vince Masuka in Dexter, Abigail Spencer aka Dana Scott in Suits und Pedro Miguel Arce aka Felix in The Strain. Schön zu sehen, dass auch die B-Reihe verdammt gut besetzt ist. Hinzu kommt vielleicht DER Running-Gag der Season: Die Bar-Sängerin, die Pausen beim Singen macht wenn sich Hauptcharaktere unterhalten…
Aber hey, auch wenn alles noch etwas wirr ist, kann man sich ja immerhin langsam aber sicher auf eine schöne Charakterentwicklung freuen. Ray bekommt ins Gesicht gesagt, welch böser Arsch er ist und sein Kind entzogen. Mehrfach wird noch einmal angedeutet, welch Charakter-veränderndes Ereignis er hinter sich hat. Also nur eine Frage der Folgen, wann wir es genannt bekommen und aus Ray ein wieder besserer Mensch… Upps.
Ich leite mal mit den Worten des TV- und Film-Philosophen Nils Bokelberg in das Schluss-Plädoyer ein. Ähem…
Go hime, True Detective Season 2, you're drunk!

— Nilz Bokelberg (@Nilzenburger) June 29, 2015
Okay, ganz so schlimm ist das nicht, aber bitte?! Wo man gerade noch denkt, dass Ray eine schusssichere Weste an hat und es schon irgendwie überlebt, damit das der Wendepunkt seines Lebens ist, wird er noch einmal aus einem halben Meter Entfernung mit einer Shotgun-Salve befeuert. Okay, wieder auf die theoretische Weste, aber da will ein Schütze eigentlich auf Nummer Sicher gehen… Wäre das Thema schon einmal vom Stapel. Oder gibt es Zeitsprünge? Doch noch Rückblicke? Vermutlich nicht, das käme strukturell unpassend.
Und sonst so in der Folge? Viel Durcheinander, viel Geplänkel, viel gespielte Schwere, die sich negativ anfühlt. Die erste Staffel war keineswegs ein komödiantischer Spaziergang durch das Butterblumenfeld, aber die Schwere dort hatte noch ein Gewicht in der Handlung und nicht nur in der Zeitabsitz-Gefühlsebene auf dem heimischen Sofa. Irgendwie will ich einfach noch nicht rein kommen. Der (vermeintliche) Tod eines (vermeintlichen) Hauptcharakters nimmt mich eben Null mit, wenn ich kaum Zeit hatte, ihn kennen zu lernen und er bis dahin mehr Anti als Held für mich war. Die anderen Charaktere sind für mich bisweilen auch recht farblos, so dass ich nicht einmal alle Namen kenne. Das wirkte bei Season 1 deutlich runde, was Fall, Personen und Erzählweise anbelangt, obwohl es dort eigentlich komplexer zuging.
Noch schreibe ich die Staffel nicht ab, was vor allem am Schauspiel einiger Darsteller und der Tatsache liegt, dass die vernetzte Grundstory durchaus ihren Reiz haben kann. Aber noch sehe ich nicht ganz, wie sich das kurzfristig ausspielen soll. Hoffentlich wird das keine große Enttäuschung…