Auch diese Woche geht es wieder speziell um eine Personengruppe, fokussiert gar auf zwei Personen. Nach dem Beth-Solo letzte Woche sind wir zurück bei unserer Busreise-Gruppe, wobei vor allem auf die Geschichte von Abraham eingegangen wird. Endlich wird thematisiert wie er seine Frisur aufrecht erhalten kann. Eugene verplattert sich derweil lieber als Jemanden an sein Haar zu lassen.
Der "Hot Chics mit Begleitung"-Bus baut einen Unfall. Eigentlich bleibt genug Zeit zum Bremsen, erscheint insgesamt etwas unrealistisch, dass der Bus derart schnell ist und umstürzt. Dafür fängt er wenigstens erst auf Kommando Feuer… Und lockt zwischenzeitlich einen White Walker(?!) an. Dabei wird Eugene nach und nach zum Selbstschutz erzogen – dabei hat er sich die ganze Zeit bereits selbst zu schützen versucht.
"If I don't cure the disease, I don't save the world, I have no value. If I don't fix things, there's no way you people would keep me around, share ressources, even protect me." (Eugene)
Eugene hat den Bus aus verquerten Selbstschutzgründen manipuliert – scheinbar nicht seine erste Tat um das Fortschreiten der Gruppe zu verlangsamen. In der Sicherheit wiegend, dass "alle Freunde" sind und in der Gefahr wiegend, dass Abraham aus sturren Missionserfüllungsergeiz heraus durch eine Zombie-Horde gehen will, beichtet Eugene: er ist kein Wissenschaftler. Alles ist vergemunkelt, alles eine Lüge.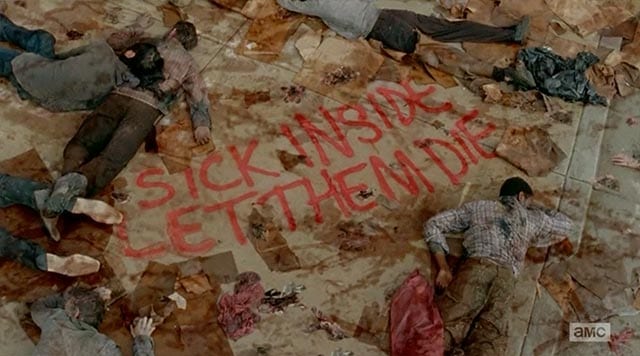 Für den Zuschauer ist das nicht wirklich eine Überraschung, aber doch nimmt diese Offenbarung ein wenig den Wind aus den Segeln. Gab es zuvor doch irgendwie ein Ziel für alle, eine theoretische Rettung, wurde jetzt alles wieder auf das reine Überleben reduziert. Besonders hart trifft das Abraham. Noch mehr als Anweisungen zu geben hat er bis vor Kurzem noch Dosenfutter und seine Ellen gemocht. Alsbald waren beide nicht mehr da und somit auch kein Lebenswille mehr in ihm. Bis Eugene auftrat. Irgendwie hat der dann doch Abraham das Leben gerettet, indem er seinem Leben einen Sinn gegeben hat. Zumindest bis hierhin.
"We're kinda at a point where everyone alive is strong now. Have to be. You're either strong and they can help you so you help them or you're strong and they can kill ya. So you gotta kill them." (Abraham)
Doch bis auf dieses Geständnis hat die Folge leider nur wenig zu bieten.
Für mich (hoffentlich) der Tiefpunkt der Staffel. Gab es bisher entweder einigermaßen wohlwollend inszenierte Action oder bedeutungsschwere Handlungen, neue Charaktere und allerlei Einflüsse, die einem zum Nachdenken bewegen, hat diese Woche versucht, sich mit dem Geständnis zu retten. Mir persönlich reicht das aber nicht, weil der Rest einfach größtenteils überflüssig und banal inszeniert war. Man hat das Gefühl, dass die Gruppe gerade ihren ersten Tag in der Apokalypse überstehen muss. Dass sie derart leicht erneut in einen Walker-Hinterhalt geraten ist bspw. selten dämlich. Alles nur um die (durchaus gefällige) Idee mit dem Wasserturm auszuspielen. Und wieso gerade in den oberen Luftfilter eines Feuerwehrautos Eingeweide kommen ist auch nicht wirklich sinnig (klar, das fliegt ggf. da oben rum, aber naja…). Dazu wirkten gerade in den Szenen etliche Splatter-Effekte doch ungewohnt künstlich.
Bereits inhaltlich hat es wenig Sinn gemacht, dass die Gesamtgruppe sich aufgesplittet hat, nun sehen wir auch wieso. Trotz Maggie und Glenn wirkt es einfach wie eine Nebengruppe, die leider eine komplette Folge wenig Relevantes auf die Beine bekommen hat. Raum bietet jetzt vielleicht die emotionale Talfahrt von Abraham und natürlich die Fragen nach dem Fortfahren der Gruppe, die sich nun sicherlich wieder auf die Suche nach Rick machen könnte. Oder sie machen einen Laden auf, in dem man Aufkleber in Walker-Form kaufen kann, die man auf Scheiben von z.B. Bibliotheken kleben kann, damit die Walker nicht dagegen laufen. Absolute Marktlücke, ich sag es euch!