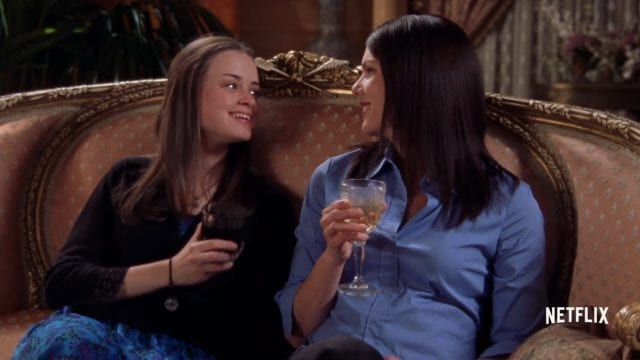 Für viele Menschen – mich eingeschlossen – war es eines der Highlights 2016: Im November veröffentlichte Netflix ein vierteiliges Gilmore Girls-Revival. Nach etwa zehn Jahren konnten wir Zuschauer also wieder nach Stars Hollow zurückkehren und den skurrilen Bewohnern ein bisschen näher kommen. Schöpferin Amy Sherman-Palladino konnte endlich das Ende umsetzen, das sie von Beginn an für die Serie vorgesehen hatte, damals aber durch Unstimmigkeiten mit Warner Bros. und dem daraus folgenden Ausstieg nach der 6. Staffel nicht realisieren konnte. So fielen am Ende des Revivals dann auch endlich die berühmten vier letzten Worte.
Und jetzt kommt die Nachricht, dass es mit den Gilmore Girls vielleicht doch noch (wieder) nicht zu Ende ist: Netflix hat erste Gespräche mit Amy Sherman-Palladino und Dan Palladino geführt, in denen es um eine mögliche Fortsetzung der Serie geht.
"We hope [it happens]. We obviously loved the success of the show, fans loved how well it was done; it delivered what they hoped. The worst thing is to wait a couple of years for your favourite show to come back and for it to disappoint you but they sure delivered and people were really excited about more and we have been talking to them about the possibility of that." – Ted Sarandos (Netflix Chief Content Officer) in einem Interview mit der britischen Press Association
Doch wollen wir das wirklich? Wollen wir noch ein drittes Mal das Gefühl vermittelt bekommen, dass die Serie nun vorbei ist und dann steht sie vielleicht noch mal und noch mal wieder auf? Ist es nicht völlig ausreichend, dass wir nach so vielen Jahren noch einmal das Vergnügen hatten, in Stars Hollow Einzug zu halten und uns nun zufrieden anderen Dingen widmen können? Wollen wir nicht immer mehr, solange wir gut unterhalten werden? Besser zufrieden Abschied nehmen als unbefriedigt und mit ungutem Gefühl zusehen, wie die Serie vom Weg abkommt – was natürlich nicht gesagt ist. Aber ist das Risiko nicht vielleicht zu groß?
Wie auch immer die Entscheidung ausfallen wird, von Sherman-Palladino bekommen wir schon sehr bald wieder etwas zu sehen. Denn vor kurzem wurde erst bekannt, dass am 17. März die neue Serie von Amy Sherman-Palladino an den Start geht – besser gesagt erst einmal der Pilot: The Marvelous Mrs. Maisel ist eine der Serien, die in der Pilot-Season von Amazon versucht, die Zuschauer so von sich zu überzeugen, dass eine ganze Staffel der Serie produziert werden kann. Wir können gespannt sein – und sollten uns zurückhalten, die Serie im Direktvergleich mit den Gilmore Girls zu betrachten.
via: TVLine Bild: Netflix