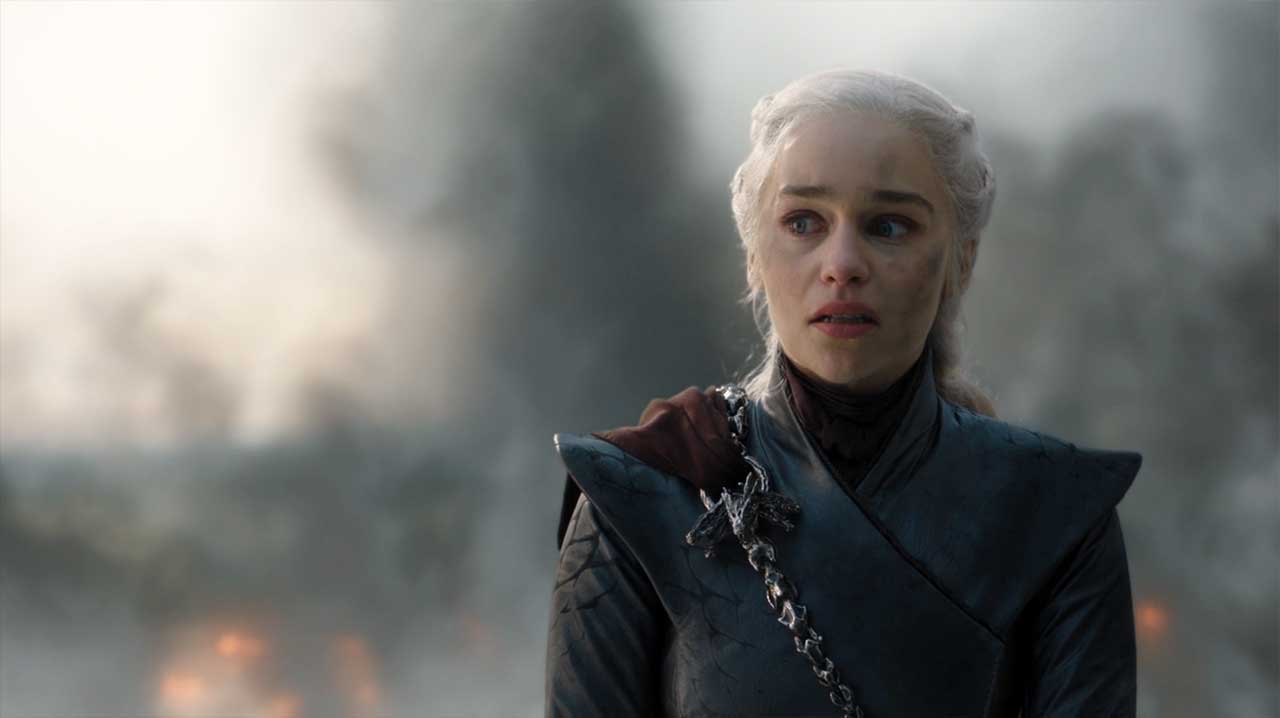 Könnt ihr uns bitte kurz auf die imaginäre Schulter klopfen? Wir haben doch tatsächlich über 24 Stunden und acht Beiträge lang nichts gepostet, das direkt mit "Game of Thrones" zu tun hat. Das gleicht momentan einem Wunder in der Größe eines Jahres voller Ruhe und Professionalität beim HSV (immerhin mal keine Relegation, Jungs!). Dass wir so "lange" nichts über Westeros geschrieben haben liegt natürlich daran, dass es nichts zu schreiben gäbe – im Gegenteil. Nur haben es zum Glück einige andere Serien-News und -Inhalte durch die dichte Decke an (gefühls)toten Zuschauern, lächerlichen Online-Petitionen und sonstigem Mimimi geschafft, den Westeros gerade ausmacht. In dem Zuge wollen wir euch dafür jetzt direkt mal zwei interessante Ansätze liefern, die euren zukünftigen "Game of Thrones"-Diskussionen etwas Stoff liefern sollten.
Foreshadowing ≠ Charakterentwicklung
Kommen wir zunächst zum momentan wohl größten Diskussionspunkt, der in der aktuellen Folge S08E05 "The Bells" vorkam: Daenerys. In meinem Review zur Episode hatte ich ja bereits geschrieben, dass ich die inhaltliche Wandlung an sich legitim finde, aber die Umsetzung vor allem in ihrer Geschwindigkeit für zumindest mal unglücklich erachte. Letztlich kann man (wie so oft) in beide Richtungen argumentieren: Hätte eine längere und deutlichere Entwicklung hin zum Wahnsinn den die Intensität des Überraschungs-Momentes zerstört? Ist Wahnsinn nicht gerade diese Unberechenbarkeit, die im Affekt ausbricht? Gab es nicht etliche vorherige Anzeichen in den Staffeln, die gezeigt haben, welches Potenzial in Daenerys steckt? Gerade Letzteres wird häufig als Freibrief für die Macher der Serie verkauft. Daher auch meine inhaltliche Unterzeichnung der Entwicklung – die eben auch nicht das zu Anfang der Staffel gedachte Happy Ende bringt, sondern ein "Game of Thrones"-würdiges unreines Ende, das zum jetzigen Zeitpunkt kurz vor der finalen Episode noch recht unklar erscheint (und ganz nebenbei ärgern sich jetzt etliche Leute, die ihr Kinde "Khaleesi" genannt haben – Upps!).
Daenerys hat in den ersten Staffeln etliche Male kompromisslos agiert und gerne auch mal Leute verbrannt, mit denen man sicherlich auch anders hätte umgehen können. Aber die waren uns alle egal. Im Gegenteil, die waren böse und haben es verdient. Natürlich ist der Massenmord-Akt in der aktuellen Folge mit nichts Vorherigem vergleichbar, aber etliche Taten und vor allem Drohungen zuvor haben bereits angedeutet, wozu Daenerys fähig ist, wenn mal nicht alle nach ihrem Willen tanzen.
YouTuber Trope Anatomy sind diese Anzeichen jedoch zu wenig. Ja, sie bestätigen gewisse Handlungen, aber das neudeutsche "Foreshadowing" sei noch lange keine richtige Charakterentwicklung. Entsprechend kritisiert er den plötzlich erscheinenden Wandel der Figur Daenerys – und fasst das in schlappen 18 Minuten Video zusammen:
"Let's talk the final season of Game of Thrones and Mad Queen Daenerys! A little different to my other vids in that it's less focused on a "trope" and more about a character and her arc. Just needed to get this out of my system."
Weshalb sich die letzten Staffeln "Game of Thrones" anders anfühlen
Einen allgemeineren Ansatz zu der Entwicklung der letzten Folgen und Staffeln "Game of Thrones" liefert Twitterer Daniel Silvermint. Allgemein gefasst und ohne wirkliche Spoiler geht er dabei auf die zwei Schriftstellungs-Techniken "Plotting" und "Pantsing" ein. Die Meinung, dass die Serie schlechter geworden ist, seitdem keine Buchvorlage mehr existiert, ist ja allgegenwärtig, aber Silvermint liefert eine logische wie interessante Erklärung dafür, wieso das der Fall sein könnte. Und lässt uns auch ein bisschen Mitleid mit "D&D" aufbauen, die echt keinen leichten Job haben (aber zumindest Kaffeebecher und eigentlich abgehackte Hände bemerken sollten…).

Hier jedenfalls der sehr interessante Twitter-Thread zum Selbst-Durchklicken:

-->