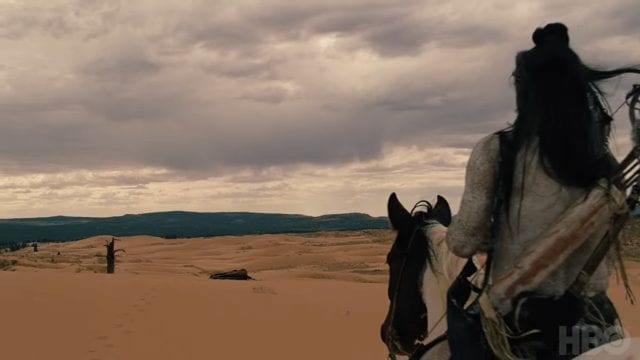 Alles, wirklich alles an diesem Trailer ist wunderbar! Die Musik, die Qualität der Bilder, das Mysteriöse der Story, die unterschwellige Gefahr, die in jedem Wort der Charaktere mitschwingt… Wenn ich es bisher nicht mehr erwarten konnte, dass endlich die zweite Staffel Westworld startet, wo befinde ich mich dann nach diesem Trailer? Argh!
"Dreams don't mean anything, Dolores… That answer doesn't seem to satisfy you?" – "Because it's not completely honest."
Traum, Programmierung, Wirklichkeit – alles verschwimmt. Und auch die Themenparks fließen ineinander über. Einer der spannendsten Punkte der neuen Staffel wird sicherlich die weitere Einführung der Shogun World sein, von der wir auch in diesem Trailer weitere Eindrücke erhalten. Und es wirkt jetzt schon alles so eindringlich – nicht zuletzt aufgrund des Nirvana Covers "Heart-Shaped Box", das wieder einmal Komponist Ramin Djawadi beigesteuert hat.
"You frighten me sometimes, Dolores." – Bernard
"Why on earth would you ever be frightened by me?" – Dolores
Die zweite Staffel Westworld startet am 22. April auf HBO und am 23. April hier bei uns auf Sky. Wie gut, dass aktuell schon die Wiederholungen der ersten Staffel laufen.