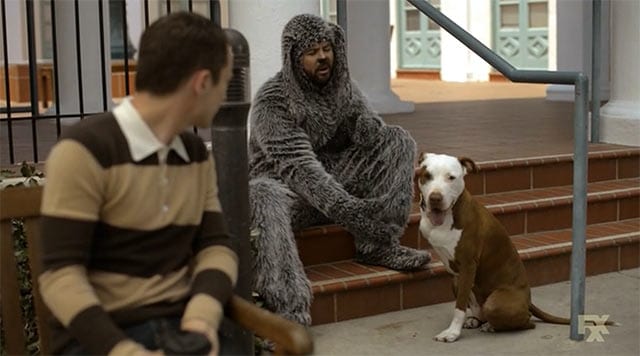 Da es ja nur noch drei Folgen der kompletten Serie sind und der Beitrag zur letzten Folge sagenhafte dreizehn(!) Mal aufgerufen wurde, ziehe ich das mit den Wilfred-Reviews jetzt einfach mal durch. Gerade, weil es diese Woche eine gute Folge zu sehen gab.
"I can be pretty mean, too… B-itch…" (Ryan zu Kristen)
Es haben sich viele bewährte Stärken der Serie in dieser Folge vereint. Die Hunde-Analogien im Verhalten Wilfreds, Plot-Fortschritt auf familiärer Seite, treffende One-Liner Wilfreds und letztlich auch die Dartellung seiner Manipulationsfähigkeiten (, die dann doch zu einem guten Ausgang kommen können). Dabei rührt alles von der Tatsache, dass Wilfred neidisch ist auf die Aufmerksamkeit, die dreibeinige Hunde erhalten und sich gewohnt wie ein Arschloch begibt. Dagegen macht Ryans Mutter scheinbar Fortschritte psychischer Natur und darf nach Hause. Ärztlichen Beistand erhält sie zum Glück auch dort.
"Looks like Roastan isn't the only three-legged dog in Moms life…" (Wilfred)
Dieswöchige Hundesitten: Wilson schreit laut der Klingel entgegen, dass er die Tür öffnet – kann er natürlich nicht (und endlich wissen wir, was Hunde dann immer bellen). Findet das nackte Streunen und öffentliche Urinieren ganz normal. Und stellt "Dick-Pics" auf Facebook…
"What do you mean, I always say 'what do you mean' and repeat what you said?" (Wilfred zu Bear)
Und die übergeordnete Erklärungssuche für Wilfreds Existenz: die kommt etwas kurz. Ryans Mom kennt "Bruce" scheinbar nicht und ansonsten bleibt der Kult eine Nebenerwähnung. Und dann wird plötzlich ein impulsiver Wunsch Wilfreds erfüllt… Weiß noch nicht, was ich davon halten soll, das wirkte etwas plötzlich und für den einen Gag (oder ein paar folgende) erzwungen. Bin gespannt, wie das Story-technisch vereinbar ist.
Meine Meinung:
Insgesamt eine sehr kurzweilige Folge, die vielleicht im Rahmen der Gesamtstory etwas zwischengeschoben und als "Füller" angesehen werden könnte, sich aber nicht so angefühlt hat. Die Story war wichtig für so ziemlich jeden Charakter der Folge und hat entsprechende Nachwirkungen, dazu war wie gewohnt auch eine gehörige Prise Humor dabei. Wenn es so weiter geht, dürfte einem sehr guten Serienfinale nichts im Wege stehen!

-->