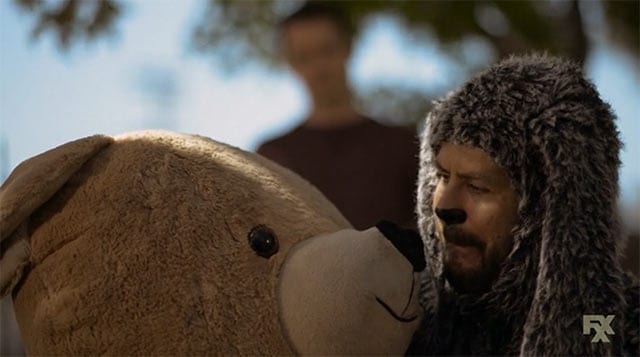 Man merkt, wir befinden uns im absoluten Endspurt! Die drittletzte und eigentlich vorletzte Folge der Serie (nächste Woche gibt es als Finale eine Doppel-Episode) hat weitere konkrete Veränderungen und Entwicklungen mit sich gebracht. Und doch fehlt uns noch die finale Antwort.
Nach dem Unfall letzte Woche ist Wilfred nun also "Three Legged" Wilfred. Das findet er selbst gar nicht mal schlecht, obwohl er deutlich eingeschränkt und hilfsbedürftig ist. Bei einer Nachuntersuchung ergibt sich der nächste Schicksalsschlag.
"Tell her! She needs to now, my lung may have breast cancer!" (Wilfred)
Es folgt eine Folge der Abschiede. Wilfred ist sich selbst des Todes sicher und geht mit Ryan eine Bucket-List durch, also Dinge, die er vor seinem Tod unbedingt machen möchte. Schade, das Thema hätte ruhig noch etwas mehr in der Folge ausgebreitet werden können, aber sie war bereits voll genug, also bleibt ein kurzer Zwischenspurt. In dem werden allerlei Hunde-Dinge abgerissen: endlich den eigenen Schwanz fangen können, gemeinsam mit Sirenen jaulen, den Postboten verdreschen, und Bear an einen kompetenten Nachfolger weiter geben. Wie überzeugend und konsequent Jason Gann immer solche emotionalen Auswüchse Wilfreds in überzogenen Einbildungen wie dem Abschied von Bear spielt, ist wirklich sensationell gut. Bye, bye, Bear! Oder besser "RIP, Bear"?
Rest in Piece kann man vermutlich auch bald zu Wilfred sagen. Ein negatives Beispiel für all die Kinder da draußen: Rauchen kann tödlich sein. Auch für Hunde. Scheinbar hat sein nahender Tod auch etwas Gutes, immerhin sind Jenna und Ryan endlich zusammen gekommen. Der Hundegott hat ihn zum Glücklichsein bewegt.
"Jenna and you had sex – I know. I can smell it all over you." (Wilfred)
Meine Meinung:
Dieses Statement Wilfreds in der Abschlussszene war der einzige Hinweis auf die übergeordnete Suche nach der Bedeutung von ihm und seinem Dasein. Und vermutlich der Übergang zu einem Finale, in dem alles geklärt wird. Oder zumindest Ryan eine für ihn funktionierende Erklärung ausmacht. Wird Wilfred sterben und Ryan mit Jenna ein glückliches Leben führen? Ich bin mir nicht sicher, eigentlich wäre es im Geiste der Serie, wenn etwas Endgültiges passieren würde, etwas Dunkles, Markaberes. Ich bin jedenfalls sehr gespannt auf das große Finale kommende Woche und jetzt schon etwas traurig darüber, dass es dann vorbei sein wird.

-->