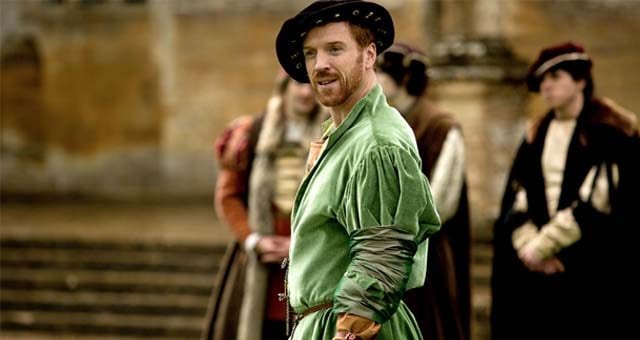 Die britische Miniserie "Wolf Hall" aus dem Frühjahr diesen Jahres war und ist ein wahrer Kritikerliebling aber auch bei Serienfans beliebt. Noch weiß man nicht, ob es eine zweite Staffel geben wird – man darf aber noch hoffen. Die Serie mit Damian Lewis als König Henry VIII. und vor allem einem beeindruckenden Mark Rylance als Thomas Cromwell kommt nun auch nach Deutschland. Ich hatte damit in der Tat nicht gerechnet.
Wobei ich mich sehr freue, denn entgegen meiner Aussage zur Pilotfolge, die mir wirklich gut gefallen hat, habe ich dann doch die Serie mit seinen sechs Episoden nicht zu Ende geschaut. Und wenn ich eine synchronisierte Fassung bekommen kann, hervorragend, dann werde ich mir die restlichen Episoden bestimmt noch geben.
Ab dem 21.Januar wird arte die sechs Folgen versenden und man darf erwarten, dass man diese auch abschließend ausgestrahlt bekommt. Mir wäre keine Serie bekannt, die arte mittendrin in der Ausstrahlung abgebrochen hätte. Von daher lasst euch die Serie nicht entgehen.
Die bisherige Serie basiert auf einem Roman gleichen Namens von Hilary Mantel rund um Henry VIII. und vor allem Thomas Cromwell, einem der wohl schillernsten Figuren der britischen Geschichte. Mantel hat aber auch noch einen Nachfolgeroman in der Schublade, "Bring Up the Bodies". Sollten die bisherigen sechs Folgen den ersten Roman vollständig abbilden, hätte man in der Tat noch Stoff für eine zweite Staffel.
Die Serie spielt also im 16.Jahrhundert – in Deutschland die Zeit Martin Luthers – und im Mittelpunkt stehen Henry VIII. und sein Berater Thomas Cromwell, ein politisches Genie. Die Genialität wird von Henry VIII. auch dringend benötigt, denn das Land steuert auf einen Bürgerkrieg zu. Und Thomas Cromwell, geboren als Sohn eines Schmiedes, ist genau das, was er benötigt. Cromwell ist berechnend, eiskalt und vor allem bereit Regeln zu brechen um an die Macht zu gelangen und sie zu bewahren. Und bedingungslos seinem König zu dienen.
Und wenn ihr jetzt denkt, Henry VIII., habe ich doch schon mal in der Schule gehört, habe da keine allzu sympathischen Erinnerungen. Der liegt richtig, Henry VIII. war der mit den sechs Ehefrauen, wobei zwei dieser Ehen durch Annullierung und zwei durch Hinrichtungen dieser Ehefrauen endeten.
Eine dieser (noch beabsichtigten) Annullierungen ist auch der Gegenstand der Handlung der ersten Episoden. Denn Henry VIII. möchte sich scheiden lassen, da seine erste Frau keine Kinder bekommen und man einen Bürgerkrieg erwarten kann, sollte Henry VIII. kinderlos sterben. Und sein Gesuch zur Annullierung der Ehe beim Papst fällt aber auf taube Ohren. Der Beginn der englischen Reformation. Und im Mittelpunkt der politischen Ränkespielchen: Thomas Cromwell.
Die Serie überzeugt durch seine exorbitant guten Schauspieler und einer beeindruckenden Geschichte. Drama comes to reality! Und History und BBC – das passt eben immer noch sehr gut zusammen.