PRO: Die Charaktere
Wie in allen Whedon-Shows sind da einfach geile Charaktere am Start, deren komplexe Beziehungen sich über den Lauf der Serie wandeln. Die verschiedenen Team-Ups haben alle was für sich und können (fast) alle die eigenen Emotionen zum beben bringen.
"Our intent is to create interest in the characters, along with a desire to know more about them, then peel back the layers slowly but surely. It's amazing how much people hate the word slowly these days. All of our characters are spies—with the exception of Skye, who is fast becoming one—and are trained to play things close to the vest. But yes, as the season and show progresses, we'll be uncovering more and more about our characters… as well as meeting some new ones."
via: The Mary Sue
CON: Agent Phil Coulson
Trotz ein paar guter One-Liner ist der irgendwie ziemlich unepisch auf dem kleinen Bildschirm. Mag vielleicht daran liegen, dass Clark Gregg mit seinen 52 Lenzen einfach nicht mehr so die Badassery herüberbringen kann. Obwohl seine gleichaltrigen Kollegen, wie zum Beispiel Bill Paxton das irgendwie besser draufhaben.
PRO: Marvel Universum-Inklusion
Zu hören, wie jemand seine Test-Ergebnisse mit denen von Captain America vergleicht oder wie Agent May und Skye Thor als "dreamy" bezeichnen macht für den Marvel-Gucker schon Spaß.
PRO/CON: Kitschige Hollywood-Science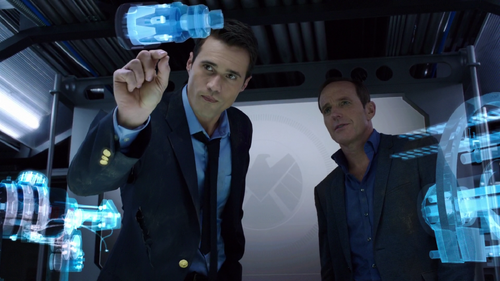 Also in den ersten Folgen sieht das alles viel zu sehr Möchtegern-Bond aus. Später dann schon eher so Richtung Iron Man. Manche Gadgets und außerirdische Objekte, die in der Show so auftauchen, sind dann doch einfach interessant für den Scifi-Liebhaber.
PRO: Eine gute Mischung
…aus Action, "angst" und Humor.
CON: Folgen 01-03
Die ersten drei Folgen sind alles andere als AWESOME, ziemlich AWFUL sogar. (Außer vielleicht dem Piloten kann man die meiner Meinung nach aber, wie schon gesagt, skippen.)
PRO: Clevere Plot Twists
ICH VERRATE NICHTS!!

Dieser Beitrag hat mehrere Seiten:

-->