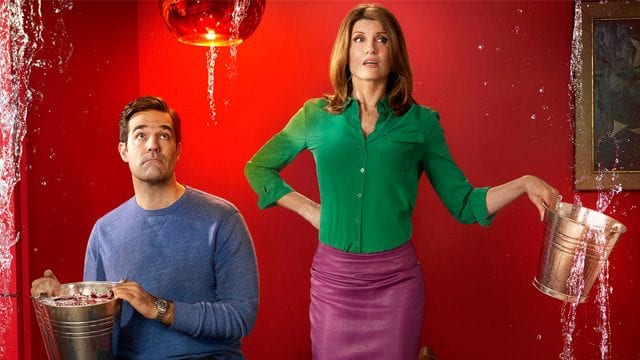 Zu meiner inoffiziellen Reihe kleiner britischer Serienperlen, die wahrscheinlich eh niemand kennt, dachte ich mir, verliere doch mal ein paar Worte über "Castastrophe", einer Comedyserie bei Channel4. Die erste Staffel lief Anfang 2015 und hatte entsprechend hohe Einschaltquoten und gute Kritiken, so dass sich Channel4 eigentlich recht schnell dazu entschied, dieser kleinen Serie rund um Sharon und Rob eine zweite Staffel folgen zu lassen. Vollkommen zurecht. Natürlich.
Die Serie behandelt das Leben der Irin Sharon Morris und des Amerikaners Rob Norris, die sich durch Zufall in einer Londoner Bar kennenlernen und die Nacht miteinander verbringen ("I never had casual sex with a sober person before"). Doch bei dieser einen Nacht blieb es nicht, die restlichen Tage der Geschäftsreise von Rob in London werden maximal genutzt. Selbst am Abreisetag wird das kleine Zeitfenster, bis das Taxi kommt, noch einmal ausgiebig genutzt. Soweit, so gut. Und natürlich kommt es wie es kommen muss, Sharon wird schwanger. Rob entscheided sich für einen Umzug nach London, denn er will mit Sharon das gemeinsame Kind aufziehen und mit ihr eine richtige Beziehung führen. Für beide eine sehr weirde Situation.
"So, where are you staying? — I'm joking! You can stay in my spare room. — I'm joking! I'm a teacher, I don't have a spare room."
(Sharon)
Die Serie hat einen sehr humorvollen Umgang hinsichtlich der Problematik dieser Konstellation. Und das schöne dabei, alles erfolgt aus Erwachsenensicht. Wir hätten also Rob, einen Immobilienmanager und bereit nach London umzuziehen sowie Sharon, eine zynische Lehrerin, die jeden dritten Gedanken mit "fuck" garniert, die sich in das Abendteuer einer Beziehung stürzen obwohl sie sich eigentlich erst kennen lernen müssen.
Die Serie hat einen ganz sympathischen Serienhumor, was bestimmt auch daran liegt, dass die beiden Hauptdarsteller im "echten Leben" eigentlich Comedians sind, die diese Serie selber schreiben und als etwas ungleiches Paar sehr gut funktionieren.
Und die besagte zweite Staffel wird bei Channel4 ab dem 27.Oktober laufen. Nice!
Hier mal als kleine Einstimmung der Trailer zur zweiten Staffel.
Catastrophe | Series 2 | Tuesday 27th Oct 10pm | Channel 4
Foto: Channel4