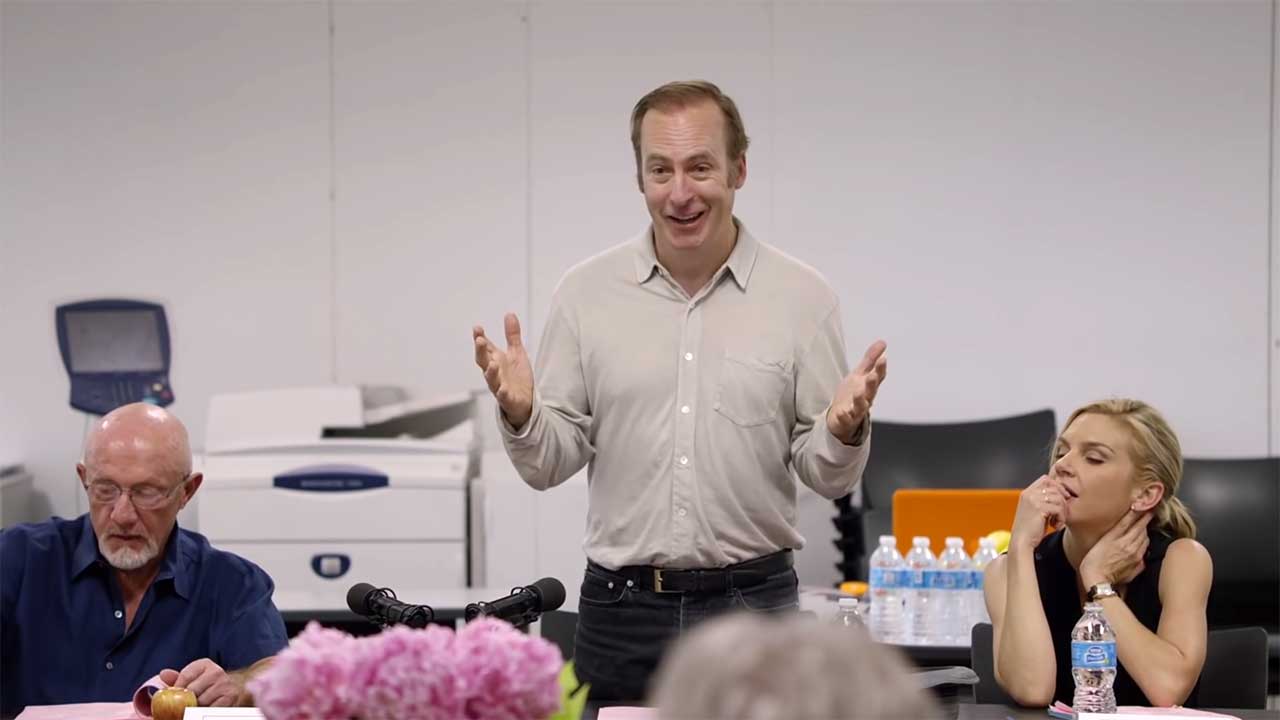 Otto Al-Yasari hat aus dem Bonus-Material der Blu-ray zur 1. Staffel "Better Call Saul" (Partnerlink) dieses Extra extrahiert und online bereit gestellt. Beim Table Read der allerersten Episode (S01E01, "Uno") des "Breaking Bad"-Spin-Offs um Jimmy McGill aka Saul Goodmann sind Hauptdarsteller und Produzenten zugegen, um nicht nur den Auftakt der Serie gemeinsam zu lesen, sondern auch ein paar initiierende Worte für das damals (Dreh müsste 2014 gewesen sein) beginnende Projekt. Es ist fantastisch zu sehen, wie begeistert vor allem Hauptdarsteller Bob Odenkirk von den anstehenden Arbeiten zu sein scheint (wobei er ja auch ein alter Show-Hase ist, der es weiß, wie man sich vor Publikum euphorisch präsentieren kann). Dennoch merkt man, wie viel Lust alle auf die Serie haben, Showrunner Vince Gilligan inkludiert. Ein sehr schöner Einblick, wie ich finde, zumal man tatsächlich mal ungekürzt eine komplette Episode "vorgelesen" bekommt!
"BCS is one of my favorite TV shows and I just love how well-acted it is. And seeing the actual behind the scene footage and the real process of making the show is so interesting and inspiring. That, I think that every fan of the show must see them. I Do not own any of the content in this video, All the rights reserved to AMC and Sony."
Fünf Staffeln und Jahre später herrscht die Gewissheit, dass "Better Call Saul" sich hervorragend aus dem großen Schatten von "Breaking Bad" hat etablieren können und eine ebenbürtige Nachfolge-Serie zum Mutter-Format darstellt, das von Season zu Season an Qualität und Intensität dazugewonnen hat.
Wer das interessant fand, sollte sich auch ansehen, wie Bob Odenkirk zu seiner Rolle als Saul Goodman gekommen ist. Weitere Inhalte zu "Better Call Saul", inklusive der Einzelfolgenreviews zur aktuellen Staffel der Serie, gibt es hier bei uns im Blog-Archiv für euch zu finden.