Letztes Jahr hatte mit "Biohackers" eine deutsche Netflix-Serie Premiere, und bereits kurz nach Staffelende stand fest, dass das deutsche Netflix Original eine zweite Staffel erhalten würde. Staffel 1 erhielt zwar durchwachsene Kritiken, aber die Abrufzahlen haben international wohl gepasst, und so können wir uns die 2. Staffel von "Biohackers" ab dem 9. Juli 2021 vornehmen. Staffel 1 war seinerzeit von April auf August 2020 verschoben worden: Obwohl es in der Serie nicht um eine Pandemie geht, hatte sich Netflix gemeinsam mit den Machern kurzfristig dazu entschieden, sie vor dem Hintergrund der Ausbreitung des Corona-Virus vorerst nicht zu zeigen. Zu Beginn der Serie ist eine Szene zu sehen, die auf manche Zuschauer zum damaligen Zeitpunkt hätte verstörend wirken können.
Alle sechs neuen Episoden der von Christian Ditter ("How to be Single", "Love, Rosie", "Girlboss") inszenierten Science-Fiction-Thriller-Serie starten jetzt aber wie geplant und werden dann ab dem 9. Juli 2021 auf Abruf bereit stehen. Wieder mit am Start beim Cast: Luna Wedler, Jessica Schwarz und Benno Fürmann.
Netflix' "Biohackers": Darum geht's in Staffel 1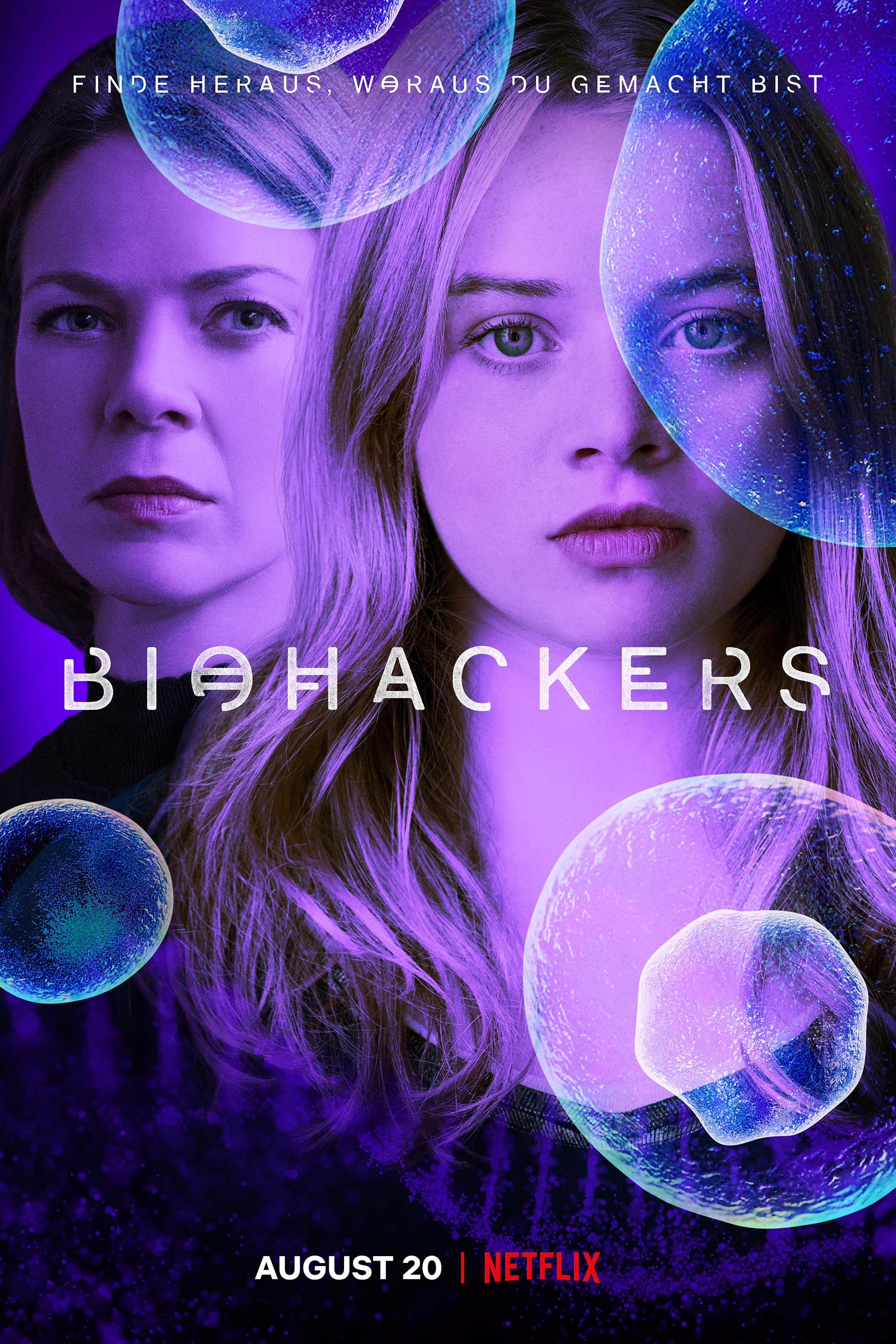 Wer nicht mehr ganz in Erinnerung hat, was in Staffel 1 passiert ist, kann sich in einem Recap-Video informieren, das Netflix jetzt kurz vor dem Start veröffentlicht hat oder sich unsere Zusammenfassung durchlesen: "Biohackers" erzählt eine Geschichte von Freundschaft, Liebe und Rache an einer deutschen Universität vor dem Hintergrund von Biohacking-Technologie und seiner ethischen Implikationen. Im Mittelpunkt steht das Duell zweier Frauen: Mia, gespielt von Luna Wedler ("Das schönste Mädchen der Welt", "Dem Horizont so nah"), ist Medizinstudentin und verfolgt unerschrocken und zielstrebig einen eigenen geheimen Plan. Ihre Gegenspielerin ist die Star-Dozentin und Bio-Wissenschaftlerin Prof. Tanja Lorenz, gespielt von Jessica Schwarz ("Das perfekte Geheimnis", "Narziss und Goldmund").
Mia beginnt also ihr Medizinstudium an der Uni Freiburg, doch schnell stellt sich heraus, dass ihr Interesse an revolutionärer Biohacking-Technologie nicht nur wissenschaftliche Gründe hat: Sie will das Vertrauen von Star-Dozentin Prof. Tanja Lorenz gewinnen, mit der sie ein dunkles Geheimnis verbindet. Um den Tod ihres Bruders aufzuklären, begibt sie sich in eine gefährliche Welt voller illegaler Gen-Experimente. Als sie den genialen Biologiestudenten Jasper und seinen geheimnisvollen Mitbewohner Niklas kennenlernt, muss sie sich entscheiden: Zwischen ihren Gefühlen und ihren Prinzipien, zwischen Rache für ihre Familie und dem Schutz ihrer neuen Freunde.
Netflix' "Biohackers": Darum geht's in Staffel 2
Allzu viel hat Netflix noch nicht in Sachen Staffel 2 verraten. In der Ankündigung heißt es nur, dass die neuen Folgen mit einem Blackout starteb: Medizinstudentin Mia kommt Monate nach ihrer Entführung zu sich, ohne jegliche Erinnerung an die Geschehnisse zu haben. Was ist passiert? In der zweiten Staffel des Science-Thrillers muss Mia diesem düsteren Geheimnis auf die Spur kommen, von dem ihr Leben abhängt. Ausgerechnet ihre einstige Kontrahentin, die Bio-Wissenschaftlerin Prof. Dr. Lorenz, scheint mehr zu wissen und ist offenbar die einzige, die Mia helfen kann. Doch können sich die beiden Frauen, nach allem was passiert ist, vertrauen?

Bild: Netflix

-->