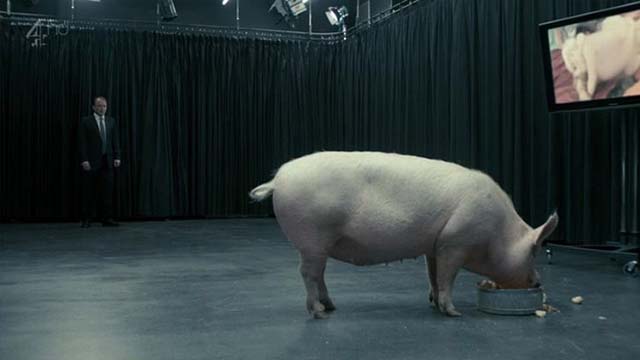 Es dürfte wohl kaum einen Serienfan geben, der mit diesem Bild (also dem vom Schwein) so rein gar nichts anfangen kann. Dieses Bild dürfte stellvertretend für eine der hervorragendsten Mystery-Tech-Fiction Serien ever stehen wie sonst nur weniges. Die Rede ist natürlich von "Black Mirror", dem UK Hit von Charlie Brooker, welche im letztem Jahr bei Netflix eine neue Heimat gefunden hatte.
Die kommende dritte Staffel ist die erste Staffel unter dem Dach von Netflix. Was wir Fans schon eine ganze Weile wussten, war, dass Netflix ganze zwölf neue Episoden bei Brooker und seinen Dudes bestellt hatte.
Episodentitel
Nun kennen wir sogar die ersten sechs Episodentitel. Cool, auch wenn man damit jetzt nicht unbedingt etwas anfangen kann.
San Junipero
Shut Up and Dance
Nosedive
Men Against Fire
Hated in the Nation
Playtest
Ob das nun bedeutet, dass die restlichen bestätigten sechs Episoden in einer vierten Staffel veröffentlicht werden, weiß nur Netflix. Und Charlie Brooker. Ich leider nicht. Aber lässt dieses vermuten.
Startdatum 3. Staffel
Womit man durchaus etwas anfangen kann, ist das Startdatum der dritten Staffel. Da hat Netflix jetzt nämlich den 21.Oktober rausgehauen. Nice. Ist ja gar nicht mal so lange hin.
Zudem kennen wir nun zwei neue Castmitglieder der dritten Staffel, wir erinnern uns noch mal kurz, dass jede Episode nur rein thematisch mit der davor ausgestrahlten Episode zu tun hat – im weitesten Sinne – und die Schauspieler sich auch ständig die Klinke in die Hand geben.
Neue Castmitglieder
Und die beiden Neuen versprechen schon mal etwas Großes: James Norton und Jerome Flynn. Norton kennen wir aus "Happy Valley" und "War and Peace". In beiden Serien konnte mich James Norton überzeugen. Und Jerome Flynn kennt man natürlich nicht nur als Bronn in "Game of Thrones" sondern auch als Bennet Drake in "Ripper Street". Beides tolle Rollen, beides Beispiele für das schauspielerische Können Flynns.

Jetzt fehlt eigentlich nur noch ein Trailer… Netflix?

via: theverge

-->