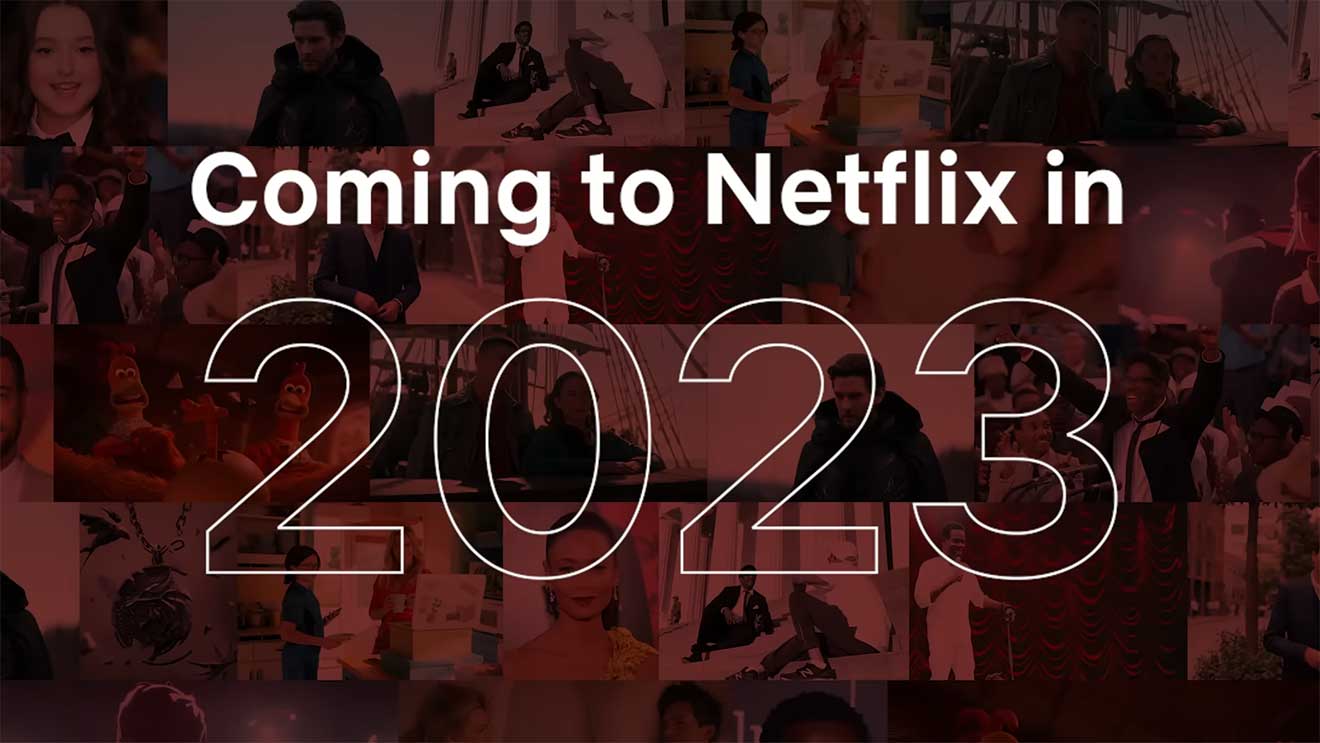 Was wir im Januar konkret auf Netflix an Serienstarts, neuen Staffeln und Filmen zu erwarten haben, wissen wir ja längst. Wie bereits Anfang letzten Jahres geschehen, hat der Streaming-Anbieter eine Video-Vorschau veröffentlicht, die etliche Highlights anteasert, die wir im Laufe des Jahres auf der Plattform zu sehen bekommen werden. Die Aufmachung ist leider super-lame, weil da lediglich einige Ankündigungs-Tweets diverser Netflix-Accounts im Wechsel mit ein paar Textboxen präsentiert werden (da hätte man sich wirklich mal die Mühe machen können, jemanden vernünftig drüber sprechen zu lassen). Entsprechend wenige wirkliche Neuigkeiten scheint es darin zu geben, als kleiner Überblick und Appetit-Anreger für das Kalenderjahr taugt es aber dennoch.
"Get ready for Netflix 2023! Here are just SOME of the incredible titles to watch on Netflix this year."
Hier die im Video genannten Produktionen im Überblick (weiter unten gibt es noch mehr zu erwartbaren Serienstaffeln):
"The Lying Life of Adults" – 4 January
"Copenhagen Cowboy" – 5 January
"The Pale Blue Eye" – 6 January
"Vikings: Valhalla" (Staffel 2 – 12 January
"Break Point" – 13 January
"That 90's Show" – 19 January
"JUNG_E" – January 20
"Lockwood & Co" – 27 January
"You" (Staffel 4, Teil 1) – 9 February
"My Dad The Bounty Hunter" – 9 February
"Your Place or Mine" – 10 February
"Outer Banks" (Staffel 3) – 23 February
"Shadow And Bone" (Staffel 2) – 16 March
"The Witcher" (Staffel 3) – Summer 2023
"Chicken Run: Dawn of the Nugget"
"Heartstopper" (Staffel 2)
"The Crown" (Staffel 6)
"Extraction 2"
"Junji Ito Maniac"
"Lupin" (Teil 3)
"They Cloned Tyrone"
"The Mother"
"Damage"
"Heart of Stone"
"Hellbound" (Staffel 2)
Chris Rock Live
"Formula 1: Drive To Survive" (Staffel 5)
"Rustin"
"Berlin"
"You People"
"Queen Charlotte"
"The Kitchen"
"Nimona"
"Three Body Problem"
"Live To Lead" – Now Streaming
Ich sag mal so: Es scheint, als würde sich der Trend fortsetzen, dass Netflix eher in Richtung Masse statt Klasse geht. Da ist vieles okayes bei, die wirklichen Highlights, denen man richtig entgegenfiebert und vor denen sich die Konkurrenz in Acht nehmen sollte, sind weniger dabei. Gut, bei den Neustarts können wir schlecht sagen, wie gut oder schlecht die sind, wirkliche Schatten werden aber kaum vorausgesehen. Wobei da ja schon einige bestätigte Fortsetzungen dabei sein könnten, die mir im Video fehlen – vielleicht ist man sich bei Netflix noch nicht sicher, dass man zum Beispiel die Fortsetzung zu "Squid Game" noch in diesem Jahr veröffentlichen können wird?
Neue Staffeln von Netflix-Serien im Jahr 2023
Die Kolleg:innen von Moviepilot haben schon einmal vorausgeblickt und zusammengefasst, welche neuen Staffeln altbewährter Serien wir dieses Jahr auf Netflix erwarten dürfen. Ich freue mich persönlich sehr auf Staffel 2 des südkoreanischen Originals "All Of Us Are Dead" und neue Folgen von "Black Mirror" wären auch mal wieder fällig! Letztmals Henry Cavill als Witcher zu sehen dürfte auch interessant werden und "Love, Death + Robots" geht eh immer.
Neue Staffeln im Februar 2023 bei Netflix
You – Du wirst mich lieben, Staffel 4 Teil 1 – Start: 9. Februar
The Upshaws, Staffel 3 – Start: 16. Februar
Outer Banks, Staffel 3 – Start: 23. Februar
Aggretsuko, Staffel 5 (Finale) – Start: Februar
Neue Staffeln im März 2023 bei Netflix
You – Du wirst mich lieben, Staffel 4 Teil 2 – Start: 9. März
Shadow and Bone – Legenden der Grisha, Staffel 2 – Start: 16. März
The Glory, Staffel 2 – Start: März
Neue Staffeln 2023 bei Netflix – ohne Startdatum
All Of Us Are Dead, Staffel 2
AlRawabi School for Girls, Staffel 2
Als Schwiegermutter einzog, Staffel 2
Arcane, Staffel 2
Auf der Suche nach Ola, Staffel 2
Big Mouth, Staffel 7
Black Mirror, Staffel 6
Blood of Zeus, Staffel 2
Blood of Zeus, Staffel 3
Bridgerton, Staffel 3
Der Club, Staffel 3
Der Prinz der Drachen, Staffel 5
Der Prinz der Drachen, Staffel 6
Der Vogel und die Löwin, Staffel 2
Die Kaiserin, Staffel 2
D.P., Staffel 2
Ein anderes Selbst, Staffel 2
El Reino – Dein Reich komme, Staffel 2
Elite, Staffel 7
Emily in Paris, Staffel 4
Ersan Kuneri, Staffel 2
Fatma, Staffel 2
Girls5Eva, Staffel 3
Heartbreak High, Staffel 2
Heartstopper, Staffel 2
Heilige Familie, Staffel 2
Hellbound, Staffel 2
Herzschlag, Staffel 2
Hilda, Staffel 3 (Finale)
Human Resources, Staffel 2
I Think You Should Leave with Tim Robinson, Staffel 3
Im Auge des Wolfes, Staffel 2
Immer für dich da, Staffel 2 Teil 2 (Finale)
Kengan Ashura, Staffel 3
Love, Death & Robots, Staffel 4
Lupin, Staffel 2 (Teil 3)
Manifest, Staffel 4 Teil 2 (Finale)
Mitternacht im Pera Palace, Staffel 2
Noch nie in meinem Leben …, Staffel 4 (Finale)
Ragnarök, Staffel 3 (Finale)
Sandman, Staffel 2
Sex/Life, Staffel 2
Sex Education, Staffel 4
Sintonia, Staffel 4
Sonic Prime, Staffel 2
Sonic Prime, Staffel 3
Squid Game, Staffel 2 – evtl. erst 2024
Süße Magnolien, Staffel 3
Sweet Home, Staffel 2
Sweet Home, Staffel 3
Sweet Tooth, Staffel 2
The Crown, Staffel 6 (Finale)
The Lincoln Lawyer, Staffel 2
The Victims' Game, Staffel 2
The Witcher, Staffel 3 – Start: Sommer
Top Boy, Staffel 5 (Finale)
Ultraman, Staffel 3 (Finale)
Unsichtbare Stadt, Staffel 2
Valeria, Staffel 3 (Finale)
Virgin River, Staffel 5
Wieder 15, Staffel 2
Willkommen auf Eden, Staffel 2
Young Royals, Staffel 3 (Finale)

-->