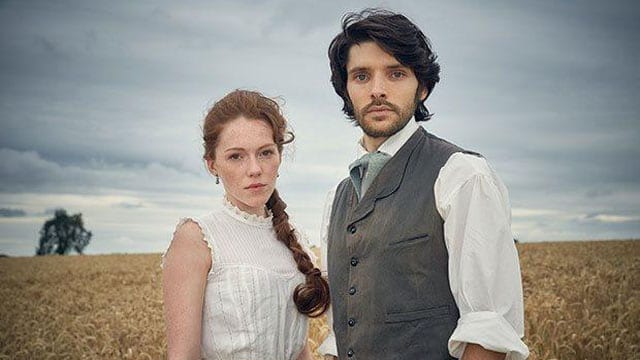 Das Jahr 2016 könnte gruselig werden. Nach "In The Flesh" wird es bei der BBC eine weitere Dramaserie mit übernatürlichen Phänomenen, Ereignissen und interessanter Ausgangslage geben. Bereits im letzten Jahr hatte die BBC mitgeteilt, dass man ein Drehbuch zu einer dramatischen Geister-Untoten-something Serie in Auftrag gegeben hatte. Die Produktion der sechsteiligen Serie soll in 2015 beginnen und in 2016 ausgestrahlt werden. Nun ist es soweit, die Dreharbeiten zur Serie haben begonnen und die beiden Hauptdarsteller wurden bekannt gegeben.
In der männlichen Hauptrolle wird Colin Morgan zu sehen sein. Morgan kennt man aus "The Fall" (sehr sehenswert mit Gillian Anderson) oder wahrscheinlich noch bekannter aus der Channel4/AMC Serie "Humans". Seine Ehefrau in der Serie wird von Charlotte Spencer verkörpert, mir bekannt aus "Line of Duty".
In der Serie "The Living and the Dead" geht es um den Farmer Nathan Appleby und seine Frau Charlotte, die im Südwesten Englands 1894, in Somerset, eine Farm betreiben. Wobei Nathan lieber seinem großen Hobby nachgeht: der Suche nach übernatürlichen Phänomenen und vor allem nach Untoten, an die er wie selbstverständlich glaubt. Er selbst gilt auch als Koryphäe auf diesem Gebiet der Parapsychologie. Die zahlreichen paranormalen Ereignisse in seiner Gegend untersucht er sogar im Auftrag der Society for Psychical Research – die gibts im Übrigen wirklich. Nach und nach häufen sich derartige Ereignisse und es wird für Nathan und Charlotte immer ungemütlicher.
Hört sich doch mal interessant an. Und dazu auch noch die reizvolle Gegend rund um Somerset. Da gucken wir doch mal rein.
Die Verantwortlichen der Serie, die Drehbuchautoren und Regisseure, stehen für unterhaltsame und tolle Serie wie "Life on Mars", "Ashes to Ashes" sowie das bereits erwähnte "In The Flesh". Diese Serien wiederum stehen für übernatürliche Geschichten, unterhaltsam und spannend erzählt.
Ich werde die Serie für uns mal weiter im Auge behalten.