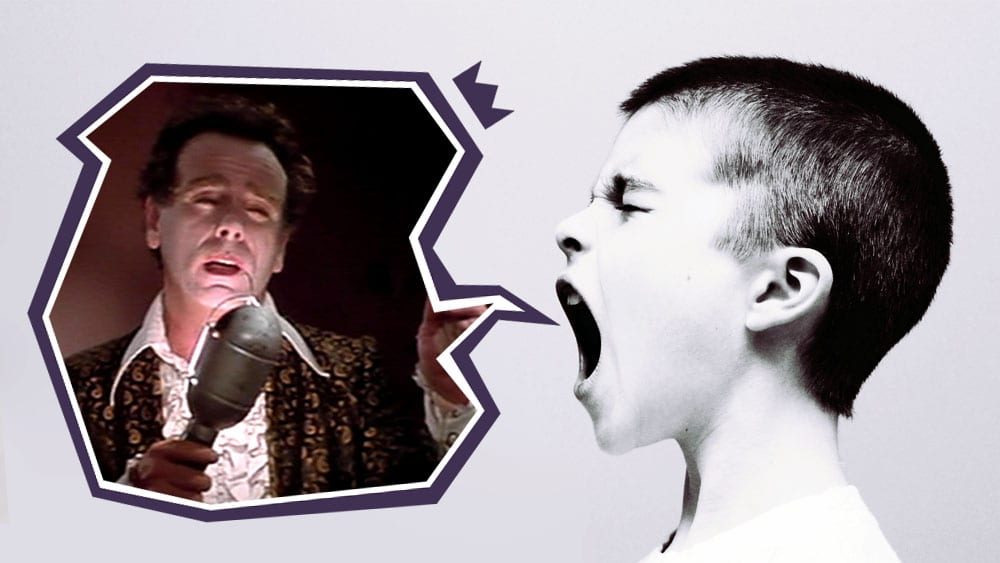 Ich liebe "Marvel's Agents of S.H.I.E.L.D.", schaue gerne "Red Oaks", habe "Falling Skies" durchgestanden und finde immer mehr gefallen an "Fear the Walking Dead". Was aber leider gar nicht geht: Einer der Hauptdarsteller kommt in der deutschen Synchronisation dieser Serien immer mit der gleichen Stimme daher. Es ist Konrad Bösherz. Die Stimme ist klasse, keine Frage, die Synchroarbeit toll – aber ich frage mich, nicht nur bei diesen Serien: Haben wir keine Synchronsprecher? Gefühlt tauchen immer die gleichen zehn Sprecherinnen und Sprecher auf. Das nervt.
Jetzt kann man natürlich sagen: 'Dann schau' doch das Original'. Geschenkt. Sicher gibt's Serien, die ich mir gerne im Original anschaue, wie "Twin Peaks", oder "The Walking Dead". Aber wenn die deutsche Fassung schon gleichzeitig verfügbar ist, kann man sich's auch einfach(er) machen. Nur: Einerseits ist die deutsche Synchroqualität zwar ausgezeichnet (warum Deutschland eine so ausgeprägte Synchrokultur hat, hat das Goethe Institut hier erklärt), andererseits aber sind's eben gefühlt immer die gleichen Sprecher. Einige Beispiele.
Konrad Bösherz habe ich ja gerade schon erwähnt. Die oben genannte Serienliste lässt sich problemlos erweitern: Er spricht Danny Rand in "Marvel's Iron Fist" (ich wünsche den deutschen Synchrostudios ein Crossover mit S.H.I.E.L.D. …), Edward Nygma in Gotham, Ramsay Bolton in "Game of Thrones" oder Cole in "Scrubs". Alles mitunter verschiedene Typen, die aber trotzdem mit den gleichen Stimmen daher kommen.
Oder Ulrike Stürzbecher. Sie ist zum Beispiel die Stimme der Schauspielerinnen Patricia Arquette, Kate Winslet und Jennifer Aniston. Zuletzt habe ich sie als Rachel Kennedy in "Goliath" und als Sammy in "Dirk Gently's holistische Detektei" gehört. Zudem hat sie ein Dauerabo auf "American Horror Story" – zuletzt war sie in praktisch jeder Staffel zu hören.
Tim Knauer ist "Daredevil", aber außerdem auch David Haller in "LEGION", Superman in "Supergirl" und Troy Januzzi in "Star Trek: Discovery".
Keine Frage: Die Stimmen für sich sind alle toll, passen m. E. auch fast immer gut zu den Charakteren. Dass die Syncho auch technisch gut umgesetzt ist, steht meistens ebenfalls außer Frage. Nur: Warum müssen es für die Hauptfiguren immer die gleichen Stimmen sein? Ich meine, es sind ja auch nicht immer die gleichen Schauspieler, die diese Typen verkörpern – im Gegenteil: Mit dem Serienhype kommen auch immer mehr unbekannte Schauspieler zum Zuge. Klar ist nur: Mit der rasant wachsenden Zahl an neuen Serien haben die deutschen Synchrostudios offensichtlich so ihre Probleme. Das merkt man vor allem bei neuen Netflixserien: Sie scheinen immer häufiger im Schnellverfahren umgesetzt zu sein – bei der wachsenden Zahl an neuen Serien kein Wunder. Immer häufiger ist eine gewisse Distanz zwischen den Stimmen und der eigentlichen Tonspur zu spüren. Und die Synchostudios müssen immer schneller werden: Mittlerweile erscheinen neue Serien bei Netflix oder Amazon ja praktisch zeitgleich zum US-Start. Welche Vorarbeit unter Zeitdruck da ansteht, haben wir schonmal für "The Walking Dead" dokumentiert. Schlimm wird's, wenn etablierte Sprecher aus Produktionen herausgenommen werden und durch andere Sprecher ersetzt werden – Akte X 2016 war ein passendes Beispiel dafür.
Was die Arbeit der Synchrostudios angeht, so zeigt sich offensichtlich: Sie kommen mit dem Besetzen der neuen Figuren und Schauspieler nicht nach. Das ist schade, denn ich glaube, dass der Markt an Sprechern in Deutschland groß genug ist. Die Fernsehlandschaft verändert sich rasant: Serien haben dem Film den Rang abgelaufen. Das schafft mehr Vielfalt – Vielfalt, die auch die Synchrostudios bedienen müssen. Da ist offensichtlich strukturell noch viel Arbeit zu leisten.