Szenario 3: Student im Ausland.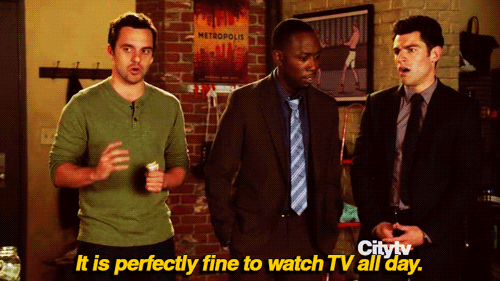 Auch in Szenario 3 gehen wir von 14 Tagen aus. Jedoch habt ihr hier keinen Zwang, die Familie besuchen zu müssen oder Geschenke zu kaufen. Lediglich ein paar Besuche bei Freunden stehen auf dem Plan und an Silvester muss es auch nicht hoch her gehen. In diesem Müßiggang kommt ihr auf stattliche 84 Stunden Serienvergnügen.
57 StundenAction-Drama: Prison Break (2005 – 2009)
Der Gefängnisausbruch in Perfektion erwartet euch in Prison Break. In den 81 Folgen ging es hoch her, bis hin zu einem Kampf gegen Konzerne und Regierungen. Perfekte Kost für euer BingeMas.
Prison Break Season 1 Trailer
60 Stunden Drama: The Wire (2002 – 2008)
Vor Breaking Bad war The Wire DIE Serie, die man gesehen haben musste. Extrem intelligente Verbrecher, gebrochene Helden und menschliches Leid auf beiden Seiten. Auch im Jahr 2014 immer noch sehenswert und eine absolute Empfehlung.
The Wire Season 1 DVD Trailer
62 Stunden Drama: The Shield (2002 – 2008)
Eine Wahnsinnserie, etwa stumpf (eindimensionale Charaktere), aber extremst spannend. Die erste Staffel habe ich am Stück geschaut, damals, als es den Begriff Binge-Watching noch gar nicht gab.
The Shield season 1 trailer
69 Stunden Comedy: Seinfeld (1989 – 1998)
Viel muss man zu Seinfeld nicht sagen, oder? In den 90ern war Seinfeld neben Friends wohl die bekannteste Comedy Serie überhaupt. Sehr unterhaltsam und genau das richtige für fröhliche Festtage.
73 Stunden Drama: Nip Tuck (2003 – 2010)
Nip Tuck, wie soll man diese Serie nur beschreiben? "Extrem krank aber gut" fasst es ganz gut zusammen. Auf den ersten Blick sieht man zwei schleimige Schönheitschirurgen, auf den zweiten Blick folgt der menschliche Abgrund der High-Society.
75 Stunden Mystery: Fringe (2008 – 2013)
Mystery oder Sci-Fi, ich bin mir nicht ganz sicher. Sicher ist man bei Fringe aber, wenn man sich gut und mysteriös unterhalten möchte. Fringe bietet eine große Story, aber auch viele kleinere, in sich abgeschlossene Fälle. Wer Akte X mochte wird Fringe lieben.
Fringe - Trailer DVD Season 1
76 Stunden Comedy: How I Met Your Mother (2005 – 2014)
Gerade erst zuende gegangen und schon auf unserer Showbühne: How I Met Your Mother wiederholt sich in einer Tour, aber genau das ist auch der Markenkern dieser hervorragend geschrieben Sitcom.
HOW I MET YOUR MOTHER - Official Trailer
79 Stunden Drama: Sopranos (1999 – 2007)
Die Writers Writers Guild of America zeichnete die Sopranos im Jahr 2013 als beste Serie aller Zeiten aus. Ob das stimmt ist schwer zu sagen, aber wenn man den Filmkritikern glauben mag, so läutete diese Serie das Zeitalter des Qualitätsfernsehens ein.
The Sopranos Season 1 Trailer
80 Stunden Drama: Dexter (2006 – 2013)
Unser liebster Serienkiller kommt auf stattliche 80 Stunden. Manche meinen, etwas weniger  Staffeln hätte ihm gut getan. Aber auch wenn man mit dem Ende nicht zufrieden war, lohnt sich diese großartige Serie für grausam-spannende Feiertage.
86 Stunden Mystery: LOST (2004 – 2010)
Eine meiner Lieblingsserien. Mystery war vor LOST noch nie so mysteriös: Die Insel, die Geheimnisse, die unerklärlichen Vorkommnisse, einfach nur gut und mitreißend.

-->