Echte Serien-Fans können von Ihren Lieblingen normalerweise nicht genug bekommen. Wahre Freaks schauen sich ihre Serien gleich mehrfach an, mitunter auch auf der Suche nach versteckten Hinweisen – "Easter eggs" – auf Besonderheiten der Handlung, auf andere Serien oder das reale Leben. Nun, wir bei seriesly AWESOME sind wohl solche Freaks – zumindest habe wir uns auf Ostereiersuche begeben und für Euch die besten Easter Eggs in Serien herausgesucht.
Klassiker in Sachen Referenzen auf andere Filme sind natürlich animierte Serien wie South Park, American Dad, The Simpsons oder Family Guy – diese Serien leben ja im Prinzip davon, Anspielungen auf andere Serien oder Filme zu geben. Nicht selten gibt's auch spezielle Folgen zu Filmen – wie die Sonderfolgen von Family Guy zu Star Wars, in denen die Star Wars-Filme von den Family Guy-Charakteren nacherzählt und nachgespielt werden. The Simpsons sind bekannt dafür, im Vorspann Referenzen zu anderen Serien zu geben – Klassiker ist hier sicherlich der Game of Thrones-Vorspann von The Simpsons.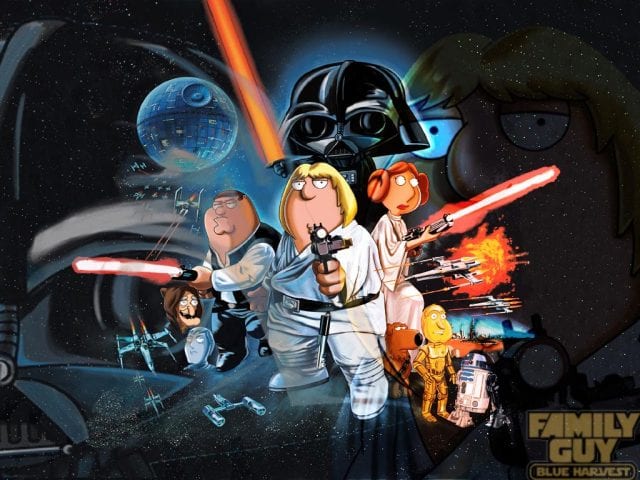 Auch Sitcoms wie The Big Bang Theory sind voll von Anspielungen – oder gar Gast-Auftritten von Charakteren aus anderen Serien. Da dies allerdings weniger versteckt geschieht, klammern wir solche Referenzen hier einmal aus und berichten darüber ein anderes Mal. Das gilt auch für versteckte Features in Menüs auf Serien-DVDs – auch ein Thema für später.
Hier also die besten Easter Eggs in Serien, die wir für Euch zusammengestellt haben.