Es gibt Serienschauspieler, die bewusst als Stars für ein Musikvideo gebucht werden – oder welche, die es vor ihrer eigentlichen Karriere irgendwie in eines geschafft haben. Gerade beim letzteren Fall macht es ungemein Spaß, die Personen zu sehen, bevor sie ihren TV-Durchbruch geschafft haben.
Gemeinsam mit tape.tv haben wir ein visuelles Mixtape mit dem Titel "Seriendarsteller in Musikvideos" für euch gebastelt, auf dem ihr 25 Beispiele für Musikvideos findet, in denen Schauspieler (mehr oder weniger prominent) zu sehen sind, die wir sonst aus dem TV kennen. Nach den Titelsongs letztens also erneut irgendwas mit Musik und Serien.
Könnt ihr alle erkennen? Wenn nicht: eine Liste sämtlicher Personen mit Serientitel und Vergleichsbild gibt es ab der nächsten Seite. Jetzt aber erst einmal Musik!
Hier die Auflösungen. Auch für die, die gerade keine Zeit haben, sich 25 Clips am Stück anzuschauen.
1. The Offspring – She's Got Issues (1999)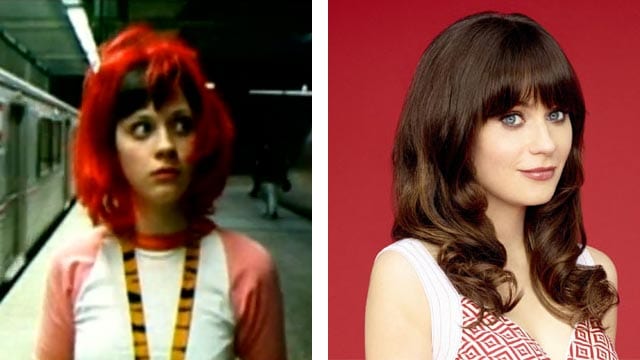 Zooey Deschanel (New Girl)
The Offspring war mal meine absolute Lieblingsband! Gerade zu Americana-Zeiten. Auch den Clip habe ich damals, bei noch relevantem Musikfernsehen, etliche Male gesehen. Und doch war ich sehr überrascht, als ich irgendwann mitbekommen hatte, dass Zooey Deschanel doch tatsächlich darin mitwirkte. Genial.
2. Broken Bells – The Ghost Inside (2010)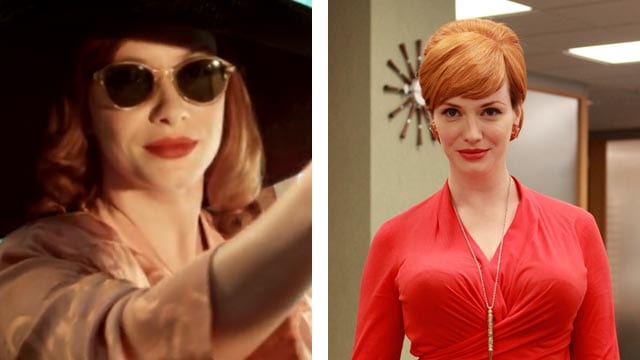 Christine Hendricks (Mad Men)
Wir haben natürlich nicht nur "Jugendsünden" dabei, sondern auch aktuelle Clips. Schauspiel-Engagements nebenbei, obwohl (oder vermutlich gerade weil) die Stars bereits bekannt aus den TV-Serien sind. Hendricks war bereits seit Jahren die Sex-Bombe aus den 60er als Broken Bells sie engagiert haben. Schick.
3. KoRn – Thoughtless (2002)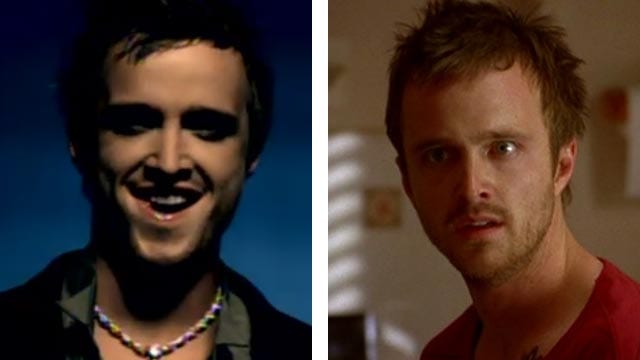 Aaron Paul (Breaking Bad)
Ein sehr ähnlicher Fall zum Offspring-Clip. Auch Aaron Paul hat vor seinem Durchbruch in Breaking Bad unter anderem in Musikvideos mitgespielt. Auch das von KoRn habe ich etliche Male gesehen und erst vor Kurzem mitbekommen, dass Paul darin mitwirkt. Hier passt die Rolle aber durchaus besser.
4. Bastille – Oblivion (2014)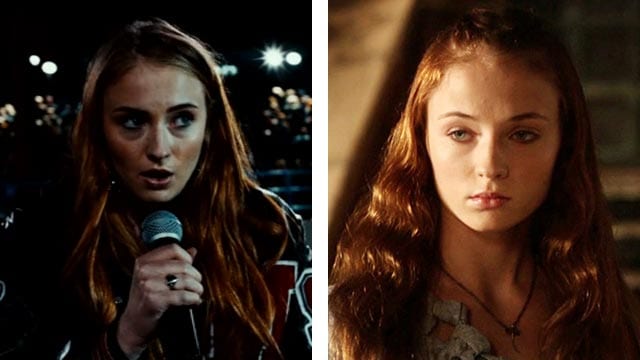 Sophie Turner (Game of Thrones)
Einer der aktuellsten Songs in der Liste. Aktuell erfolgreiche Band und aktuell erfolgreiche Serie – die Kombi gibt es ein paar Mal, aber deutlich in der Minderzahl hier. Wenigstens hören Sansa Starck hier mal Leute zu.
5. Eminem ft. Rihanna – Love The Way You Lie (2010)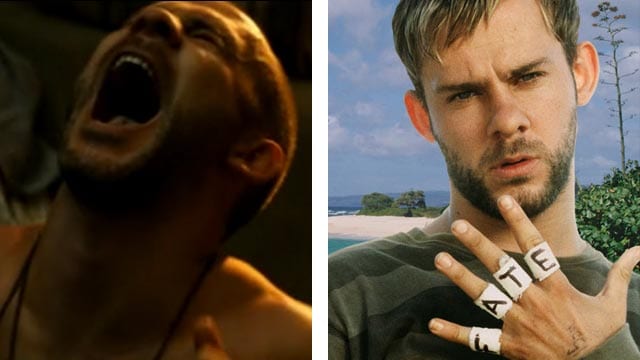 Dominic Monaghan (LOST)
Dominic Monaghan ist einer der wenigen, der es geschafft hat, von "Der Typ aus Herr der Ringe" zu "Der Typ aus LOST" und sogar davon ab einfach zu einem vielseitigen und vielgebuchten Schauspieler zu werden. Dabei hat er sicherlich schon schlechtere Jobs gehabt, als mit Megan Fox herum zu knutschen. Geile Schauspieler, geiles Feature, geiler Song!
6. Herman Dune – Tell Me Something I Don't Know (2011)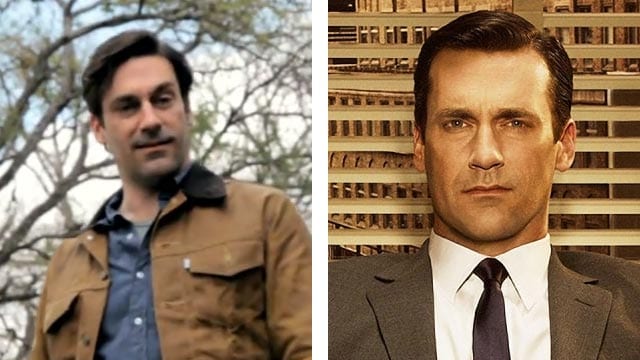 Jon Hamm (Mad Men)
Eines der skurrileren Exemplare in dieser Liste. Tendenziell unbekannterer Act mit einer Art blauem Flat Eric, der von Don Draper himself aufgegabelt wird. "Interessant"…
7. Hozier – Someone New (2015)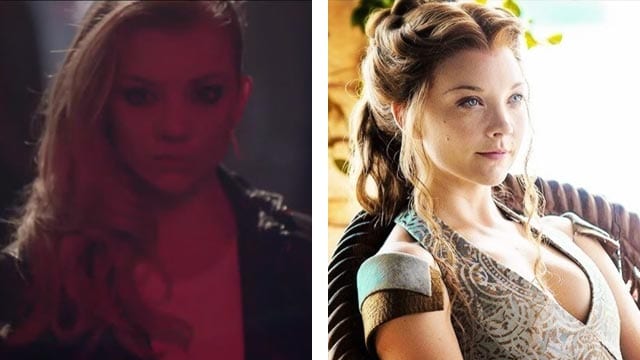 Natalie Dormer (Game of Thrones)
Die zweite Game of Thrones-Schönheit in dieser Liste. In Margery Tyrell hatte ich mich ja schon ein wenig verschaut als sie auf die Bildfläche Westeros' kam, muss ich ja zugeben…
8. Lady Gaga – Judas (2011)
Norman Reedus (The Walking Dead)
Vor ein paar Jahren konnte Daryl Dixon noch relativ unerkannt den Gaga'schen Judas mimen. Doch auch damals bereits auf dem Motorrad und mit jeder Menge Anlage zum Anlegen.
9. Counting Crows – A Long December (1996)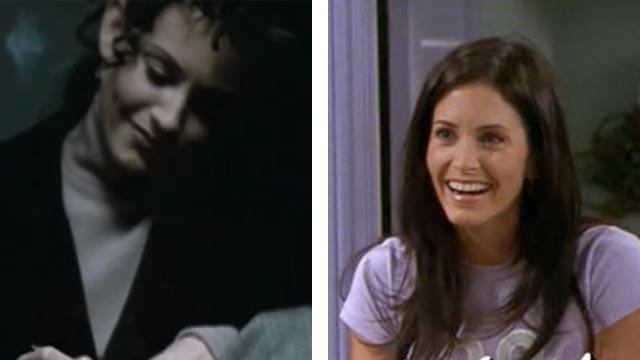 Courteney Cox (FRIENDS)
Courteney Cox und Counting Crows – das passt nicht nur alliterarisch einwandfrei, auch in Sachen Frisur haben die Beteiligten einiges gemein gehabt. Dabei war sie zu dem Zeitpunkt tatsächlich auch schon als Freundin Monica Geller unterwegs.
10. Stone Temple Pilots – Sour Girl (2000)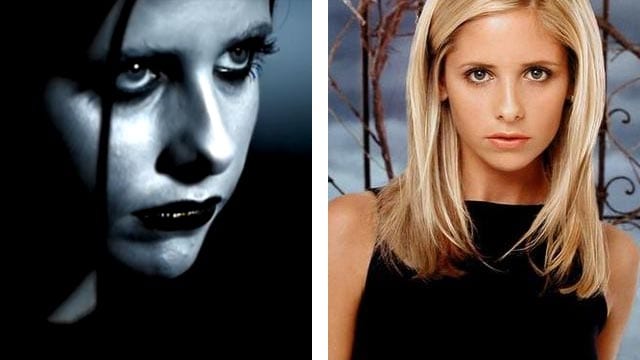 Sarah Michelle Gellar (Buffy)
Von "Geller" zu "Gellar". Dabei hat Buffy dieses Mal eher den Anschein eines Vampires als einer Jägerin selbiger… Der Gothik-Look steht ihr aber.
11. Bobby McFerrin – Don't Worry, Be Happy (1988)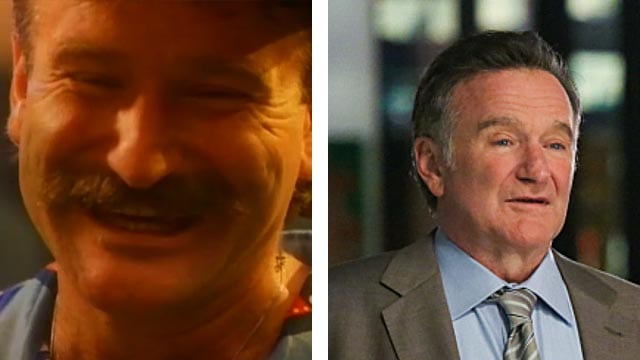 Robin Williams (The Crazy One)
Man könnte meinen, dass dieser Titel das komplette Leben des viel zu früh verstorbenen Robin Williams in vier einfachen Worten zusammen fasst.
12. Mariah Carey – It's Like That (2005)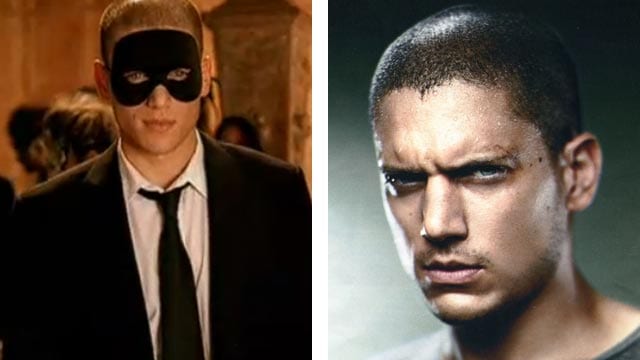 Wentworth Miller (Prison Break)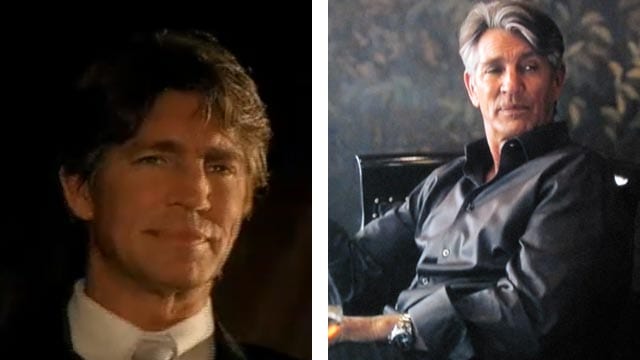 Eric Roberts (Suits)
So verdammt doof, wie dieser Song auch ist – dafür gibt es gleich zwei Seriendarsteller. Wobei Roberts vermutlich eher als Gaststar auf dem "kleinen" Medium TV gilt und eher der Kino-Typ ist..
Weil das aber gleich ein Doppelpack war, mache ich einfach mal nach 12 von 25 Clips und 13 von 26 Bildern den Cut. Auf der nächsten Seite gibt es die weiteren Auflösungen.
Dieser Beitrag hat mehrere Seiten: