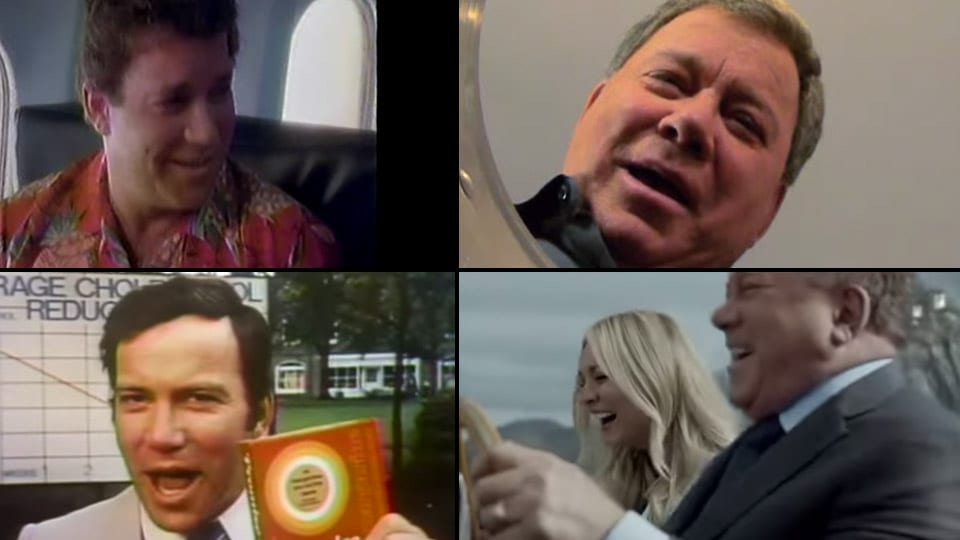 Habt ihr schon den neuen Werbespot mit William Shatner aka Captain Kirk gesehen? Er und Leonard Nimoy spielen in einem Spot für Volkswagen auf ihre Star Trek Vergangenheit an und bewerben so ein E-Auto. Natürlich war es nicht das erste Mal, dass William sich so ein paar Münzen dazu verdient hat. Denn mit seinem beachtlichen Alter von 83 Jahren hat er auch einiges auf dem Werbe-Kerbholz. Hier sind die besten 10 William Shatner Werbespots:
Platz 10: World of Warcraft (2007)
Als dieser Spot lief, habe selbst ich darüber nachgedacht mir ein WoW Abonnement zu besorgen – einfach nur weil "Kirk" dafür Werbung gemacht hat. Denn auch wenn er sicherlich nicht WoW spielte, so merkt man doch, dass ihm diese Rolle Spaß gemacht hat.

Platz 9: Western Airlines (1985)
Nicht nur Volkswagen sicherte sich das Star Trek Dream-Team, nein auch Fluglinien buchten Shatner und Nimoy für Werbespots. Man beachte die hübschen Hawaii-Hemden.

William Shatner & Leonard Nimoy for Western Airlines 1985
Platz 8: Kelloggs (2004)
Zu der Kampagne gab es mehrere Spots, dieser hier war für den britischen Markt bestimmt. Ganz ehrlich, ich würde mich über zwei Wochen mit Shatner freuen.

William Shatner All Bran Advert (UK) number 1
Platz 7: Star Trek The Video Game (2013)
Richtig gut. Vielleicht hätten die Macher genau so viel Energie in das Computerspiel wie in den Werbespot investieren sollen, denn das hier beworbene Spiel war richtig schlecht. Sei es drum, in diesem Spot sehen wir den epischen Rückkampf zwischen Captain Kirk und dem Gorn.

Star Trek The Video Game - William Shatner vs Gorn Trailer
Platz 6: Promise Margarine (1974)
Dieser Versicherungsvertreter-Auftritt verdient eindeutig die Top 10: Shatner macht einfach für alles Werbung, selbst Margarine.

William Shatner for Promise Margarine 1974 TV commercial
Dieser Beitrag hat mehrere Seiten: