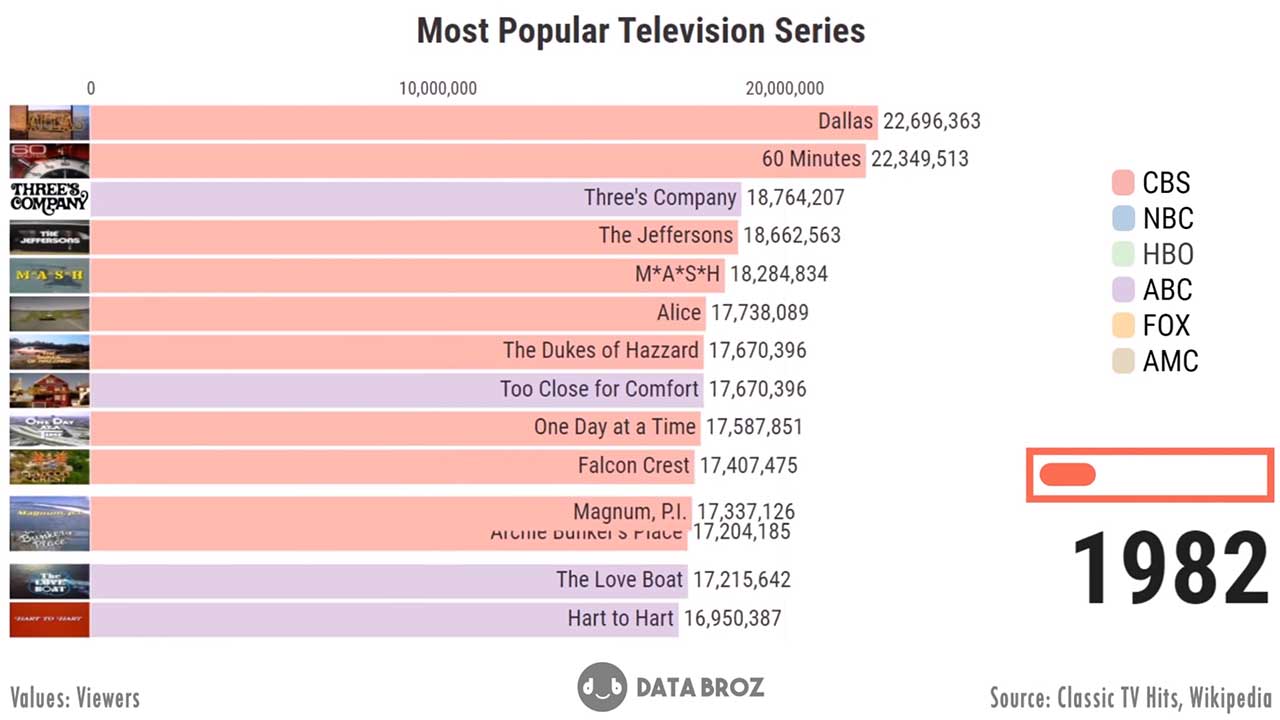 Die Älteren unter euch dürften sich sicherlich an diesen Beitrag hier erinnern, in dem ich euch anno 2019 "Die beliebtesten Fernsehserien 1986-2019" präsentiert hatte. Dieses Video ist ganz ähnlicher Natur, stammt jedoch von einer anderen Aufbereitungsquelle (nämlich den Data Broz) und geht noch eine ganze Ecke weiter zurück in der TV-Historie. Ab dem Jahr 1951 bieten sich in dem zwölf Minuten andauernden Video "Most popular TV series 1951 – 2019 (MOST WATCHED TV SERIES)" wechselnde Balken ein Wettrennen um die Gunst der Zuschauer. Von "I Love Lucy" über "Bonanza" bis hin zu "The Big Bang Theory" (yep, unverständlicherweise noch immer…) haben sich da einige Schwergewichte die Klinken in die Hand gedrückt.
"Eventually the most popular TV series is also the most watched TV series. The first tv shows were experimental, sporadic broadcasts viewable only within a very short range from the broadcast tower starting in the 1930s. The first national live television broadcast in the US took place on September 4, 1951. In the graph you can see that only the best tv series makes it to the top 10 most popular and most watched tv series list. A TV series is usually released in episodes that follow a narrative, and are usually divided into seasons (US and Canada) or series (UK) – yearly or semiannual sets of new episodes. show with a limited number of episodes may be called a miniseries, serial, or limited series. A one-time show may be called a "special". TV shows can be viewed as they are broadcast in real time. In 2020 no one knows how many series are there in the entire world. Approximately 30 TV series has been released in 2020 till May 2020. The best tv series are eventually the most popular TV series and they are also the most watched TV series. Checkout the video to know the most popular TV series in 2019 (the one that makes it to the top). "
Mich würde so eine Darbietung ja mal für den deutschen Fernsehmarkt interessieren. Vor allem auch hinsichtlich langlaufender TV-Formate wie "Lindenstraße" oder "GZSZ".
via: digg