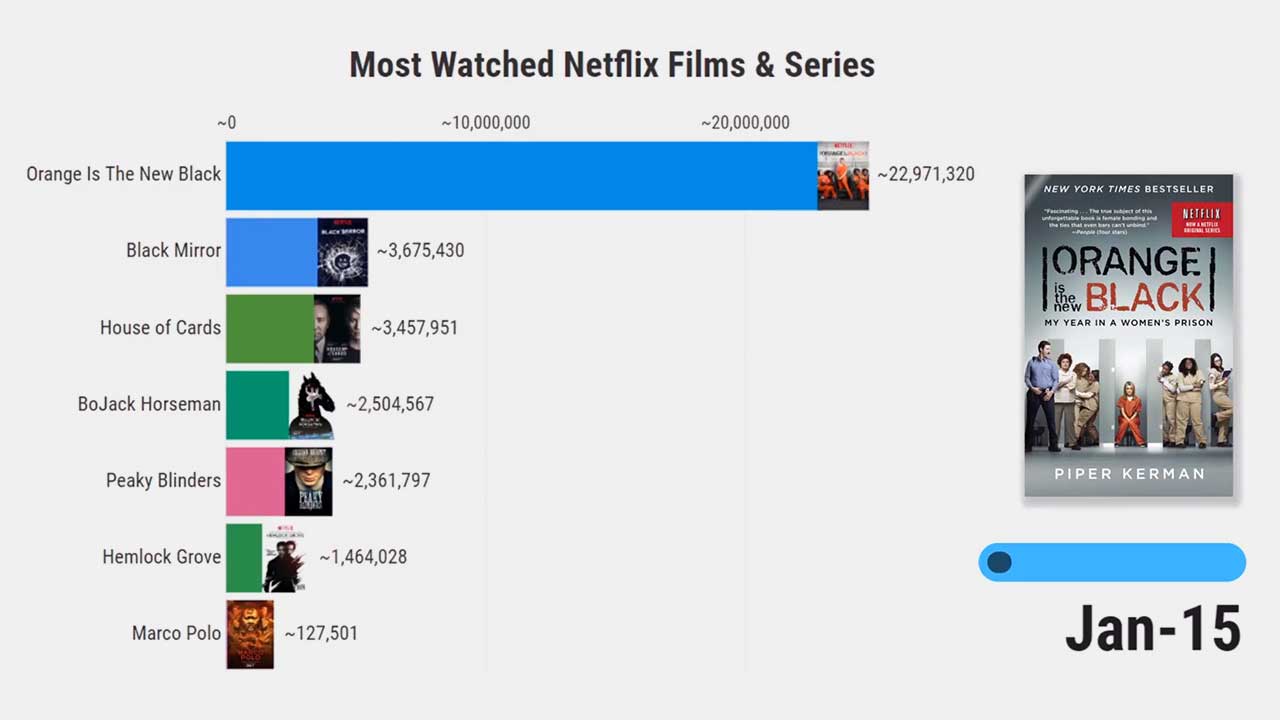 Vorgestern hatte ich noch die meistgesehenen Fernsehserien aller Zeiten (also, bis 2019…) hier im Blog, jetzt habe ich gesehen, dass nicht nur die Macher jenes Balkendiagram-Rennens, sondern auch noch wer anders eine Variante nur zu Netflix gemacht haben. Von daher: Doppelvideo-Schlag für euch!
Meistgesehene Serien und Filme auf Netflix (2015-2020)
Kommen wir zunächst wieder zu den Data Broz. Die haben Daten aus offiziellen Netflix-Tweets sowie einigen (nicht näher genannten) journalistischen Webquellen zusammengefügt und ein visuelles Wettrennen der Originals im Bereich Serien und Filme zusammengestellt. Auf die Plätze… Fertig… Los!
"This is a visualization of the Most Watched Series & Films on Netflix 2015 – 2020 (or) Most popular Netflix Series & Films 2015 – 2020. We have tried our best to visualize the most watched series on Netflix. The most watched series on Netflix is also the most and series on Netflix and the best series on Netflix too. The idea of this graph is to visualize the most watched tv shows on Netflix in other words top series on Netflix."
Meistgesehene Netflix-Serien (2017-2020)
Einen ziemlich gleichen Ansatz hat Joy Of Statistics gewählt. Auch hier bieten sich die Balken im Diagramm einen zeitlichen Wettlauf, hier wurde sich jedoch komplett auf Serien von Netflix konzentriert (wobei Filme im vorherigen Video ja auch eine eher untergeordnete Rolle gespielt hatten). Hier gibt es leider erst Daten ab 2017, dafür bietet es zumindest den Anschein, als seien die (sicherlich auch zusammengeschätzten) Zahlen genauer.
"We listed the best tv series on Netflix until now May 2020 by number of watchers. The best most popular all tv shows on Netflix include Stranger Things,Sex Education,Ozark,The Witcher,Umbrella academy,Dark and many more."
Da Netflix so gut wie nie genaue Zahlen raushaut, sind das natürlich alles mehr oder weniger projizierte Schätzungen anhand einzelner Informations-Krümel. Entsprechend kommt es auch zu gravierenden Unterschieden zwischen den beiden Video-Darstellungen, was ich durchaus interessant zu vergleichen finde.

-->