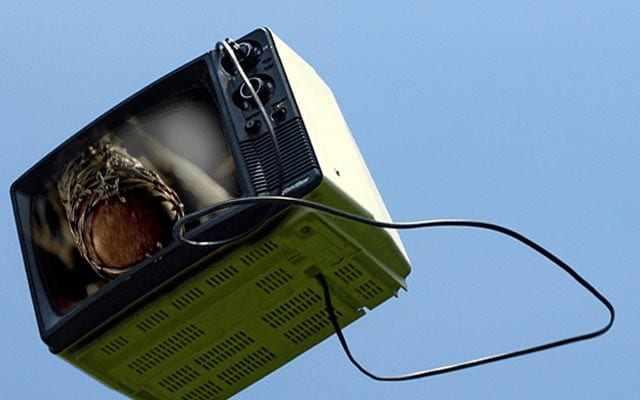 Aktuell kann man sich echt nicht über fehlendes Bewegtbildprogramm serieller Natur beschweren. Wir sind mitten im Season-Auftakt angelangt – wo soll man da nur anfangen?! Ich sage es euch – im ultra-subjektiven Wochenausblick, der keine Rücksicht auf schlechte Produktionen nimmt…
Montag, 24.10.2016
Klar, heute steht alles im Zeichen des The Walking Dead-Auftakts zur siebten Staffel, die gestern Abend auf AMC lief und heute Abend auch bei uns bei FOX (21 Uhr) zu sehen sein wird. Ansonsten freue ich mich mega auf die neue Westworld-Episode (S01E04 – HBO), sehr auf das neue Ash vs Evil Dead-Kapitel (S02E04 – starz) und ein bisschen auf die neue The Strain-Folge (S03E09 – FX). Wer dann noch Zeit findet, kann ja bei den unteren rein schauen oder ab 21:45 bei FOX einschalten/dran bleiben, wenn die vierte Staffel von Ray Donovan Deutschland-Premiere feiert.
Bobs Burgers s07e03 – FOX
Divorce s01e03 – HBO
Elementary s05e03 – CBS
Family Guy s15e04 – FOX
Insecure s01e03 – HBO
Last Week Tonight s03e27 – HBO
Madam Secretary s03e03 – CBS
Masters of Sex s04e07 – Showtime
Quantico s02e04 – ABC
The Fall s03e05 – BBC TWO
The Last Man On Earth s03e04 – FOX
The Simpsons s28e05 – FOX
Dienstag, 25.10.2016
Vermutlich holt ihr Dienstag noch Folgen von Montag auf. Kein Ding, kenne ich. Ansonsten gibt es aber auch S03E06 von Gotham zu sehen – und mein Review dazu im Laufe des Tages hier zu lesen. Ansonsten gibt es den Auftakt zu Staffel 5 von House of Lies auf AXN (S05E01+02, ab 21:50 Uhr) oder auch die neue Serie The Aliens (S01E01-03, ab 22:30 Uhr auf zdf neo) zu sehen. Wer eher sportlich unterwegs ist, schaut die zweite DFB-Pokalrunde an.
Ansonsten so:
Kevin Can Wait s01e06 – CBS
Shoot the Messenger s01e03 – CBC
Supergirl s02e03 – The CW
Mittwoch, 26.10.2016
Heute schaue ich Dortmund gegen Union Berlin (schon wieder DFB-Pokal) an. Ansonsten die neue Folge Atlanta (S01E09 – FX) – und vermutlich noch Kram aus dem Wochenauftakt, zu dem ich noch nicht gekommen bin…
From Dusk Till Dawn s03e09 – EL REY NETWORK
Agents of SHIELD s04e05 – ABC
The Flash s03e04 – The CW
The Mindy Project s05e04 – hulu
This Is Us s01e05 . NBC
Donnerstag, 27.10.2016
Wieder zwei Pflichttermine: S06E07 von American Horror Story (FX) und S03E09 von You're The Worst (FX) stehen auf dem Programm.
Arrow s05e04 – The CW
Frequency s01e04 – The CW
Modern Family s08e05 – ABC
Rectify s04e01 – Sundance
South Park s20e06 – Comedy Central
Freitag, 28.10.2016
Es wird überschaubarer. Wer ganz früh aufgestanden, ganz lange wach geblieben oder gut im Umgang mit Recording Devices ist, kann sich den Start der 3. Staffel von Undateable auf ProSieben anschauen, der um 2:25 Uhr läuft (S03E01+02). Aufgrund des Sendeplatzes kann man vermutlich nicht von der tollsten Qualität ausgehen (habe es nie gesehen), aber der Titel der ersten Episode lautet "Ein Serienstar kommt in eine Bar". Klingt nach einem seeeehr guten Witz… Hier mal ein 49-minütiger Trailer dazu:
Ansonsten so:
How To Get Away With Murder s03e06 – ABC
The Big Bang Theory s10e06 – CBS
The Blacklist s04e06 – NBC
Samstag, 29.10.2016
Theoretisch könnte man S03E07 von Z Nation schauen, die tags zuvor auf SyFy (US) lief. Muss man aber auch nicht. Ansonsten eher mau, was das Serielle angeht – aber eine kleine nette Programmplanungs-"Perle". Auf dem deutschen E!-Entertainment läuft um 20:15 Uhr S01E06 von Made in Chelsea. Ratet, welche Episode direkt danach folgt? Falsch! ES ist S08E01 – beides als Deutschland-Premiere. Seltsam. Ansonsten läuft Satire Deluxe um 22:30 Uhr im WDR an. Der Name lässt große Fallhöhe erahnen.
Wer Fußballgeschmack hat, schaut sich noch den Sieg der Dortmunder im großen Revierderby gegen dieses andere Team an. Also ich werde es machen.
Sonntag, 30.10.2016
Pause machen. Ruhe haben. Menschenfreier Sonntag? Der Fernseher kann ruhig mal aus bleiben. Notfalls läuft noch der Bremer Tatort "Echolot" abends im Ersten.

-->