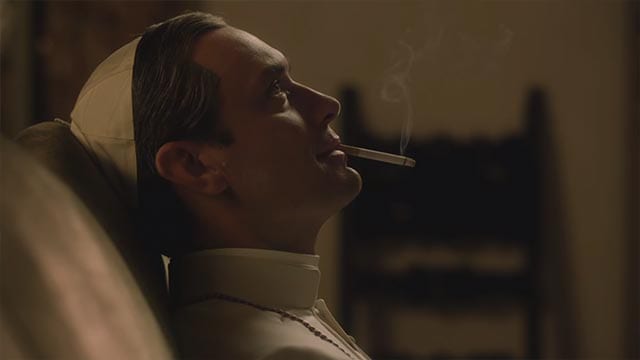 Nach dem ersten Teaser letztens zur internationalen Koproduktion von Sky, HBO und Canal+, gibt es jetzt den ersten richtigen Trailer zu "The Young Pope". Scheinbar geht es um die dramatisierte Vermenschlichung eines Papstes, der dank Jude Law natürlich cooler kaum sein könnte. Und auch wenn der mit seinen 44 Jahren ungewöhnlich jung für ein kirchliches Oberhaupt erscheint – laut Statuten muss man(n) mindestens 35 sein, passt also. Ich bin gespannt, wie sehr auch die kirchliche Präsentation in der Serie passt – hoffentlich geht es dann auch mal kritisch zur Sache. Bei HBO als Anteils-Produzent mache ich mir da aber eigentlich keine Sorgen und unterlasse Stossgebete gen Fernsehgott.
"Lenny Belardo is no ordinary Pope. He is the youngest and first American Pope in history. We find him on the morning of his first day in office, preparing to enter into the power struggles inside the closed, secretive Vatican state."
Die zehnteilige Serie von Paolo Sorrentino läuft ab 21. Oktober auf Sky Atlantic in Deutschland.