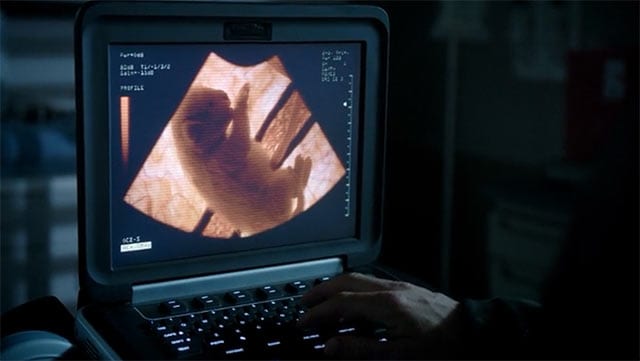 So langsam kommt Schwung in die neue SciFi-Serie Extant – zumindest bezogen auf die Story. Das wird auch Zeit, dafür offenbart das Format hier und da kleine Macken.
Diese Folge beginnt mit Tier-Embryonen und der Offenbarung, dass die Raumfahrtbehörde tatsächlich überall ist. Wirkt zum einen etwas arg überpitzt und unglaubwürdig, hatte Doktorfreundin Sam doch extra so vorsichtig agiert. Dafür sehen wir hier eben auch einmal die andere Seite der Verschwörung. Es ist interessant zu sehen, wie die aktuell vermeintlichen Gegenspieler ihre Taktiken offenbaren und unsere vermeintlichen Protagonisten dort hineinlaufen.
"What are you going to tell her?" – "Something more believable than the truth…" (Gordon Kern & Alan Sparks)
Um das Thema "Ethan" zu unterbauen erhalten wir einen Rückblick in Mollys und Johns Kinderkrise. Ethan war bereits mehrere Jahre alt als sie ihn aufgenommen haben (das zum Thema, muss direkt von einer Familie aufgezogen werden). Genau wie letzte Woche sehen wir erneut seinen Berufswunsch, Ornithologe zu werden. Dabei missachtet Ethan offensichtlich Regeln und baut eine Vogelfalle (erste Anzeichen des Maschinen-Aufstandes?!). Er steht aber auch unter Stress, immerhin steht der erste Schultag an. Dabei zeigt sich, dass er eigentlich zwei Mütter hat. Streitpotenzial zwischen Vater John (und Molly) & Wissenschaftler John (und Julie) wird schon einmal angeschoben.
"He's not a kid, he's a toaster with hair!!" (Verängstigter Vater)
Streitpotenzial gibt es aber auch innerhalb der eigentlichen Familie. Die schonungslose Ehrlichkeit eines Roboterjungen führt dazu, dass endlich reiner Tisch gemacht wird. Der Bruch von der Erkenntnis zum Streitgespräch zwischen John und Molly hatte dabei leider ein schlechtes Timing im dramaturgischen Aufbau. Gerade, weil es ein langgehegtes und wichtiges Geheimnis war, hätte eine längere Beleuchtung der innerfamilären Besprechung geholfen. So wirkte der Abschluss der Folge unnötig hektisch. Ebenso passt es zeitlich nicht ganz bei Johns Aufholjagd mit dem Auto. Hier hätte ich mir mehr Stringenz gewünscht. Wenigstens ist die allgemeine Situation und Verschwörung scheinbar allen bewusst und Molly muss zu ihrer Familie komplette Transparenz zeigen.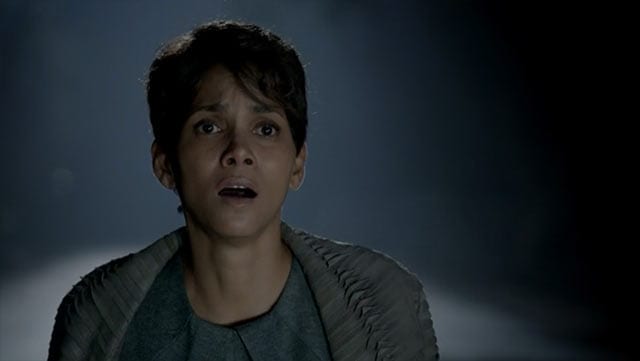 Ebenso hat sie den ja sowas von toll versteckten Kryger ein bisschen sehr einfach gefunden. Ebenso, wie das dezent an die Wand gemalte Alien-Symbol. Naja, vermutlich hat Molly da einfach ein gutes Bauchgefühl bewiesen (muahaha!).
Kommen wir zur Kategorie "Zukunftstechnik diese Woche": nervender Lauftrainingsassistent (wobei es sowas ja in Ansätzen schon gibt), transparente Smartphones und spooky Leuchtspritzen. Die liebevolle Technik-Gestaltung läuft weiter auf erhofft hohem Niveau. Bliebe noch die letzte Erkenntnis der Woche: Aliens oder eingebildete Personen gibt es nicht nur im All. Das passt zu der Aussage Yasumotos, dass "sie" bereits hier sind. Dürfte spannend werden, ob und wie sie sich auch anderen Figuren zu erkennen geben.
Meine Meinung:
Alles in allem eine Folge, die das Niveau des Starts bestätigt. Dennoch zeigen sich erste kleinere Schwächen im Storytelling (weshalb es ein bisschen Punktabzug gibt, durch die Ereignisse an sich hätte die Folge durchaus 4 Kronen verdient). Dafür erhalten wir teils humorige oder zumindest schlagfertige Momente, bspw. hat mir der "Dance ot the Ancestors" sehr gefallen. Letztlich bin ich einfach froh, dass die etwas langwierige Einführungsphase schlagartig beendet wurde und wir ab kommender Woche dann hoffentlich konkretere Handlungen beobachten dürfen. Und sicherlich auch die ein oder andere neue technische Errungenschaft.

-->