Jonas ist gerade in den Jahresurlaub geflogen und hat es im Pack-Stress nicht mehr geschafft, Review-technisch aufzuschließen, also übernehme ich mal vertretungsweise. Damit wir wieder auf den aktuellen Stand kommen, gehe ich mal gleich die letzten beiden Folgen im Doppelpack an.
Extant S02E08 – Arms and the Humanich
Wie zum Ende der vorherigen Folge angedeutet, beginnt die erste große "Schlacht". Beachtlich: alle Humanich-Soldaten haben das "weibliche" Betriebssystem von Lucy, der Großteil ist jedoch männlich.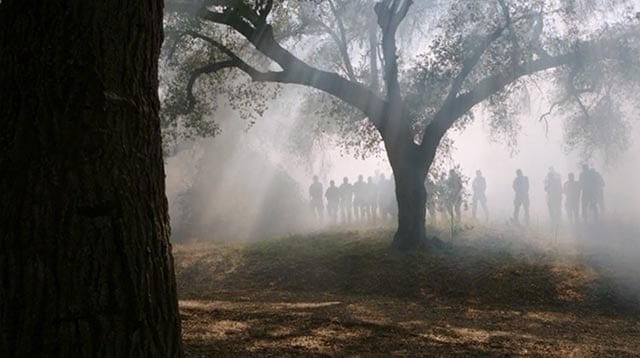 Richters Frau kommt total aus dem Nichts, als ob den Machern hier einfach irgendein Charakter gefehlt hat, der ein bisschen dumm Wache schiebt und anwesend ist, um Geschichten erzählt zu bekommen. Eine Füllfigur, die vermutlich nie mehr auftaucht. Bescheuert. Fast so bescheuert, wie die Tatsache, dass der Alien-Sohn plötzlich wieder "altert", es zwischenzeitlich aber nicht getan hat. Jaja, vermutlich kämpft sein menschliches Immunsystem so stark und das Alien-Ich strengt sich ganz ganz dolle an, so dass die Zeit verrinnt, aber halt seltsam.
Getoppt wird alles noch von einem fröhlichen Gefangenen-Tauschen-und-dafür-Freilassen.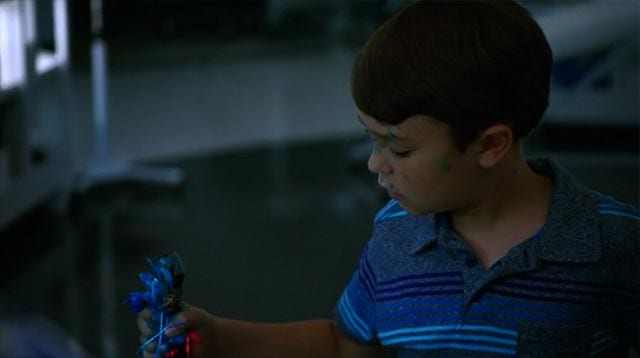 Ach ja, und dann wäre da endlich ein Finale, auf das wir alle gewartet haben.
"You're only human." (Lucy)
Der erste Terminator. Bei Ethan zeigt sich aber, dass das Aufwachsen unter Menschen und das Zuhören durchaus hilfreich sind. Einer der intensivsten Momente der Staffel bisher.
Die "Schlacht" war leider epischer inszeniert als sie letztlich war, der Mittelpart der Folge war sterbenslangweilig (höhö!), das Ende dagegen durchaus impulsiv und einnehmend. Eine Folge mit Höhen und Tiefen.
Extant S02E09 – The Other Side
In der aktuellsten Folge geht es vor allem um Molly und ihre Vergangenheit. Dazu dient eine seltsame Vor-Tod-Kirmes-Erfahrung, die ich nicht wirklich gelungen finde, aber immerhin ein paar originelle Momente bereit hält. Und wer weiß schon, ob das nicht einfach total wissenschaftlich ist, dass wir alle kurz vor Toreschluss eine Kirmes besuchen?!
"This is our very special day, you… are going to have the time of your life." (Quinn)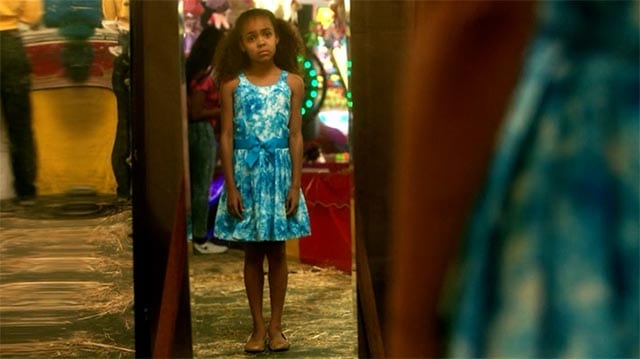 Parallel zu ganz viel Bettlegerigkeit Mollys kommt in die Hybrid-Geschichte etwas Schwung. Zunächst wird der Zuschauer geschockt, dass das kleine Mädchen scheinbar doch nicht davon gekommen ist (ja, ich bin mittlerweile für sie…), dann das Wissenschafts-Personal. Okay, der unbedarfte "Ich hab Hunger!"-Ausruf als Spannungskiller war durchaus unterhaltsam, wenn auch plump. Wirkte beinahe sabotiv (dieses Wort habe ich gerade erfunden, passt aber, finde ich). Schön jedenfalls, dass der Häutungs-Move noch einmal auftaucht. Sie werden ja so schnell erwachsen…
Was ich aber nicht verstehe? Wieso lassen die Aliens nicht alle ihre Geschichte sehen und verstehen? Oder geht das nur bei Hybrid-Molly? Die Überbleibsel sind jedenfalls nicht mehr ganz so friedlich gestimmt und kämpfen ums Überleben. Und so wird doch ein Krieg draus…
"You've got hybrids. And not the warm-fuzzy kind." (Richter)
Den Krieg gegen ihr Arschloch-Ich hat Julie dann doch angegangen und scheinbar stufenweise gewonnen. Zumindest gesteht sie schlimme Dinge, noch mehr schlimme Dinge und weitere schlimme Dinge. Und hat wenigstens den Anstand, eines davon wieder gut zu machen. Ethan weiß wieder, wer seine Mama ist – just bevor der große Schmerz einsetzt. Klasse Timing!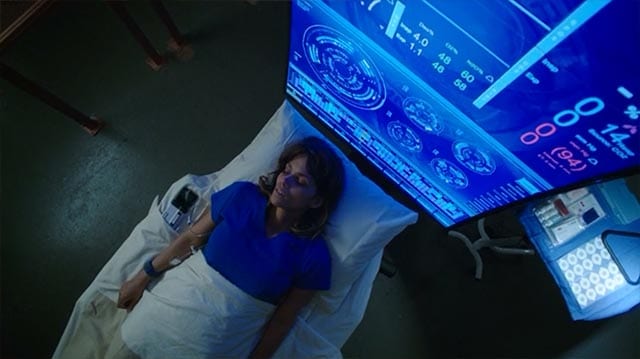 Bleibt die Frage: Ist Molly wirklich tot? Also nicht nur menschlich? Vermutlich schon, da die Ursache ja der Virus ist. Aber vielleicht ist der "neue" Virus ja aus Versehen der Anti-Virus… Ganz ohne sie dürfte die Serie vermutlich nicht mehr lange laufen, da passiert bestimmt noch was. Vielleicht springt sie einfach über die dämliche Jahrmarkts-Absperrung…

Ich fand die Folge eher mau. Gerade das Timing hinsichtlich der Humanics wirkte enorm inszeniert, dazu konnte ich wie gesagt mit der Jahmarkts-Sache nicht so richtig viel anfangen. Insgesamt aber sicherlich ein Drehpunkt in der Staffel, mal schauen, in wie fern sich die Maschinen noch als ultimative Gegner positionieren.

Komisch: inklusive "Previously" ist die Folge grad mal 38 Minuten lang gewesen. Geht das Futter aus? Vier Episoden (zwei normale und das Doppelfolgen-Finale) kommen noch, die Richtung ist klar. Vermutlich retten die Aliens irgendwie die Menschen vor den Maschinen und alle leben glücklich bis ans Ende… – Quatsch, glaube ich selbst nicht dran.

Fotos: CBS

-->