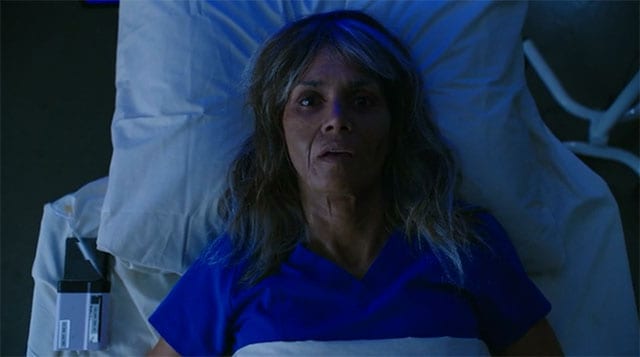 "This is a temporary mesure that points to your safety. Please do not panic." (Computersystem)
Es ist vermutlich irgendwie ironisch, wenn die ersten Worte, die einem Charakter in einer Episode so klingen, am Ende aber der Tod steht. Damit haben wir den spoilerigsten Einstieg in ein Review ever, aber ihr wisst ja eh schon Bescheid. Ebenso wisst ihr, dass Molly NATÜRLICH nicht gestorben ist. Welch Überraschung… Scheinbar hat sie unterwegs ein Extraleben gefunden und nur ihr menschliches verloren.
Ebenso ein neues Leben hat Ersatzteil-Lucie eingehaucht bekommen, die ihre ganz eigene Auffassung von "Gewalt" demonstriert, indem sie mal wieder einem erwachsenen Menschen-Mann den Kopf verdreht. Aber ihr sollte mal jemand einprogrammieren, dass Leichen einen nicht mehr hören können…
"I'm not a robot." (Lucy)
Kommen wir zu Dingen, die mal wieder etwas… unsinnig gestaltet waren. Das Uralt-Radio sendet natürlich genau in dem Vorführungsmoment einen Beitrag über die Betrachter. Klar doch. Dazu ein "Anti-Gesichtserkennungs-Umhang", der in dieser Form absoluter Blödsinn ist. Dümmer ist es eigentlich nur, Poker gegen eine Maschine spielen zu wollen. Aber diesen Fehler sieht man wenigstens selber ein. Anders ist es bei dieser Waffen-Sequenz aus der Vision, die mir etwas zu häufig kam. Ja, es soll gezeigt werden, wie sie ständig darüber nachdenkt, irgendwie wirkt es aber auch als müsse der Zuschauer es unbedingt verstehen.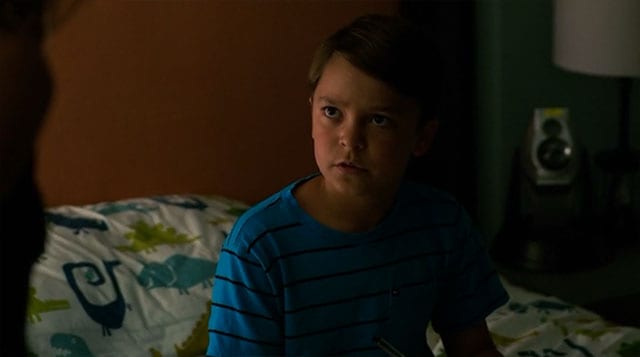 Die John-Nachricht übermittelt von Ethan war sehr creepy. Dafür hat John scheinbar an alles gedacht. Irgendwie unglücklich für die Menschheit, dass er tot ist… Ebenso, dass ein neuer Gegenspieler-Schrägstrich-Retter aus dem Nichts erscheint. Nicholas Calderon, der aussieht wie Keith David aus Community und nicht in TAAHM sondern bei TAALR seine Finger im Spiel hat.
"We're on the wrong side of the war!" (Toby)
Ein Pro-Tipp zum Schluss: Nicht am Steuer Sprachnachrichten mit Molly Woods austauschen – das führt zum fast sicheren Tod! Da war er wieder, der Spoiler – welch schöne Klammer…

Neuer Krams diese Woche: der idiotische Mantel, leise und genau fliegende Jet-Drohnen mit Raketen-Bewaffnung sowie Überwachungskameras, die ultragenau und scharf in ein Bild zoomen können – wie es CSI Anfang des Jahrhunderts vorausgesehen hat! Ansonsten war die Folge mal wieder ein bisschen Kraut und Rüben und irgendwie weder richtig gut noch wirklich schlecht. Aktuell wirkt es aber so, dass man sich viele Dinge im Moment zurecht biegt, damit die Story für sich stimmt. Dass Terra sich so leicht "überreden" lässt wirkt seltsam, einige andere Aktionen auch.

Die nächste Episode trägt übrigens den internationalen Titel "Zugzwang". Was das nun bedeuten mag, überlasse ich euch. Aber hey – ein deutsches Lehnwort!

Fotos: CBS

-->