Das Intro jeder Folge ist eigentlich ganz nett gemacht. Man hört Barry aus dem Off sprechen, ein bisschen wie bei den Tobey Maguire Spiderman Filmen. Er reflektiert seine Schnelligkeit, seine moralische Verpflichtung der Gesellschaft gegenüber und natürlich die persönliche Geschichte rund um seine Mutter, damit man das auch ja nicht vergisst.
Inhalt
Wisst ihr was das Schöne an The Flash ist? Man kann die Handlung einer Folge eigentlich in maximal zwei Sätzen zusammenfassen. Im Vergleich, bei Game of Thrones, Homeland oder irgendeiner anderen qualitativ hochwertigen Serie gibt es so viele Nebenschauplätze, Charaktere oder Fragen wie "wer ist gut und wer ist böse?", dass es schwer fällt zu einer Folge keinen Roman zu schreiben. Doch  bei The Flash ist alles glasklar:
In dieser Folge kämpft The Flash erfolgreich gegen einen Superschurken, der sich in Gas verwandeln kann. Nebenbei erfahren wir noch etwas über den Hintergrund des Unfalls, welcher dem Flash seine Kräfte verliehen hat und, dass Barry nicht zufällig von einem Blitz getroffen wurde, sondern von Harrison absichtlich ausgewählt wurde. Mehr gibt es eigentlich nicht zu sagen.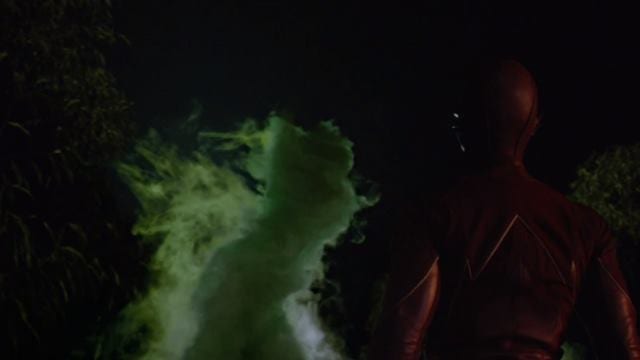 Zugegeben, etwas mehr passiert dann doch am Rande dieser Mainstory. Besonders lustig finde ich die Feststellung, dass dem Team rund um den Flash klar wird, dass sie ja nicht alle "Meta-Humans" (so nennen sie die Schurken mit Superkräften) umbringen können, nein, sie brauchen ein Gefängnis. Was machen sie also? Ganz einfach, der Partikelbeschleuniger wird das Gefängnis Man könnte zwar meinen, dass dieses Ding bei dem Unfall vor 9 Monaten zerstört wurde aber Pustekuchen. Unten in den Katakomben des Gebäudes ist alles sowas von rausgeputzt, als ob diese Einrichtung gerade erst gebaut wurde. Den Gas-Bösewicht sperren sie am Ende der Folge dann auch ein, irgendwie erinnert mich das an die Ghostbusters, ein Behältnis für das Übernatürliche.
Dadurch, dass sich in der Folge alle mit dem Beschleuniger befassen, erinnern sie sich auch an den Tag des Unfalls. Es geht um den Tod des Verlobten von Caitlin. Aber außer die herzzerreissende Story, dass er sich für alle opferte, erfahren wir aber nicht.
Logikfehler und andere Dummheiten
So, mehr habe ich zu der Geschichte nicht zu sagen, also bleibt etwas Raum sich über zwei Logikfehler aufzuregen:
Der Flash kann schnell Rennen, alles klar. Jetzt kann er aber auch in Zeitlupe komplette Schriftsätze erstellen? Der Vorgesetzte der Polizeistation fragt eine Analyse an, die er natürlich vergessen hat. Also rennt er hoch und schreibt sie in 2 Sekunden, lächerlich.
Das führt zu Punkt 2: Wenn er das kann, warum hat er es bei dem ersten Treffen mit dem Schurken einer Folge nie drauf den Schlägen auszuweichen? Er hat doch anscheinend auch sonst die Fähigkeit, alles in Zeitlupe zu betrachten und dann zu reagieren? (Die Ironie, über Logik bei einer Superheldengeschichte zu philosophieren ist mir klar.)
Abseits der Logik regt mich dieser moralische Schmalz in der Sendung auf. Von jetzt an sammle ich die kitschigsten Sätze pro Folge, heute haben wir zwei feine Exemplare:
Barrys Vater zu Joe, der Barry großgezogen hat:

It doesn't matter that you didn't believe me,because you always believed in my son.

Barry:

The only way I know to honor my mom's life is to keep running.
Fazit

Was soll man vom Flash nur halten? Der beschriebene Trend aus dem letzten Review hält auf jeden Fall an. Man kann sich an der Serie erfreuen, aber es wird zunehmen schmerzvoller. Die Vorhersagbarkeit, die Logikfehler, die Moral: Die Produzenten versuchen diese Superheldengeschichte so familientauglich wie nur irgendwie möglich zu halten, um jede noch so erdenkliche Zielgruppe zu erreichen. Das Resultat ist, dass The Flash von Folge zu Folge weicher und noch weicher gewaschen wird. Das führt natürlich dazu, dass man keine echte spannende Story erzeugen kann, kein Drama und vor allen Dingen keinerlei Überraschungen – all das könnte ja jemand verschrecken. Ich habe mich jedenfalls damit angefreundet die Serie als wöchentlichen Trash zu konsumieren. Die aktuelle Gasmann Folge bleibt dem Niveau der vorherigen Episode treu.

-->