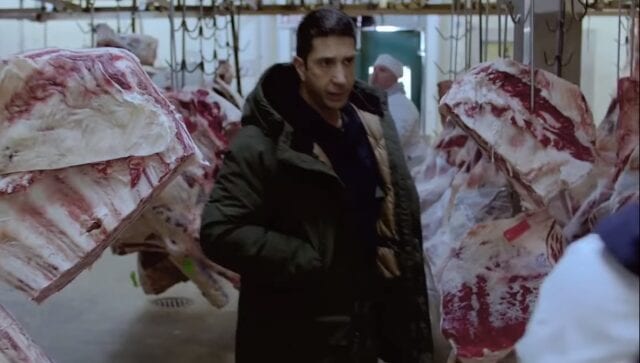 Wir kennen ihn als den herrlich komischen Ross Gellar aus einer der besten Comedy-Serien, die es überhaupt gibt: David Schwimmer brachte uns (und bringt mich persönlich immer wieder aufs Neue) unzählige Male in der Sitcom Friends so richtig zum Lachen. AMC und Lionsgate schicken bald ein neues Comedy-Format mit David Schwimmer an den Start: Feed the Beast. Darin wird Schwimmer als Tommy Moran gemeinsam mit seinem Freund Dion Patras (Jim Sturgess, Close to the Enemy) ein griechisches Restaurant in der Bronx eröffnen. Einen klitzekleinen Vorgeschmack liefert der erste Teaser.
Feed the Beast AMC Trailer
Die zehnteilige erste Staffel von Feed the Beast wird ab dem 31. Mai in den USA ausgestrahlt – und ist übrigens die Adaption der dänischen Serie Bankerot, deren Produzenten auch im US-amerikanischen Format als ausführende Produzenten auftreten. Neben Schwimmer und Sturgess sind auch noch weitere Schauspielgrößen und Serienbekanntheiten mit dabei: Michael Gladis (Mad Men, Extant), George Cantor (Daredevil, House of Cards) und John Doman (Gotham, The Affair) sind nur drei der wichtigen Nebendarsteller. Schöpfer der Serie ist Clyde Phillips, der schon als Showrunner für Dexter fungierte. Ob Feed the Beast mit Friends mithalten kann? Das lässt sich anhand des kurzen Teasers noch so gar nicht sagen. Wir warten also gespannt auf neues Material.
via: Entertainment Weekly Bild: AMC