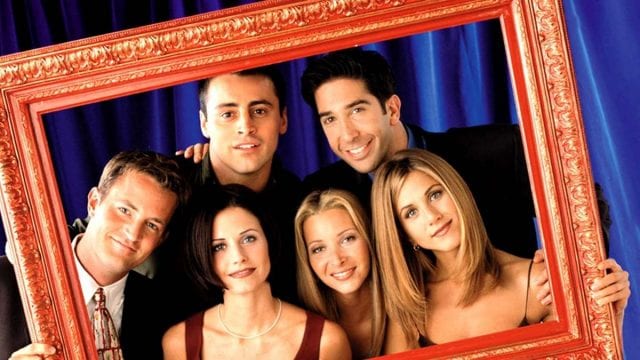 So viele Jahre ist es schon her, dass die letzte Folge Friends (zum ersten Mal) über den Bildschirm flimmerte. Und dennoch berichten wir regelmäßig über sie. Zumindest indirekt. Hier mal wieder ein Film- oder Serienintro im Friends-Stil – sei es The Walking Dead, Supergirl oder Brooklyn Nine-Nine, für jede Serie, die etwas auf sich hält, muss es einen enthusiastischen Fan geben, der sich die Mühe macht – dort die News über eine mögliche bzw. eher unmögliche Reunion des Casts. Umso überraschender ist es, dass die Serie bis jetzt noch nicht in unserer Klassiker-Reihe aufgetaucht ist. Das holen wir hiermit schleunigst nach!
Seriensteckbrief
Name: Friends
Genre: Comedy, Romance
Laufzeit: 22 Min.
Staffeln (Folgen): 10 (236)
Ausstrahlung: 22.09.1994 – 06.05.2004
Darsteller: Jennifer Aniston, Courteney Cox, Lisa Kudrow, David Schwimmer, Matthew Perry, Matt LeBlanc
Intro
Inhalt und Charaktere
Friends erzählt vom Leben der sechs Freunde Rachel, Monica, Phoebe, Ross, Chandler und Joey. Rachel Green ist das verwöhnte Mädchen, das kurz vor ihrer von ihrem Vater arrangierten Hochzeit einen Rückzieher macht und das erste Mal lernt, wie es ist, auf eigenen Beinen zu stehen und eigenes Geld zu verdienen. Dabei hilft ihr ihre Schulfreundin Monica Geller, die zwanghaft überordentliche Köchin, indem sie ihr ein Zimmer in ihrem Apartment anbietet. So trifft Rachel auch ihren bereits zu Schulzeiten heimlichen Verehrer, Monicas Bruder und Paläontologen Ross Geller wieder – und seine Hingabe scheint neu zu entfachen. Im ständigen Streit, wer hier eigentlich wessen bester Freund ist, stehen des Weiteren noch Joey Tribbiani, immer hungriger und ziemlich verplanter, zunächst erfolgloser Schauspieler, und Chandler Bing, unsicherer Witze-Reißer, dessen Job niemand kennt, oft scheint es, nicht einmal er selbst. Und zu guter Letzt hätten wir noch Phoebe Buffay, die Masseurin und Sängerin, die die Kundschaft im Central Perk, dem zentralen Schauplatz der Serie, mit ganz speziellen eigenen Songs unterhält. Stichwort: Smelly Cat.
"How you doin'?" – Joey Tribbiani
Die liebevollen und witzigen Figuren sind das, was Friends ausmacht. Und zwar nicht nur, was die Protagonisten angeht. Ohne Gunther, Carol oder Janice wäre die Serie auch nicht das, was sie ist.
"Oh … my … god!" – Janice
Es ist erstaunlich, wie eine Serie mit gleichbleibendem Cast, gleichbleibenden Schauplätzen und gleichbleibendem Stil es über ganze 10 Staffeln und damit 10 Jahre schafft, ihr hohes Niveau zu halten. Friends ist eine der sehr wenigen Comedy-Serien, die im Laufe der Zeit immer und immer besser geworden – und die zeitlos zu genießen ist. Lasst es euch gesagt sein, ein richtiges Serienerlebnis ist es, alle 236 Folgen in chronologischer Reihenfolge und natürlich im Original zu sehen. Und so eine 22-minütige Folge passt immer mal dazwischen – ob zum Frühstück, in der Mittagspause oder als kleine Gute-Nacht-Geschichte. They'll be there for you.
Trivia
In unserem sAWEntskalender haben wir euch Ende letzten Jahres schon einmal die witzigsten und interessantesten Fakten zu Friends vorgestellt. Wenn ihr also wissen wollt, welcher Titelsong ursprünglich für die Serie vorgesehen war, welche großen Stars alle einen Gastauftritt hingelegt haben und wie die sechs Darsteller zum Thema Honorar stehen, schaut doch einmal hier vorbei.

Und wer einfach mal wieder einen kleinen Eindruck der Serie bekommen möchte, nur zu. Try not to laugh. No es posible.

In diesem Sinne – habt noch einen tollen Sonntag!

Bilder: NBC

-->