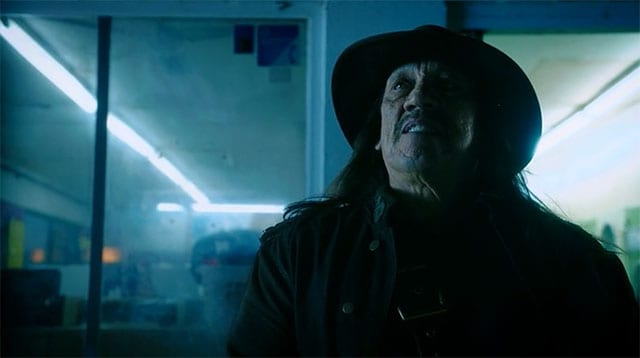 Der blutige Auftakt diese Woche zeigt direkt, in welche Richtung es in der Folge geht. Leider geht dabei der Schwung der letzten Episode verloren und man fühlt sich in Inszenierungen aus den 90ern – und somit irgendwie auch an die Filmvorlage – erinnert…
"Timing? You're just lucky I have a prostate the size of a softball…" (Eddie)
Das/Die Schönste zuerst: Santánico ist – welch Überraschung – noch lebendig. Auf ihrer Stirn ein roter Fleck, der definitiv nicht Paprika ist. Es bleibt die Frage, ob sie derart geschwächt ist, dass sie sich da nicht aus den Fesseln befreien kann? Später schafft Richie Ähnliches recht problemlos…
"I'm gonna kill everyone in this room. And then go and get my girl." (Richie)
Seths Auftritt mit der Pumpgun war durchaus überraschend. Überraschend, wie schnell er genau dort war. Aber wenigstens gutes Timing… Die Gecko-Brüder sind wieder vereint! Ob sie wollen oder nicht.
"I am the arch enemy of dumbassery of which you are king!" (Seth)
"This is my sandbox – stay the hell out!" (Richie)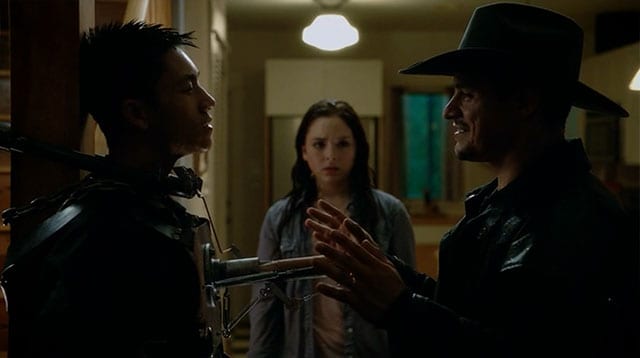 Mir hat gefallen, dass bei einigen Szenen noch einmal die letzten Momente von der letzten Folge gezeigt wurden (quasi als Wiedereinleitung, wie das Herausgehen aus dem Bad oder der Geschwisterkampf). Die Szenen selbst waren dagegen eher… seltsam. Die dämliche "van Helsing-Vorrichtung" ist eine lächerliche Situation, deren "Höhepunkt" ein MILF-Spruch ist… Und dann dieser Blutschwur – what the fuck?! Plötzlich ist das "ein Ding", als würden die das jede Folge sieben Mal machen?!
Zu diesem etwas schlampig eingeführten Feature gesellt sich ein auf Blödste "verpuffender" Betender und erkenntnisreiche Ohr-Nahrung. Der Kate-Scott-Moment ist außerdem arg pathetisch geraten, dazu ein musikalisch unpassender LKW-Dreher und eine komische Inszenierung des Polizeiwagen-Ausbruchs und dieser "Abschlusskampf"?! Alles wirkt etwas unrund. Irgendwie trashig. Und wenn die Geckos dann am Ende mit einigen Schönheitskönniginnen am Hang einer Klippe stehen und B-Movie-Musik eingespielt wird, fühlt man sich tatsächlich an filmische Ursprünge erinnert…
Das ist dann zwar ganz nett, wirkt aber in der ansonsten recht solide und ernster stattfindenden Adaption fehl am Platz. Hier fehlte deutlich der letzte Schliff, viele Handlungen wirkten überinszeniert und irgendwie fühlt man sich kurz vor dem finalen Showdown, dabei ist nicht einmal die Hälfte der Staffel vorbei. Ich hoffe, dass die Serie nicht weiter in diese Richtung geht, sondern sich wieder auf die Stärken besinnt…

Bilder: El Rey

-->