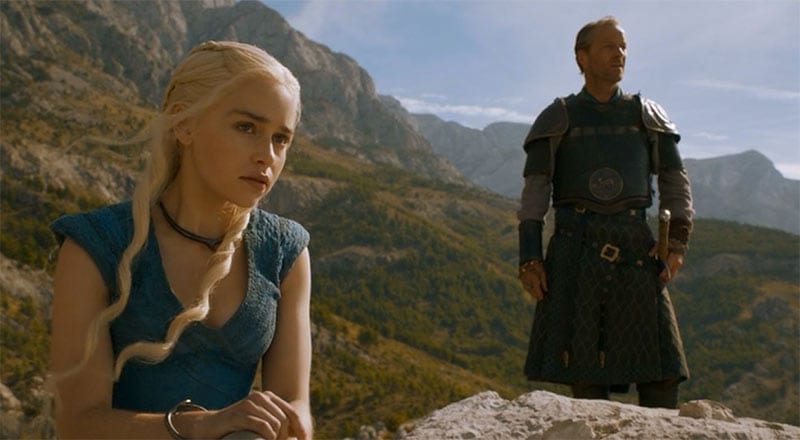 Vielleicht habt ihr unsere dezenten Hinweise in den letzten Wochen und Monaten mitbekommen: Game of Thrones ist wieder da! Endlich. Passend zum Staffelende von The Walking Dead füllt HBO unsere sonntägliche Lücke im Sendeplan für die kommenden zehn Wochen mit dem wohl größten Serienevent, das es aktuell zu sehen gibt. Die Eingangsfolge zur vierten Staffel hat uns sämtliche Charaktergruppen nochmals in ihren aktuellen Situationen gezeigt.
"A Song of Fire and Ice" – so heißt die Romanvorlage von George R.R. Martin zur Serie. Passend wird Ned Starks altes Schwert "Ice" in der Eingangszene in glühend heißem Feuer eingeschmolzen, das Wildschwein, das King Robert getötet hat (bzw. das Fell davon) verbrannt – Lord Tywin Lannister will scheinbar mit dem vergangenen Kapitel abschließen. Das gewonnene Valyrian Steel erhält der frisch rasierte Jamie.
"The original weappn was absurdly large – plenty of steele for two swords" (Tywin)
Was mir immer gefällt ist, dass das Intro in der Machart komplett gleich bleibt und doch Details, wie die Schauplätze, verändert werden. Ein verkohltes Winterfell begrüßt uns. Einiges hat sich aber auch in King's Landing getan. Jamie war scheinbar zu lange weg und wirkt durch sein körperliches Dilemma nicht mehr Respekteinflößend, wie zuvor. Sansa ist ein nervliches Wrack, doch vielleicht kann der in den Büchern viel früher erscheinende Ser Dontos ihr zu Hilfe kommen. Tyrion hat nicht nur Probleme beim "Diplomatendesein", sondern auch mit Shae. Der Krieg ist vorbei, die zwischenmenschlichen Schicksale noch lange nicht.
"She wanted to have me executed, but I admired her!" (Tyrion über Lady Catelyn)
Zuguterletzt noch die Dornishmen, die zur royalen Hochzeit gekommen sind. Vor allem der rüpelhafte und auf Rache ausseiende Prinz ist nicht wirklich gut auf Lannisters zu sprechen.
Ach ja, und Margaery. <3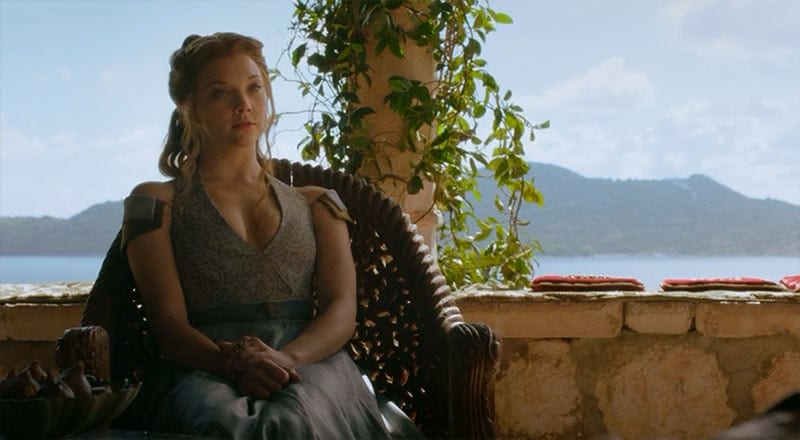 Derweil muss John Snow sich vor der Night's Watch rechtfertigen und erzählt von den Plänen der Wildlings. Die Wildings wiederum treffen auf ein ganz neues nordisches Volk, das scheinbar Geschmack an "Crows" gefunden hat.
Daenerys lernt derweil, dass Drachen nicht unbedingt die idealsten Haustiere zum Kuscheln sind, und dass ihre weiblichen Reize selbst die rationalsten Krieger zu unverlässlichen Lausbuben werden lassen können.
Als abschließendes Highlight wird uns dann noch die Reise vom Hound und Arya gezeigt. Die findet ihr Schwert "Needle" wieder – am Soldaten, der es ihr gestohlen hat. Da hat der Hound mal gezeigt, was er drauf hat. Aber eben auch Arya. Nach einigen Minuten voller Ale, Chicken und One-Linern, hat sie es dann jedoch wieder in Händen.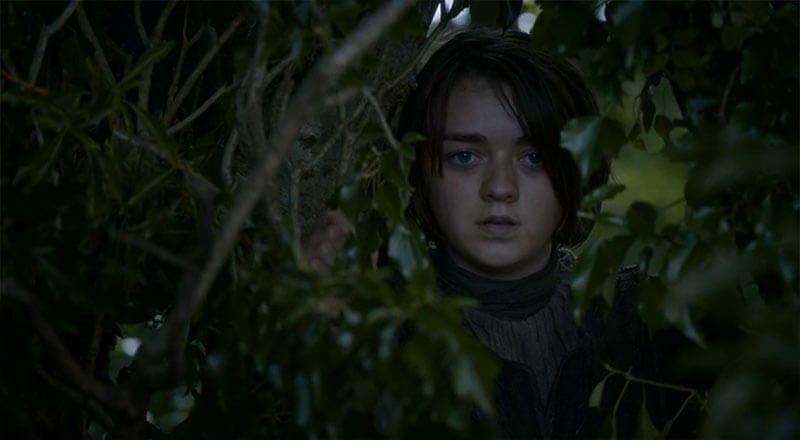 Meine Meinung:
Eine Wiederanschlussfolge. Viele kleine Geschichten, die uns die Charaktere wieder auf den Schirm bringen sollen. Dadurch wirkt die Folge etwas zerfahren, hat zwar einige Momente zum Schmunzeln, aber noch wenig Handfestest. Bis auf Jamies neue Prothese. Muahaha!

-->