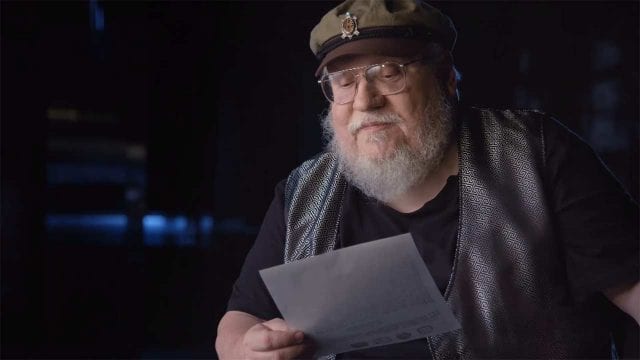 Was interessiert mich mein Geschwätz vom Samstag. Frei nach Konrad Adenauer tue ich einfach mal so als hätte ich noch nie etwas anderes behauptet und komme gleich zur Meldung. Auch wenn diese schon etwas älter ist, bin aber erst heute darüber gestolpert.
Es dürfte zum guten Ton in einem Beitrag über "Game of Thrones" gehören, dass man sich hier und da ein wenig darüber lustig macht, dass das Mastermind hinter der Serie, die Rede ist natürlich von George R. R. Martin, nun schon seit sechs Jahren am 6. Band seiner Buchreihe arbeitet und seit geraumer Zeit sogar der TV Serie hinterher hinkt. Sofern man sich dabei etwas im Ton vertan hat, dürfte man sich hier sogar direkt angesprochen fühlen:
"Ich weiß nicht, was absurder ist, die Geschichte, dass ich das Buch fertig habe und aus ruchlosen Gründen nicht rausrücke, oder die Version, dass ich noch keine Seite davon geschrieben habe. Beide sind falsch und idiotisch. Ich arbeite daran und es wird noch ein paar Monate dauern."
Also alles beim Alten? Das neueste Buch werden wahrscheinlich erst unsere Enkel lesen können? Nicht ganz. Denn "The Winds of Winter" soll nun definitiv in 2018 kommen. Wahrscheinlich. Und nicht nur das. George R. R. Martin lässt Fans regelgerecht ins Träumen geraten. Denn es könnte sogar einen zweiten Roman geben. Auch in 2018. Und auch der Name ist schon bekannt: "Fire and Blood". Haben wir damit gleich Roman Nr. 7 in der Tasche? Nicht ganz.
Denn in "Fire and Blood" wird nur die Geschichte der Könige des Hauses Targaryen erzählt und in zwei Bänden veröffentlicht. Beginnend mit Aegon's Eroberungsfeldzug bis hin zur Roberts Rebellion. Und alles ereignisreiche dazwischen. Lassen wir noch einmal den Buchautor zu Wort kommen:
"Ich denke 2018 wird es ein Westeros Buch von mir geben. Wer weiß, vielleicht auch zwei. Ein Junge kann träumen."
Dann hoffen wir das Beste und träumen vor uns hin. Bis dahin könnte man als Interessierter mal bei den Jungs von der Filmfabrik vorbeischauen die viele, viele interessante und inhaltswertige Clips rund um die Serie gebastelt haben. Wie dieses Video zum Beispiel.

GAME OF THRONES: So eroberten die TARGARYENS WESTEROS! - 15 Fakten zur Vorgeschichte von Westeros

via: sky.de

-->