Folge gesehen? Klick. Wann kommt die nächste? Ahhh in 4 Tagen – super!
…eine Szene, die sich fast täglich zwischen mir und meinem Handy abspielt. Grund dafür ist die praktische Serien-App mit dem einfallsreichen Namen SeriesGuide. Wer so wie wir gefühlte 1000 Serien auf dem Schirm haben will, sollte tatsächlich mal einen Blick riskieren. Vorhanden sind eigentlich sämtliche Formate, die das Serienherz begehrt: Von Breaking Bad über Game of Thrones bis hin zu Sherlock gibt es kaum eine Serie, die ausgelassen wurde. Sogar alte Kamellen wie Hör mal, wer da hämmert oder Wunderbare Jahre werden bedient. An Aktualität mangelt es ebenfalls nicht, so finden sich auch die neusten Episoden von The Leftovers oder The Last Ship im hübschesten lila-schwarz-Ton, der sich optisch perfekt in seriesly AWESOME integriert: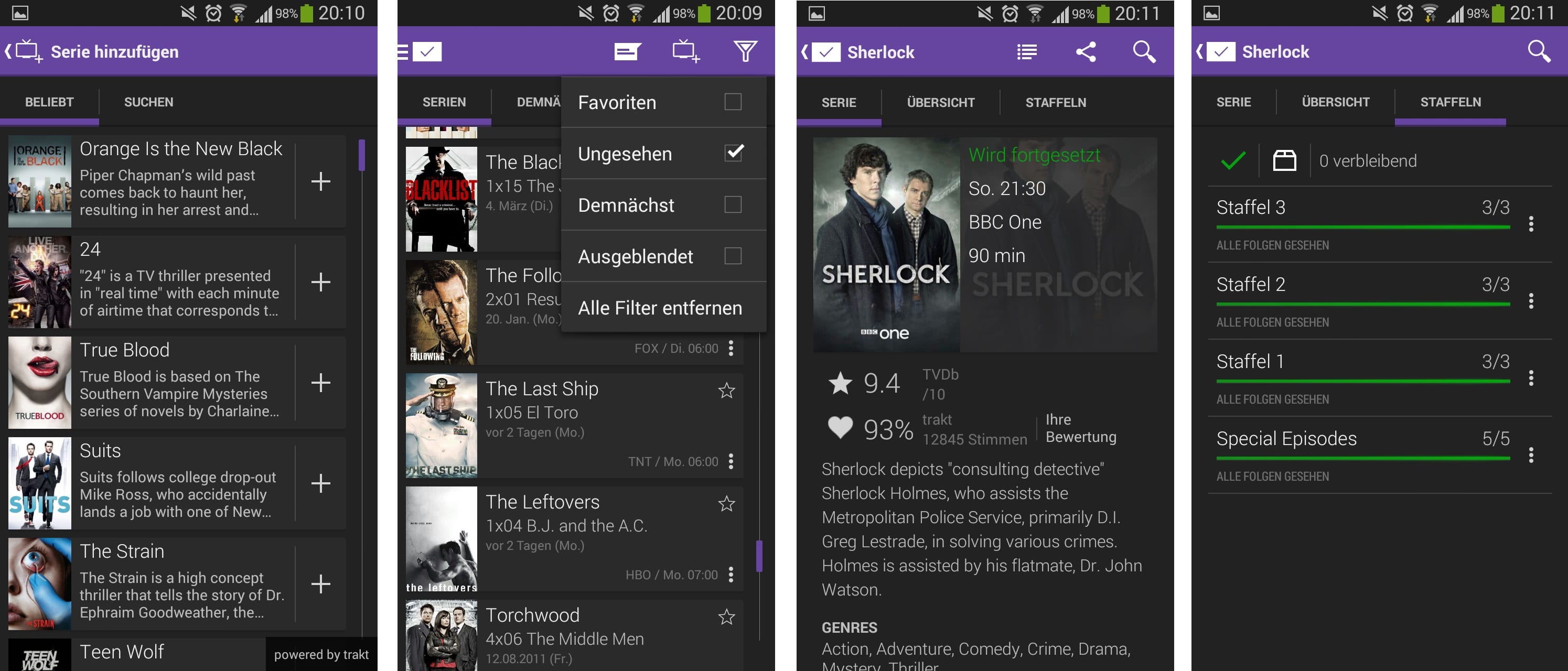 Zum Personalisieren sucht man sich einfach in der Übersicht seine Lieblingsserien raus und fügt diese seiner eigenen Ablage hinzu. Am Beispiel von Sherlock seht ihr, wie sich das Menü für das ausgewählte Format gestaltet. Für mehr Informationen scrollt man einfach runter und findet neben dem Cast Links zu IMDb oder trakt. Letzteres kann dafür genutzt werden, sich während einer Folge einzuloggen und sein Suchtverhalten der Welt mitzuteilen.
Als Basisversion (völlig ausreichend!) ist das ganze im Playstore kostenlos erhältlich – wer mehr will, kann einmalig den SeriesGuide X Pass für 4,99 Euro besorgen oder für 1,99 Euro/Jahr die X-Funktionen abbonieren. Ob die was mit den X-Files zu tun haben oder tatsächlich nur Erweiterungen sind, weiß ich leider nicht. Das könnt ihr aber gerne ausprobieren und uns Feedback geben. Für iOS ist diese App leider nicht erhältlich. Ein nettes Gimmick ist die Statistik-Übersicht, die euch anzeigt, wieviel Nerd in euch steckt. In meiner Übersicht, sieht es so aus: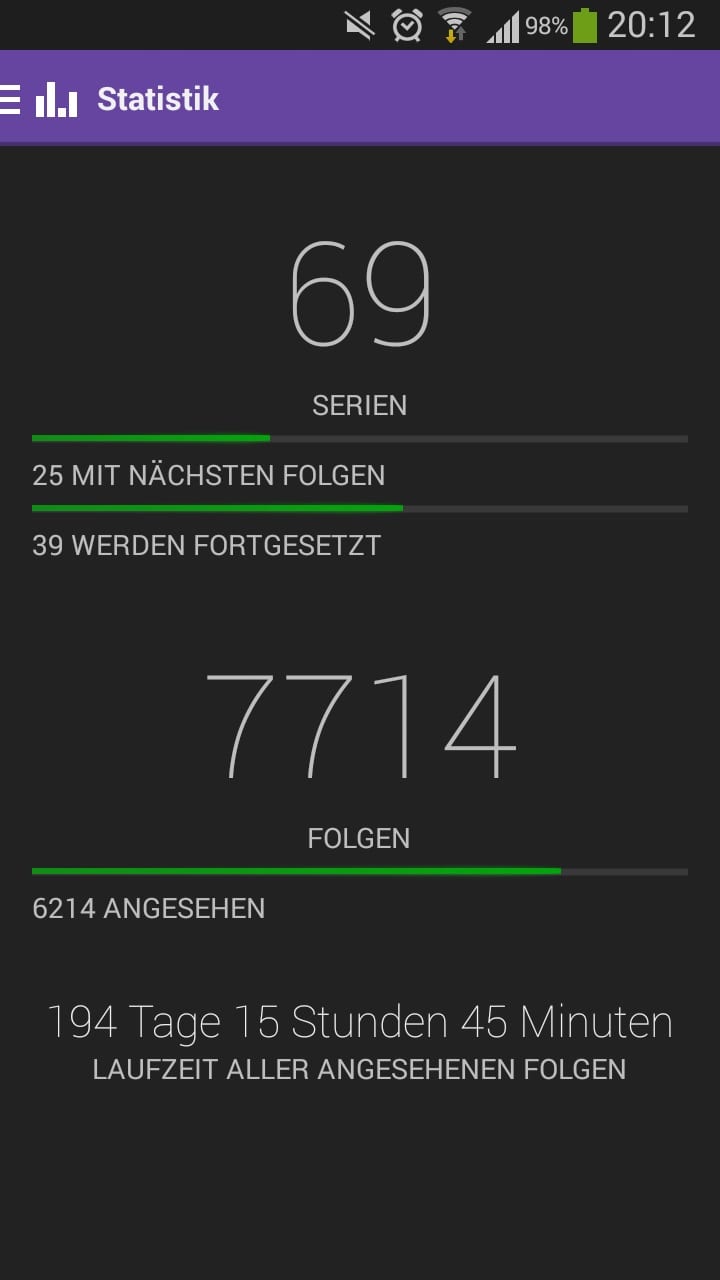 …wie enttäuschend, noch kein ganzes Jahr am Stück Serien geguckt. Da muss ich aber noch einiges aufholen!

-->