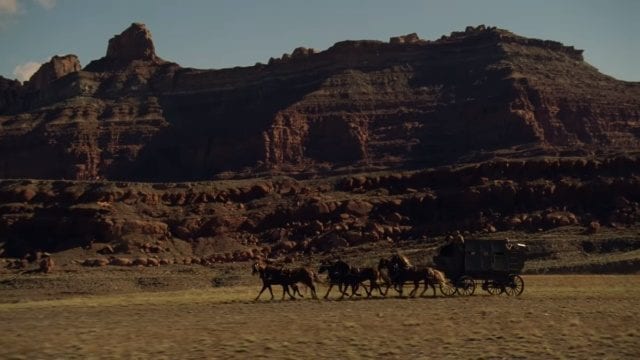 Wow… Fast 10 Monate ist es bereits her, dass wir den ersten Teaser zum neuen HBO Sci-Fi-Drama Westworld zu sehen bekamen. In 30 Sekunden wurde uns ein erster, sehr kleiner Eindruck einer neuen, dystopischen Welt vermittelt. Und jetzt bekommen wir mehr!
Der neue Teaser Trailer zeigt nicht nur, mit welch großartiger Besetzung die Western-Serie an den Start geht (Anthony Hopkins, James Marsden, Evan Rachel Wood und und und), sondern auch, welch düsteren, blutigen und verworrenen Pfad sie einschlägt. In einem Vergnügungspark, in den die Besucher ohne Orientierung, Reisebroschüre und jegliche modernen Hilfsmittel eintauchen, geraten Roboter vollkommen außer Kontrolle – und zwar "miles beyond the glitch".
"Have you ever questioned the nature of your reality?"
Dem Trailer nach zu urteilen, können wir von dieser neuen Serie, in der keine geringeren als J.J. Abrams (Lost, 11.22.63, Star Wars) und Jonathan Nolan (Person of Interest, Interstellar) als ausführende Produzenten auftreten, so einiges erwarten. Kamera, Musik, das gesamte Setting führen bei mir zu Gänsehaut – und schüren große Erwartungen.
"Are you real?"
"Well, if you can't tell … does it matter?"
'Welcome to Westworld' Teaser Trailer | Westworld | Season 1

Die Ausstrahlung der zehn Episoden der ersten Staffel Westworld ist für Oktober diesen Jahres geplant.

via: TVLine Bild: HBO

-->