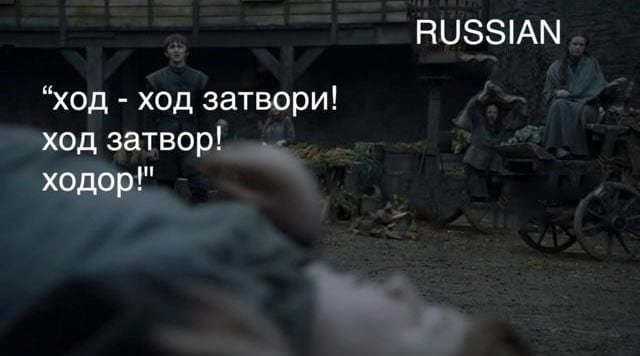 In der letzten Game of Thrones-Staffel gab es endlich wieder Hodor zu sehen und vor allem zu hören. Und seine ganz besondere Episode hatte der Fan-Liebling auch – und um genau diese geht es. Deshalb wirklich nur weiterlesen, wenn ihr wisst, worum es geht (und das tut ihr, wenn ihr sie gesehen habt).
Ein Knackpunkt bei der Internationalisierung von Serien ist immer wieder die Übersetzung. Aus "Jon Snow" "Jon Schnee" werden zu lassen, ist da noch sehr simpel, aber wie geht man mit Wortspielen um? Gerade, wenn sie auch an bestimmte Handlungen gebunden sind? Wie eben bei der Erklärung des Namens von Hodor.
"Hold the door" heißt es im Englischen. "Halte die Tür" passt weniger zur Zusammenkürzung in ein phonetische "Ho'dor". Also macht man im Deutschen kurzerhand ein Tor aus dem Verschlussteil, das Hodor so dringen beschützen soll. In 21 Sprachen soll dieser Transfer funktioniert haben. Im imgur-Album bekommt ihr einige der Sprach-Transfers zu sehen.
via: ew