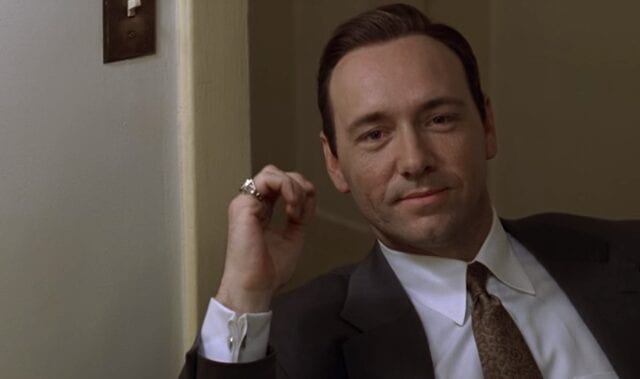 Kevin Spacey ist ein großartiger Schauspieler. Seit dem Beginn seiner Karriere (Mitte der 80er!) nimmt er uns immer wieder mit in eine andere Welt, lässt uns als John Doe in "Sieben" erschaudern, lässt uns ihn als sexuell frustrierten Lester in "American Beauty" bemitleiden und überzeugt uns seit ein paar Jahren als skrupelloser Francis Underwood in "House of Cards". Gerade erst ist die 4. Staffel des Netflix-Dramas gestartet – bei uns allerdings erstmal wieder auf Sky statt Netflix.
I wanna tell you something.
In dem folgenden Video hat sich mal wieder jemand ganz viel Arbeit gemacht und ein Mashup von Dialogszenen aus diversen Filmen zusammengebastelt, in denen Kevin Spacey ikonische Rollen spielte – und dann ausschließlich seine Sprechparts eingebunden. Und so wie es aussieht, hat Herr Spacey uns einiges zu sagen – allerdings nicht immer auf die ganz feine Art und Weise.
Kevin Spacey, King of Dialogue Mashup - Please Never Stop Talking (2016) HD
Eins steht fest: Wenn irgendjemand jemals die Existenz unseres Gehirns in Frage stellen darf, dann Kevin. Und wie der Titel des Videos so schön sagt: Please never stop talking!
Wie der Auftakt der 4. Staffel House of Cards bei uns ankam, könnt ihr in Jonas Review lesen.
via: ViralViralVideos